Portable Spectrophotometers
For Solid Colors
ASTM D2244, E308, E1164 / DIN 5033, 5036, 6174 / DIN EN ISO 11664
45°c:0° measuring geometry
Large 3.5" color touchscreen
Icon-based menu with colorful data tables and graphics ensure an intuitive smart phone like operation
---
Can we help you?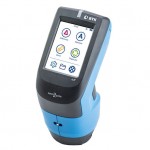 Model : spectro2guide 45/0
45°c:0° measuring geometry
---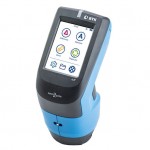 Model : spectro2guide d/8
d:8° measuring geometry (spin/spex)



---
Uniform color is directly associated with high quality and thus, an essential purchasing criteria.
The spectro2guide spectrophotometer represents the next step in the evolution of color measurement. Just like its predecessor, color and 60° gloss are measured simultaneously.
Completely new and unique is the quantification of fluorescence by measuring like a fluorimeter with monochrome illuminations. The combination of a spectrophotometer with a fluorimeter opens up completely new perspectives to control color quality and guarantee color stability. Colorful graphs show the fluorescent results on the display and new fluorescent indices are calculated for easy analysis.
Features:
spectro2guide 45/0

spectro2guide d/8


45°c:0° measuring geometry
A portable spectrophotometer, gloss meter and a fluorimeter combined in one instrument:
Balanced and upfront design
Large 3.5" color touchscreen
Icon-based menu with colorful data tables and graphics ensure an intuitive smart phone like operation
Integrated camera shows a live preview of the measurement spot magnified by a factor of 4.5:1 to prevent false readings on imperfections
Excellent agreement between instruments allowing usage of digital standards among the supply chain
Stable, long-term calibration - needed only every three months
10 year warranty on LED light source - no lamp changes needed
Smart Docking station with integrated white standard offers auto diagnosis and an automatic calibration function
Flexible data transfer via docking station, directly connected with USB cable or wireless with Wi-Fi function
Professional data documentation and analysis with smart-chart software

d:8° measuring geometry (spin/spex)
A portable spectrophotometer, gloss meter and a fluorimeter combined in one instrument:
Balanced and upfront design
Large 3.5" color touchscreen
Icon-based menu with colorful data tables and graphics ensure an intuitive smart phone like operation
Integrated camera shows a live preview of the measurement spot magnified by a factor of 4.5:1 to prevent false readings on imperfections
Excellent agreement between instruments allowing usage of digital standards among the supply chain
Stable, long-term calibration - needed only every three months
10 year warranty on LED light source - no lamp changes needed
Smart Docking station with integrated white standard offers auto diagnosis and an automatic calibration function
Flexible data transfer via docking station, directly connected with USB cable or wireless with Wi-Fi function
Professional data documentation and analysis with smart-chart software



Color
Geometry:
45°c:0°, d:8° (spin/spex)
Aperture Size:
12 mm / 8 mm
Spectral Range Color:
400 - 700 nm, 10 nm resolution
Spectral Range Fluorescence:
340 - 760, 10 nm resolution
Repeatability:
0.01 DE* (10 consecutive measurements on white)
Reproducibility:
0.1 DE* (average on 12 BCRA II tiles)
Color Systems:
CIELab/Ch, Lab(h),XYZ, Yxy
Color Differences:
ΔE*, ΔE(h),ΔEFMC2, ΔE94, ΔECMC ,ΔE99 ,ΔE2000
Indices:
YIE313, YID 1925, WIE 313, CIE, Berger, Color Strength,Opacity, Metamerism, Grayscale, Jetness
Illuminants:
A, C, D50, D55, D65, D75, F2, F6, F7, F8, F10, F11, UL30
Observer:
2°, 10°
Gloss
Aperture Size:
5 x 10 mm
Measurement Range:
0 - 10 GU 10 - 100 GU
Repeatability:
± 0.1 GU ± 0.2 GU
Reproducibility:
± 0.5 GU ± 1.0 GU
General Data
Memory:
5000 Standards and samples
Languages:
English, German, French, Italian, Spanish, Russian, Japanese, Chinese
Dimensions (LxWxH):
87 x 110 x 188 mm (3.4 x 4.3 x 7.4 in)
Weight:
1.54 lbs / 707 g (d/8),1.52 lbs / 690 g (45/0)
Interface:
USB-C (device),USB-B (docking station)
Battery:
7.2 V, 2350 mAh, 16.92 Wh
Device:
Input 12 V, max. 2 A (Docking) 5 V, max. 2 A (USB-C)
Docking Station:
Input 12 V, max. 2 A (Power supply)
Input 5 V, max. 0.5 A (USB-B)
Output 12 V, max. 2 A

Power Supply:
Input 100 - 240 V, 50 - 60 Hz, max. 1 A
Output 12 V, max. 3 A