ELD2704-00
Pinhole Detectors
ASTM 3894.2, ASTM D 5162-A, ASTM G6, ASTM G62-A, BS 7793-2,…
Supplied ready to use
Automatic voltage calibration & sensitivity checks
Low Battery indicator
---
Can we help you?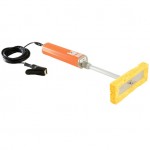 Model : ELD270-200
---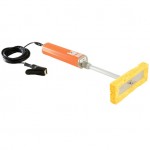 Model : ELD270-300
---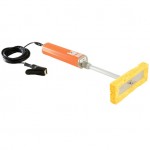 Model : ELD270-400
---
The Elcometer 270 range utilises the wet sponge technique and has been designed to set a new standard for wet sponge detectors - namely, a high quality, low voltage detector with similar accessories to a high voltage spark tester.
Supplied ready to use
Automatic voltage calibration & sensitivity checks
Low Battery indicator
Visual and audio alarms
Integral and separate wand functionality
A wide range of fully interchangeable wand accessories
Three model variants - single, dual or triple voltages
Easy release snag proof cables
Large standard sponge
Optional Inspector's Kit available containing a range of accessories

Information
Pinhole & Porosity Detection
Premature corrosion of a substrate is usually due to the failure of the coating. A major cause of failure is the presence of flaws in the finished coating. Collectively referred to as a coating's porosity the main types of flaw are described below:

Runs & Sags:
The wet coating moves under gravity leaving a thin dry film.

Cissing:
Occurs when a coating does not re-flow to cover the voids generated by air bubbles being released from the surface of a coating.

Cratering:
Occurs when the substrate is wet or if the coating has poor flow characteristics, thus creating voids in the coating.

Pinholes:
Caused either by air entrapment which is then released from the surface, or by the entrapment of particulates (dust, sand, etc.) which do not stay in place.

Over Coating:
If too much coating is applied to a substrate, as the coating cures it can crack from internal stresses of the coating.

Under Coating:
Areas are not coated, or the coating flows away from particular edges, corners of a substrate and welds. Furthermore over a rough surface profile, insufficient coating may leave the profile's peaks exposed.
Standards:

ASTM 3894.2, ASTM D 5162-A, ASTM G6, ASTM G62-A, BS 7793-2, ISO 8289 A, ISO 14654, NACE RP 0188, NACE SP 0188, NACE TM0384
Accesories
Cat. No.
Description
T27016960
Roller Wand & Sponge
T27018051
Spare Roller Sponge Set with Washer & Clip
T27016867
Standard Wand with Flat Sponge
T27018050
Pack of 3 Rectangular Sponges, 150 x 60 x 25mm (6 x 2.3 x 1")
T27018024
Wetting Agent, 50ml (1.7fl oz)
T27016999
Separate Wand Adaptor with Belt Clip
T27016998
Telescopic Handle with Belt Clip – Extends to 1m (39")
T27016965
Extension Piece, 420mm (16.5")
T99916996
Signal Return Cable and Storage Drum 10m (394")
T27018191
Inspector's Kit complete with: Separate wand handle & lead, roller wand, 10m (394") signal return cable, extension piece (x2), telescopic extension, belt clip, wetting agent, flat sponge, roller sponge and AA batteries (x3)

Please note that the kit does not include the main instrument, simply add the model required to your order.
T27018025
Inspector's Kit - Empty
Related Products
Elcometer 266 DC Holiday Detector:

The Elcometer 266 DC Holiday Detector provides accurate detection of pinholes, flaws, inclusions, thin spots and bubbles in a coating.
Elcometer 236 DC Holiday Detector:

The Elcometer 266 revolutionises high voltage DC testing of coatings porosity detection making it safer, easier and more reliable than ever before.

Elcometer 260 Surefire ® Fluorescenator UV Pinhole Flashlight:

Designed to provide a quick, low cost method of testing coatings for pinholes.
CAT. NO.
ELD270-300
ELD270-200
ELD270-400
Volatge
9V and 90V
67.5V
9V, 67.5V & 90V
Maximum Measurement Range
500μm (20mils)
500μm (20mils)
500μm (20mils)
Sensitivity
9V: 90kΩ ±5%
67.5V: 125kΩ ±5%
9V: 90kΩ ±5%
90V: 400kΩ ±5%
67.5V: 125 kΩ ±5%
90V: 400 kΩ ±5%
Battery life (continuous use)
9V: Up to 200 hours
67.5V: Up to 100 hours
9V: Up to 200 hours
90V: Up to 80 hours
67.5V: Up to 100 hours
90V: Up to 80 hours
Battery Type
3 x AA (LR 1600) 1.5V Alkaline (NiMH rechargeable batteries can also be used,
battery life will be reduced by up to 75%)
Accuracy of Setting
±5%
Dimensions
Without Wand:
210 x 42 x 37mm (8.3 x 1.7 x 1.5")
Standard Wand:
175mm (6.9") Long – including sponge
Flat Sponge:
150 x 60 x 25mm (6 x 2.4 x 1") approximately
Weight
610g (21oz) – including wand, cable and batteries
Packing List
Elcometer 270 Pinhole Detector, standard wand and sponge, 4m (13' 2") return lead
with crocodile clip, 3 x AA batteries and operating instructions