Tramex accessory pack for monitoring system
Transmission Range: Over 3kms line-of-sight
Communication Frequency: Multiple readings per hour
Power: Built in CR123A battery with up to 15 year lifespan

The Accessory pack for monitoring system Tramex adds more Cloud Sensors to your TREMS project.
The TREMS-10 comprises 10 CS-RHTA Tramex Cloud Sensors. Multiple Sensors can be used with one Station. Registration and on-site set-up is simple using a QR code check-in procedure. The on-site Sensors, with battery life of up to 15 years, transmit relative humidity, temperature (ºC and ºF),dew point and grains per pound / grams per kilo readings wirelessly via the Tramex Cloud Station enabling remote monitoring of up to 200 on-site Sensors on the Tramex Cloud platform.
Tramex Cloud is a secure platform to store and report your moisture, temperature and relative humidity measurements, get notified of adverse conditions and quickly monitor status from any browser. There are no subscription fees and there is free data storage for two years with the Tramex Remote Environmental Monitoring System.
The Tramex Cloud stores all your project details and logging information securely and allows for remote monitoring.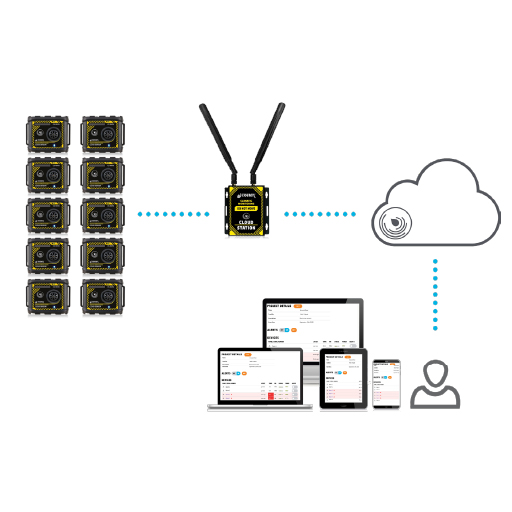 TRAMEX CLOUD SENSOR - SPECIFICATIONS & MEASURING RANGE

| | |
| --- | --- |
| Size | 100mm x 90mm x35mm (3.94" x 3.54" x 1.38") |
| Weight | 100g (3.53oz) |
| Power | Built in CR123A battery with up to 15 year lifespan |
| Construction | ABS enclosure |
| Included | Wall Mounting |
| Transmission Range | Over 3kms line-of-sight |
| Communication Frequency | Multiple readings per hour |
| Identification | Items individually coded for ease of install and logging identification. |
RELATIVE HUMIDITY SENSOR SPECIFICATIONS
| | |
| --- | --- |
| Exceptional Accuracy | ±1.5%RH Range 0% to 80%RH ±2.0%RH Range 80% to 99%RH (@ 25ºC (77ºF)) |
| Range | 0 to 100%RH |
| Resolution | 0.1% over the complete range |
| Drift | <0.25%RH per year |
TEMPERATURE SENSOR SPECIFICATIONS:
Exceptional Accuracy
±0.1 °C Range 20°C to 60°C
(±0.1ºF Range 68ºF to 140ºF)
Range
-40ºC to 125ºC (-40ºF to 257ºF)
Sensor Protection
PTFE Film protects sensor opening from water & dust
Drift

<0.03ºC (0.04ºF) per year