TRARWS-000
Roof And Wall Scanner
For non-destructive moisture evaluation of Roofs and EIFS Building Envelope
For tracing leaks into the waterproofing membrane back to the source
Fast and easy to operate
Multi-mode moisture scanner for non-destructive moisture detection and leak tracing in the building envelope
The RWS incorporates two of Tramex's well-known moisture scanners, the Leak Seeker for Roofing, and the Wet Wall Detector for EIFS, incorporating all the benefits and features of both these time proven instruments into this one instrument. The Tramex RWS has dual operating modes for EIFS and Roofing. Each of these modes has 2 ranges of sensitivity for both deep and low penetration sensitivity, enabling the scanning of Roofing, and EIFS, with a signal penetration ranging from the surface up to approximately 4" (100 mm). The RWS is designed and manufactured by Tramex who have been producing a range of moisture detection and scanning instruments since 1980.
Features
For non-destructive moisture evaluation of Roofs and EIFS Building Envelope
For tracing leaks into the waterproofing membrane back to the source
Fast and easy to operate
Instant clear readings
"Hold" function facilitates ease of recording readings
Lightweight hand held and battery operated
Inexpensive to purchase and operate when compared with other non-destructive testing methods.
The problems of Excess Moisture in the building
By visual inspection, the location of excess moisture and decay in or behind EIFS or Roofing Systems can be difficult and near impossible, as normal evidence of this moisture and decay may not be visible on either side of the wall or roof. Excess moisture can be hidden and trapped in the substrate and within the thickness of the wall or roof counstruction. If these conditions are allowed to continue the moisture will increase, eventually leading to rot and decay and possible failure of the system and the structure. Early detection of wet areas and corrective remedial action makes good economic sense.
How does the RWS Scanner Work ?
The Tramex RWS is an electronic hand-held Moisture Scanner and Detector working on the principle of electrical impedance. With impedance measurement, harmless signals are transmitted from the electrodes at the base of the instrument deep into the thickness of the area under test. These signals measure the change in electrical impedance which is translated into a relative moisture content reading and instantly displayed on the clear large analog dial. Readings are instant and continuous. The RWS is also fitted with an audible device which sounds at high readings. The RWS gives vital information necessary to evaluate and carry out moisture assessment on the condition of most fiber reinforced EIFS wall cladding systems, roofing systems such as built up, non-conductive single ply, modified and foam roofing at an affordable cost and without complications.
The Fast Non-Desctructive Way to Detect Excess Moisture.
For EIFS, the Tramex RWS has been especially developed to aid in the detection, location and tracing of excess moisture within the weatherproofing coatings or coverings, and deep into the insulation and substrate to detect excess moisture in the sheathing and the wood studding of EIFS systems. For Roofing it will detect interply moisture, excess moisture in the insulation material, and moisture in or on non-conductive roof decks.
It is easy and fast to use, light to carry and can be operated with one hand. Having detected and located the areas of excess moisture the RWS can be of great benefit in tracing this moisture back to its point of ingress or source.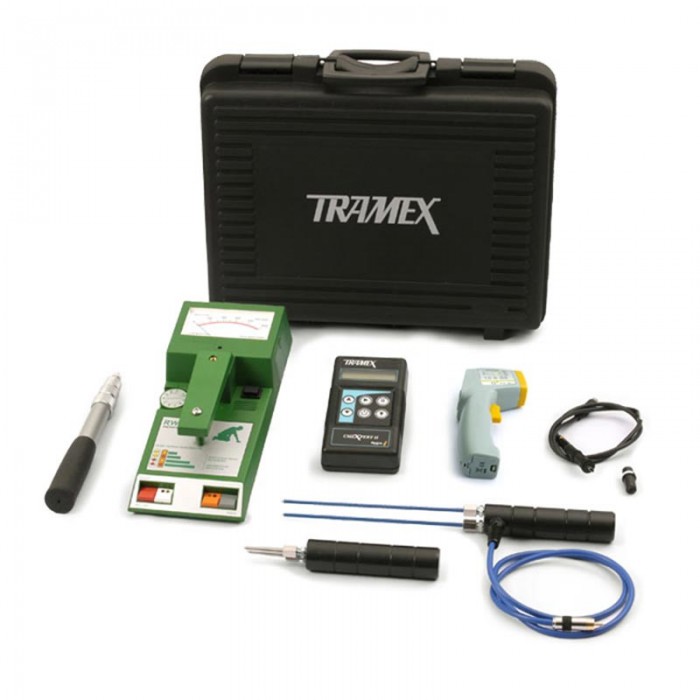 The RWS is available in Inspection Kit form for Moisture Detection and Evaluation of EIFS and Roofing systems and substrate. Kit containing (1) RWS (2) Pin type resistance meter with built in pins (3) Hand held electrode with 7" insulated pins, and with spaces for optional IR Thermometer and Digital Hygrometer.
Industry
Commercial roofing, EIFS, Water Restoration, Pest Control, Inspection/Surveying.
Material
BUR, non-conductive single ply roof membranes, modified bitumen and polyurethane foam roofing systems and EIFS (Exterior Insulation and Finishing System).

Technical Data

Weight
1.88lbs (853g)
Size
10.75" x 4.85" x 2.85" (275mm x 125mm x 75mm)
Construction
ABS Body
Power
9 Volt PP3 Battery
Display
Analog
Depth of penetration
4" (10 cm )

Measuring Range

Reference Scale
0 to 100