Etuve à atmosphère inerte
Front-to-back horizontal air flow completely surrounds work on shelves or large parts placed directly on the optional reinforced work space bottom. Includes cooling jacket which can be equipped with optional cooling blower and automatic dampers. Installation of optional atmosphere purge solenoid, cooling blower and programming temperature controller provides completely automatic sequencing.
 
Standard Features
UL LISTED CONTROL PANEL
 
Standard Universal Ovens from Grieve meet the requirements of National Fire Protection Association Standard 86, Industrial Risk Insurers, Factory Mutual and OSHA standards. For some applications, such as those involving flammable solvents or hazardous locations, the above organizations require additional safety devices.
 
Controls

Digital, microprocessor based, thermocouple actuated, indicating temperature controller
Motor control push buttons
On-off heat switch
LED pilot lights
 

Safety Equipment

Adjustable, thermocouple actuated, manual reset excess temperature interlock
Separate heating element control contactors
Recirculating blower air flow safety switch
 

Construction

All interior seams welded gas-tight
All wall penetrations welded at inside and fitted with compression fitting at outside of oven
Inner oven walls extended through oven throat area to seal directly against silicone rubber door seal
2-point cam action positive latching door hardware
Adjustable offset door hinges to guarantee tight closure of door seal
Exterior blower shaft seal
Inert atmosphere inlet with pressure regulator to maintain positive pressure within oven
0-200 CFH atmosphere flow meter
Pressure gauge to indicate interior oven pressure
Inert atmosphere outlet with pressure relief
Air jacket on inner oven for cooling
Front-to-back horizontal air flow
304 stainless steel interior
Aluminized steel exterior with enamel finish
Brushed stainless steel control panel face
10 lbs/cf density industrial rockwool insulation
Built-in baffles prevent radiant heat
Two (2) nickel plated wire shelves
Channel shelf supports prevent shelves tipping
1 year limited warranty
 

Every oven fully assembled and individually factory tested
Specifications
NOT FOR USE WITH FLAMMABLE SOLVENTS, VAPORS OR GASES.
Model
Workspace
Outside
Dimensions*
(WxDxH)
Max
Temp
Blower
Dimensions
(WxDxH)
Volume
Cu. Ft.
CFM
HP
IA-550
24" x 24" x 24"
8
44" x 55" x 50½"
550°F
400
1/3
IA-750
24" x 24" x 24"
8
48" x 59" x 52½"
750°F
400
1/3
 
IB-550
24" x 36" x 24"
12
44" x 67" x 50½"
550°F
400
1/3
IB-750
24" x 36" x 24"
12
48" x 71" x 52½"
750°F
400
1/3
 
IC-550
36" x 36" x 36"
27
56" x 67" x 62½"
550°F
600
1/2
IC-750
36" x 36" x 36"
27
60" x 71" x 64½"
750°F
600
1/2
 
ID-550
36" x 48" x 36"
36
56" x 79" x 62½"
550°F
600
1/2
ID-750
36" x 48" x 36"
36
60" x 83" x 64½"
750°F
600
1/2
* All Models— Control panel overhang 9" right side. Blower motor overhang 18" rear
Specifications
Model
Blower
Insu-
lation
Doors
kW
Operating Characteristics †
Approx
Shipping
Weight
HP
Control
Accuracy
Oven
Uniformity
Rise Time
IA-550
1/3
6"
Single
9
±0.3%
±5°F
23 min
1075 lbs
IA-750
1/3
8"
Single
12
±0.3%
±8°F
35 min
1250 lbs
 
IB-550
1/3
6"
Single
9
±0.3%
±5°F
30 min
1315 lbs
IB-750
1/3
8"
Single
12
±0.3%
±8°F
57 min
1510 lbs
 
IC-550
1/2
6"
Single
12
±0.3%
±5°F
39 min
1700 lbs
IC-750
1/2
8"
Single
18
±0.3%
±8°F
55 min
2060 lbs
 
ID-550
1/2
6"
Single
12
±0.3%
±5°F
52 min
2180 lbs
ID-750
1/2
8"
Single
18
±0.3%
±8°F
73 min
2540 lbs
† Accuracy as percent of controller span. Uniformity at 50°F below maximum temperature. Rise Time in minutes to 50°F below maximum temperature. Tests run with empty oven and minimum exhaust. Performance will vary with load and application. See Bulletin TC-920 for additional details.
Standard Equipment
All Models
208 volts, 3-phase, 60 Hz
230 volts, 3-phase, 60 Hz
460 volts, 3-phase, 60 Hz
Other electrical characteristics available

Each features completely wired, top access UL listed control panel enclosing terminals for incoming power, temperature controllers, push buttons and pilot lights. Motor starter and heating element contactors electrically interlocked to shut off heaters if power to blower is interrupted and to permit operation of blower without heat for cooling. Incoloy sheathed tubular heating elements.

Two (2) reinforced 100 lbs uniformly distributed load capacity, nickel plated wire shelves. Models IA and IB will hold seven(7) shelves on 3" centers; Models IC and ID will hold five(5) shelves on 6" centers.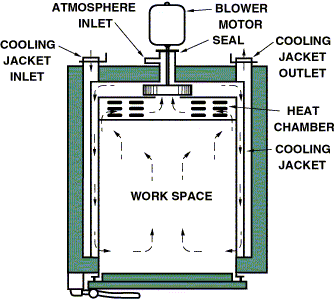 304 stainless steel interior with carbon steel blower and plated hardware. Trilite Green enamel painted aluminized steel exterior.

Inert atmosphere is introduced at blower shaft (1/2" NPT) and positive oven pressure maintained by inlet pressure regulator. Atmosphere flow indicated on 0-200 CFH flow meter. Oven pressure indicated on 0-5 inch water column pressure gauge. Continuously welded inner oven construction with compression fittings at wall penetrations maintains atmosphere integrity. Atmosphere outlet equipped with pressure relief which can be manually opened to increase inert gas flow for initial purge of air from oven. Adjustable positive latching door hardware and offset hinges assure positive door seal.
Additional Equipment Available
See Bulletin TC-960 for modifications and other optional equipment.

Additional Shelves, 100 lbs distributed load per shelf, 400 lbs maximum oven load, specify oven model when ordering.
 
Programmable Temperature Controller, microprocessor based, digital indicating, thermocouple actuated, in lieu of standard controller
Recording Thermometer, thermocouple actuated, 24-hour, 10" diameter circular chart used in conjunction with standard controller
Digital Timing Temperature Controller, microprocessor based, digital indicating, incorperates 99 hour 59 minute timer. Starts timing when temperature reaches set point and shuts down oven at end of set time
Digital Shut Down Timer, with continuous "hold" feature
Digital Batch Timer, for uniformly timing batch operations. Continuous alarm with door interlock; alarms at end of preset period until door is opened or timer reset
Automatic Door Switch, turns off blower and heat when door is opened. Restores blower and heat when door is closed
24" Integral Oven Legs, with 1/8" steel plate shelf. Specify oven model when ordering.
24" Removable Oven Stand, with 1/8" steel plate shelf. Specify oven model when ordering
500 lbs Capacity Carbon Steel Subway Grating, oven work space bottom. Reduces work space height by 1". Specify oven model when ordering.
304 Stainless Steel Components, including blower wheel, hardware and two stainless steel expanded metal shelves, specify oven model when ordering.
 
Automatic Purge, opens oven outlet automatically to purge air from oven, requires installation of optional programmable temperature controller
Cooling Blower, connected to air jacket to provide accelerated cooling, includes 2-position motorized dampers, requires installation of optional programmable temperature controller
Modulating Dampers, to regulate cool down rate, replaces 2-position dampers included with cooling blower. Includes heating/cooling programmable temperature controller in lieu of optional programmable temperature controller required with cooling blower

ven
Model
Capacity
HP
Outlet
Dia
Approx Cooling
to 250°F from
500°F
750°F
IA
130 CFM
1/3
4"
40 min
70 min
IB
325 CFM
1/3
6"
30 min
50 min
IC
650 CFM
1/2
6"
40 min
60 min
ID
650 CFM
1/2
6"
55 min
75 min