Package Leak Detectors Automatic
AUTOMATIC
CDV Leak Tester for Packaging
Efficient and intuitive
in the Automatic version, it is pleasant to use and intuitive thanks to its touch screen. The test cycle is completely managed by the PLC.
16 Recipes
Up to 16 recipes can be programmed, each with its name, vacuum level and cycle time.
This version is recommended for companies having a production activity with several packaging presentations.
Quick Test
This function allows you to start a test quickly. That is to say without having to program a recipe beforehand.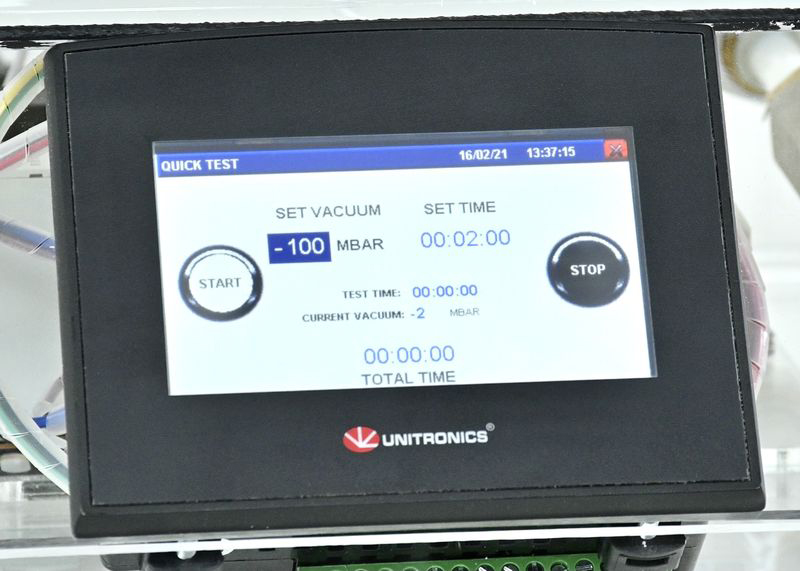 CDV AUTO

"Bench Top" version
"Floor Stand" version
Model
CDV2 AVVI
CDV3 AVVI
CDV4 AVVI
CDV5 AVVI
CDV6 AVVI
Inside tank dimensions

28 x 20 x 20 cm

11" x 8" x 8"

45 x 30 x 25 cm

18" x 12" x 10"

50 x 35 x 35 cm

20" x 14" x 14"

60 x 50 x 40 cm

24" x 20" x 16"

80 x 60 x 50 cm

31" x 24" x 20"

Weight
19 kg (42 lbs)
38 kg (84 lbs)
42 kg (92 lbs)
105 kg (232 lbs)
175 kg (387 lbs)
Maximum vacuum at sea level

-980 mbar

-28.9 inHg

-900 mbar

-26.5 inHg

-750 mbar

-22 inHg

-950 mbar

-28 inHg

-750 mbar

-22 inHg