Once in the laboratory, solid samples must be homogenized and separated. Labplas FILTRA-BAG is perfect for use in the homogenizer.
Labplas FILTRA-BAG blender bags are designed to simplify taking an aliquot when working with samples which contain large amounts of residue and/or semi-solid/solid substances. When lacing an aliquot onto growth media, it's very important that the volume of the aliquot be accurate and that it be free of solid particles. This prevents pipette blockage as well as uneven plate distribution.
Made with a polyethylene/Pet outer shell which practically eliminates the possibility of piercing the bag wall during blending.
The dividing filter membrane has 1840 holes per square inch with a pore size of approximately 330 microns. This pore size has proven to be very effective for the majority of applications and allows for optimal solution and bacterial flow between the FILTRA-BAG® compartments during blending.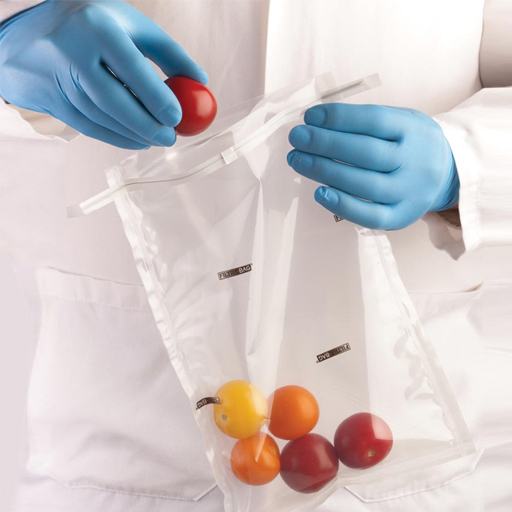 Step 1
INSERT THE SOLID SAMPLE ON THE PRINTED SIDE OF THE FILTRA-BAG;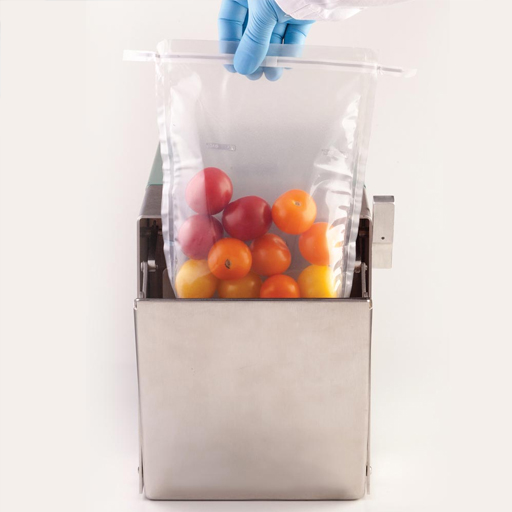 Step 2
RUN THE BAG THROUGH A COMPLETE BLENDER CYCLE;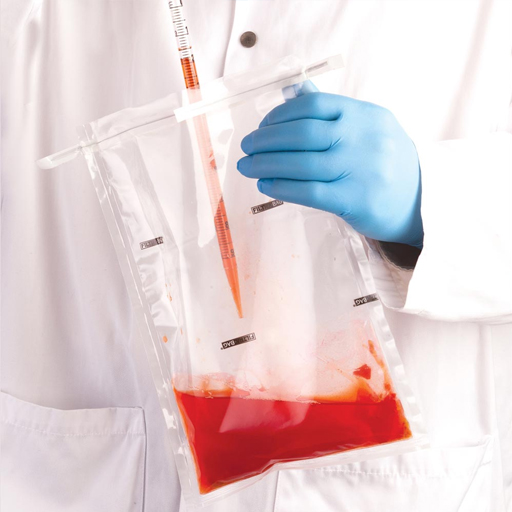 Step 3
INSERT THE PIPETTE ON THE CLEAR SIDE OF THE BAG AND COLLECT THE ALIQUOT.
FILTRA-BAG with Open Top - Clear
| | | | | | | | |
| --- | --- | --- | --- | --- | --- | --- | --- |
| CODE | MIL. IN | MICR. | IN X IN | MM X MM | OZ | ML | PACKAGING |
| SCTO7012A - For 400 series blenders | 4.0 | 101 | 7 x 12 | 178 x 305 | 55 | 1650 | Cs/400 (4x100) |
FILTRA BAG with Tear-Off Protection Strip - Clear
| | | | | | | | |
| --- | --- | --- | --- | --- | --- | --- | --- |
| CODE | MIL. IN | MICR. | IN X IN | MM X MM | OZ | ML | PACKAGING |
| SCT-6090A - For 400 series blenders | 4.0 | 101 | 6 x 9 | 152 x 229 | 24 | 710 | Cs/400 (4x100) |
| SCT-7012A - For 400 series blenders | 4.0 | 101 | 7 x 12 | 178 x 305 | 55 | 1650 | Cs/400 (4x100) |
| SCT-1015A - For 3500 series blenders | 4.0 | 101 | 10 x 15 | 254 x 381 | 92 | 2720 | Cs/400 (4x100) |
| SCT-1515A - For 3500 series blenders | 4.0 | 101 | 15 x 15 | 381 x 381 | 138 | 4000 | Cs/200 (2x100) |
| SCT-1520A - For 3500 series blenders | 4.0 | 101 | 15 x 20 | 381 x 508 | 405 | 12L | Cs/200 (2x100) |
FILTRA BAG with - Safety Tabs - Clear - Closure with 1 round wire & 1 flat wire
| | | | | | | | |
| --- | --- | --- | --- | --- | --- | --- | --- |
| CODE | MIL. IN | MICR. | IN X IN | MM X MM | OZ | ML | PACKAGING |
| EFT-6090A - For 400 series blenders | 4.0 | 101 | 6 x 9 | 152 x 229 | 24 | 710 | Cs/400 (4x100) |
| EFT-7012A - For 400 series blenders | 4.0 | 101 | 7 x 12 | 178 x 305 | 55 | 1650 | Cs/400 (4x100) |
| EFT-1015A - For 3500 series blenders | 4.0 | 101 | 10 x 15 | 254 x 381 | 92 | 2720 | Cs/400 (4x100) |
| EFT-1515A - For 3500 series blenders | 4.0 | 101 | 15 x 15 | 381 x 381 | 138 | 4000 | Cs/200 (2x100) |
| EFT-1520A - For 3500 series blenders | 4.0 | 101 | 15 x 20 | 381 x 508 | 405 | 12L | Cs/200 (2x100) |