Sani-Sponge Kits With Dry sponge or Wet Sponge
SANI-SPONGE kits are available to test Salmonella, E.coli and other pathogens from food matrices.
The Labplas SANI-SPONGE kit is designed to collect samples to detect the presence of microbiological contaminations such as Listeria, Salmonella, E. coli, and other food-born pathogens on almost any surface. These kits are widely used in the food, medical, public health and cosmetic industries. The SANI-SPONGE kit is convenient, easy to use, and helps eliminate several time-consuming steps.
Product Specs
Comes in TWIRL'EM® Sterile Sampling bag
6.3 x 11 inches. (160mm x 229mm); 4 mil. inches. (101 micr.)
20 oz (600 ml)
TWIRL'EM bag with impervious closure system
Gamma Sterilized
Labplas SANI-SPONGE Sampling Kits come in two varieties: Dry sponge or Wet Sponge
* Labplas SANI-SPONGE sampling kits are produced in accordance with HACCP, USDA, ACIA and CFIA requirements.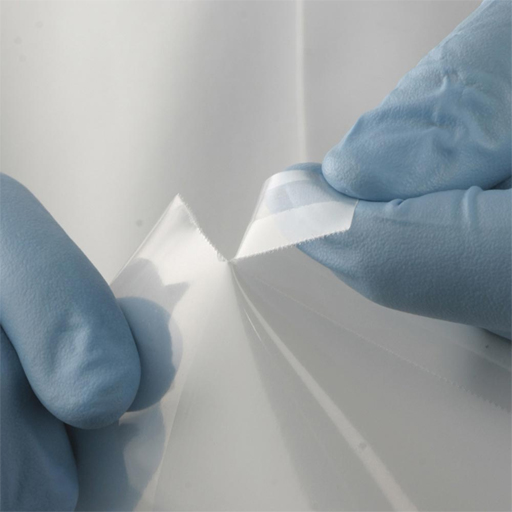 Step 1
REMOVE THE TEAR-OFF STRIP AND CAREFULLY TAKE THE SPONGE OUT.
STERILE GLOVES ARE RECOMMENDED. DO NOT TOUCH THE INSIDE OF THE BAG;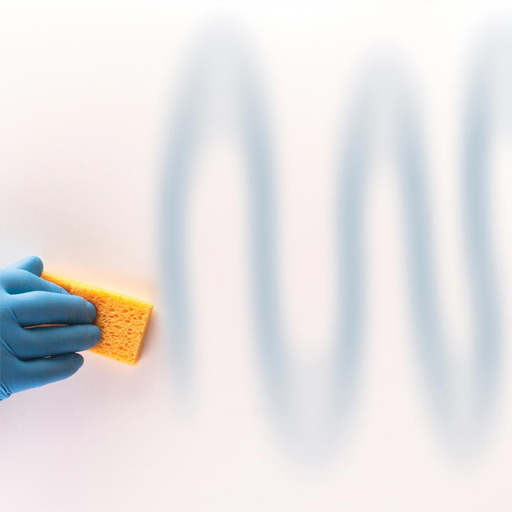 Step 2
SWAB THE SAMPLING SURFACE (SUGGESTED 30 X 30 CM AREA/12" X 12") WITH THE SPONGE IN A VERTICAL (UP AND DOWN) MOTION;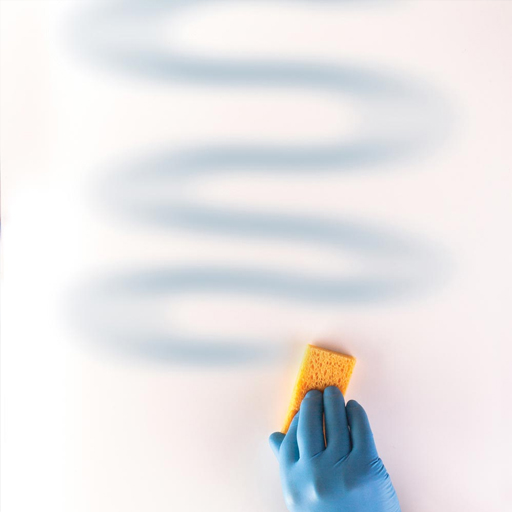 Step 3
TURN THE SPONGE OVER AND SWAB THE SAMPLE AREA AGAIN, THIS TIME IN A HORIZONTAL (LEFT TO RIGHT) MOTION;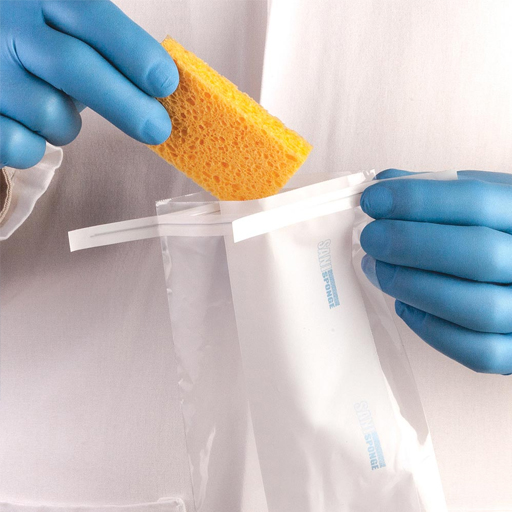 Step 4
PLACE THE SPONGE IN THE STERILE SAMPLING BAG WITH CARE;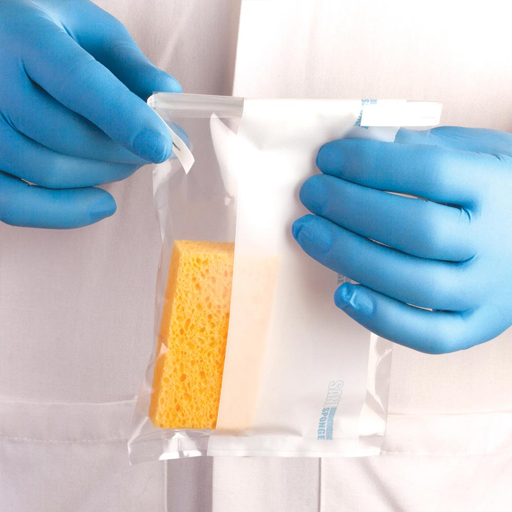 Step 5
IDENTIFY THE SAMPLE ON THE WRITE-ON AREA WITH A PERMANENT MARKER.
SANI-SPONGE Kit with Dry Sponge
| | | | | | | | |
| --- | --- | --- | --- | --- | --- | --- | --- |
| CODE | MIL. IN | MICR. | IN X IN | MM X MM | OZ | ML | PACKAGING |
| KSS-61100 - Dehydrated sponge | 2.5 | 63 | 4.5 x 9 | 114 x 229 | 15 | 450 | Cs/400 (4x100) |
| KSS-61105 - Dehydrated sponge with gloves | 2.5 | 63 | 4.5 x 9 | 114 x 229 | 15 | 450 | Cs/400 (4x100) |
SANI-SPONGE Kit with Wet Sponge
| | | | | | | | |
| --- | --- | --- | --- | --- | --- | --- | --- |
| CODE | MIL. IN | MICR. | IN X IN | MM X MM | OZ | ML | PACKAGING |
| KSS-67110-DE - DE-Neutralizing buffer | 4 | 101 | 6.3 x 11 | 160 x 229 | 20 | 600 | Cs/100 (5x20) |
| KSS-67110-LT - Letheen broth | 4 | 101 | 6.3 x 11 | 160 x 229 | 20 | 600 | Cs/100 (5x20) |
| KSS-67110-NE - Neutralizing buffer | 4 | 101 | 6.3 x 11 | 160 x 229 | 20 | 600 | Cs/100 (5x20) |
| KSS-67110-BPW - Buffered peptone water | 4 | 101 | 6.3 x 11 | 160 x 229 | 20 | 600 | Cs/100 (5x20) |
| KSS-67115-DE - DE-Neutralizing buffer with gloves | 4 | 101 | 6.3 x 11 | 160 x 229 | 20 | 600 | Cs/100 (5x20) |
| KSS-67115-LT - Letheen broth with gloves | 4 | 101 | 6.3 x 11 | 160 x 229 | 20 | 600 | Cs/100 (5x20) |
| KSS-67115-NE - Neutralizing buffer with gloves | 4 | 101 | 6.3 x 11 | 160 x 229 | 20 | 600 | Cs/100 (5x20) |
| KSS-67115-BPW - Buffered peptone water with gloves | 4 | 101 | 6.3 x 11 | 160 x 229 | 20 | 600 | Cs/100 (5x20) |