Media Preparation and Degassing System
De-aerates to approx. 35% of rest gas content (residual oxygen less than 5 ppm inside PT-DDS4 container)
Pre-heats your media to save time during start-up of dissolution tests
Fill-up program under pressure (connect directly to factory de-min. water supply)
Une désaération efficace du milieu est l'une des exigences les plus importantes pour réussir un test de dissolution des comprimés
Media degasing or "de-aeration", pre-heating to a temperature of 37°C and absolutely precise gravimetric dispensing according to the recommendations and demanded for dissolution testing from the US FDA authorities are standard for the Pharma Test PT-DDS4 media preparation and degasing system. De-aeration is generally recommended to prevent the formation of bubbles on the dosage form surface, which may cause a variation in active dissolution rates, by virtue of surface obscuration.

Features
De-aeration and heating of approx. 24 liters of media at the same time
Pre-heating of media; target temperature adjustable from 30 – 50°C
Adjustable gravimetric dosing range: 250 – 5,000 g
Adjustable volumetric dosing range: 250 – 5,000ml (optional)
Online buffer mixing, adjustable buffer dosing range: 100 – 5,000g (optional)
LC display and keypad to show and enter data, like product information, batch no., media density, etc.
Live information about the remaining tank volume; minimum 1 liter
File up to 16 de-aeration procedures (methods)
Built-in adjustment and calibration program for the digital load cell and flow-meter
Built-in thermo printer to report the dosed media weight or volume and to document of adjustment and calibration results
Advantages
De-aerates to approx. 35% of rest gas content (residual oxygen less than 5 ppm inside PT-DDS4 container)
Pre-heats your media to save time during start-up of dissolution tests
Fill-up program under pressure (connect directly to factory de-min. water supply)
Fill-up program under vacuum (prime from any external container)
Can be upgraded to de-aerate and dispense SPS foaming media
Can be used to directly dose into any vessel arrangement inside the dissolution bath
Special adapter to handle foaming media available (optional)
The instrument is movable and fits underneath most laboratory benches
Includes a balance (load cell) and all accessories for gravimetrical dosing
Good access to the media tank, easy to control the cleaning and test procedure
The only instrument which offers a software supported calibration program to validate and calibrate dosing accuracy using a certified 1 kg weight
Dosing performance test possible using built-in strain gauge
Correct dosing accuracy by entering density of media (changes because of temperature or solvent used)
Maximum of 2 liters waste when media change has to be done
Noise protected, max. noise level approx. 55dB
IQ/OQ documents included free of charge
Test Procedure
Effective media de-aeration is one of the most important requirements for a successful tablet dissolution test. USP reference standard tablets (RST) for PVT tests in particular, react very sensitive to ineffectively de-aerated media. Often the test fails to arrive at the required results for the release, even if all technical parameters of the dissolution bath in use have been checked and passed the tests. A save and efficient way of media de-aeration of un-dissolved oxygen (O²) is offered by the techniques the PT-DDS4 is using.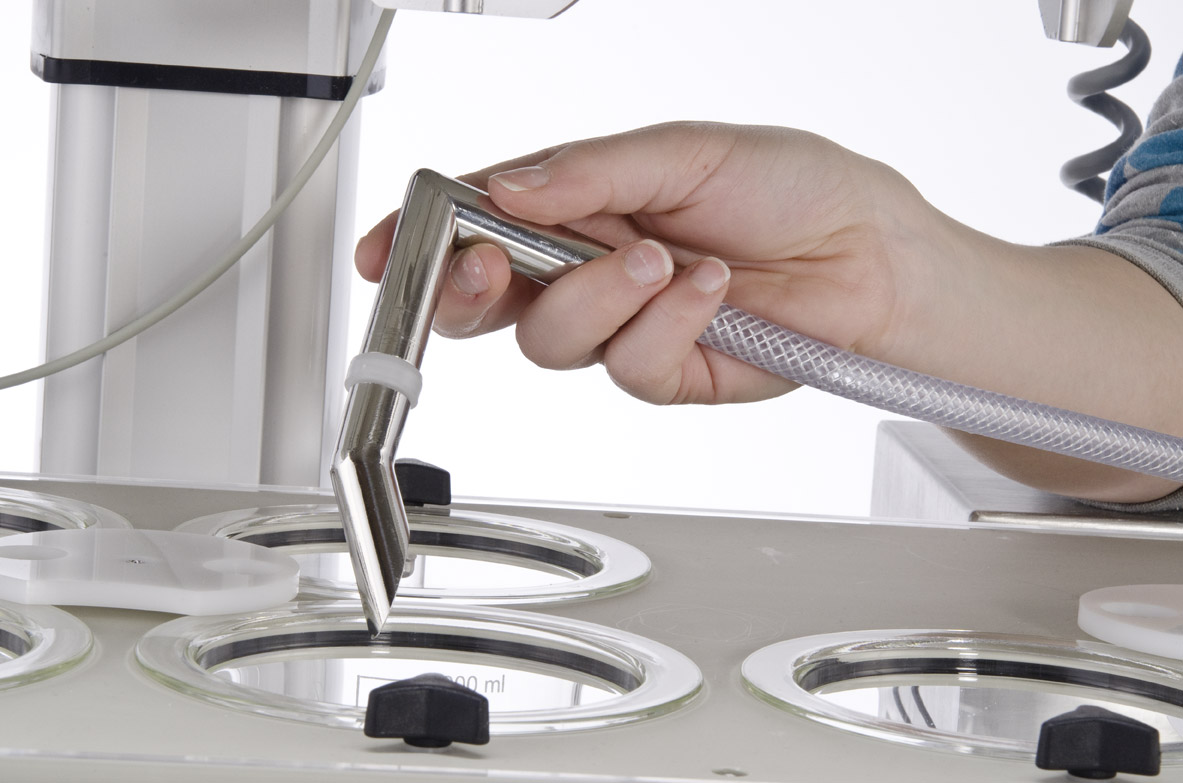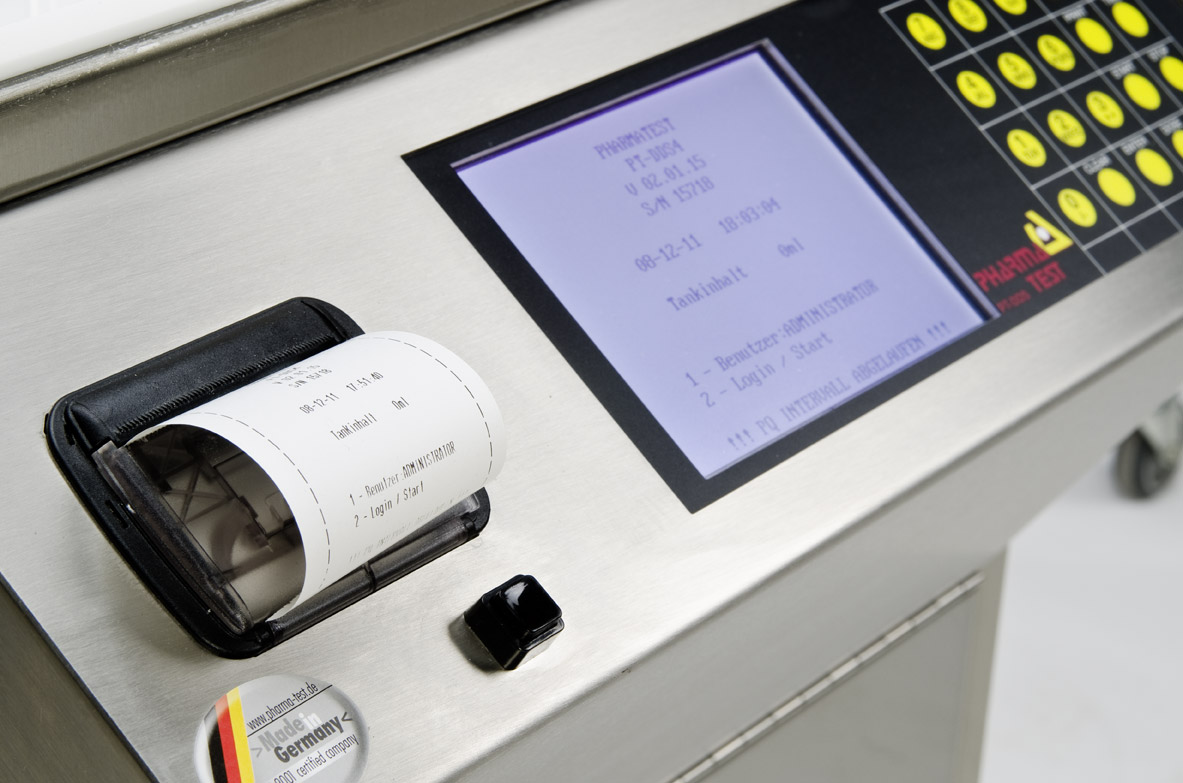 Le fluide préparé (tampon) est versé sous vide ou manuellement dans le réservoir de stockage et de chauffage de l'appareil. Pendant que le fluide est chauffé, il circule constamment sous vide à l'intérieur du réservoir. Grâce à ce mode de fonctionnement, le PT-DDS4 fournit un média entièrement désaéré et préchauffé prêt à être distribué dans les récipients de dissolution USP. Un autre grand avantage de la préparation du support est donc le gain de temps lors de la mise en route des cycles de dissolution suivants, car le support est déjà à la température d'essai requise de 37°C. Le PT-DDS4 est plus efficace que les autres instruments disponibles, car le processus de désaération peut être maintenu aussi longtemps que nécessaire, contrairement aux instruments qui ne désaèrent que pendant la distribution réelle.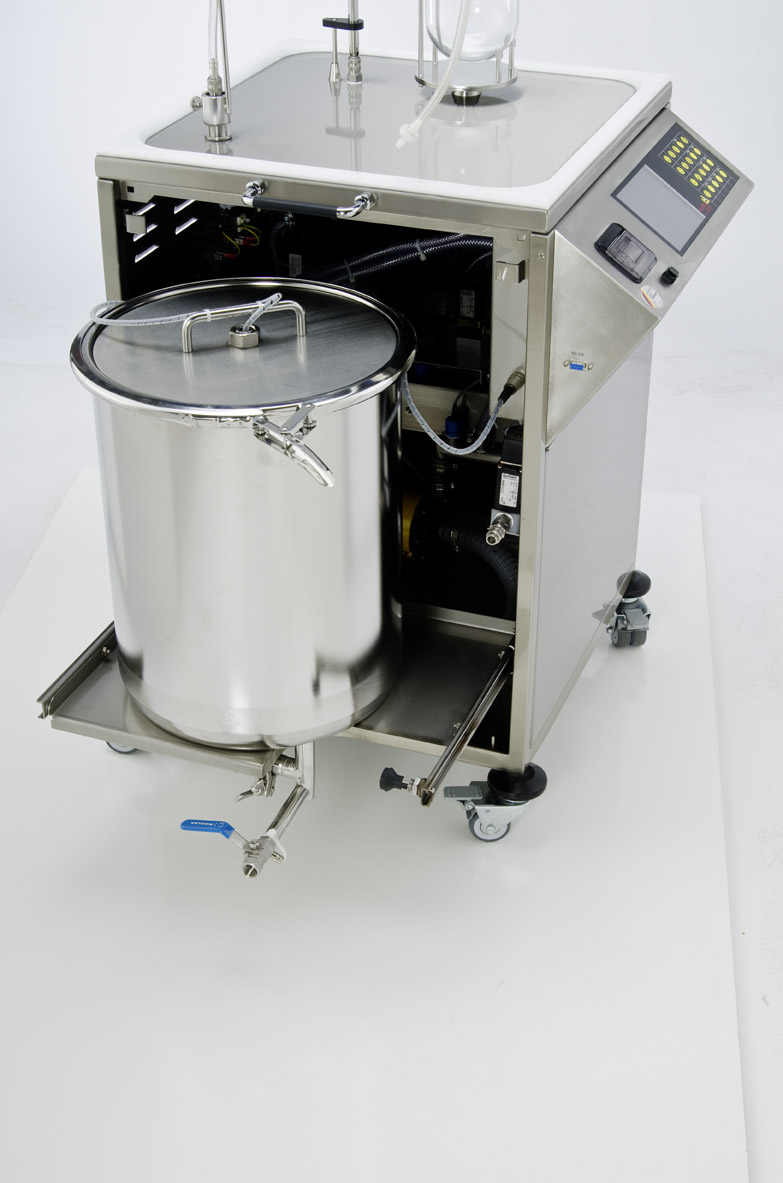 LCD Screen
PT-DDS4 features a large back-lit LCD screen. The user menu offers the possibility to program the dispensing (weight) volume, the temperature to pre-heat the media and the total de-aeration time. All information including dosed weight/volume and statistics can be printed via the built-in thermo printer.
Easy Access
The portable nature PT-DDS4 instrument offers the user easy servicing of many dissolution baths. The built-in pre-heating tank is easily removable for cleaning. Open the drainage valve and empty the tank of any medium left. Flush the tank again and repeat the software assisted process. When the media has to be changed, a tube flushing run is automatically done previous to any dispensing.
Handling of Foaming Media with PT-DDS4
To improve the degassing and dosing of foaming media, like SDS with the Pharma Test PT-DDS4 media preparation system, a new alternative inlet tube system is available now. A curved inlet tube can be used as an alternative to the standard diffuser inlet. The curved inlet tube directs the medium against the barrel wall, where it can gently flow down the tank, thus preventing an excessive foam build-up. The inlet tubes can be changed freely by the user. The inlets are secured by a knurled head screw. An upgrade kit for existing PT-DDS4 instruments is available as well.
Gravimetric Dosing is the Most Accurate Method of Liquid Dispensing
In this mode, the medium is directly dispensed into the dissolution vessel, which is placed safely in its stand during filling. The dosing volume can be adjusted within a range of 250 to 5,000g with an accuracy of ±0.5%, max. ±1ml. This accuracy is much better than what any current Pharmacopoeia requires. Enter the media density to correct the dosing. The temperature can be adjusted as well, within a range of 30.0°C to 50.0°C with an accuracy of ± 0.5°C. The media is constantly circulating while the vacuum level is kept constant.
Volumetric Dosage is Selectable as well
This mode of dosage is very convenient and time effective for the end user. Here, the de-aerated medium is filled directly into the dissolution vessels which are installed in the dissolution bath. The design of the filling arm ensures a slow filling along the side of the vessels to avoid oxygen saturation while filling.
Online Buffer Mixing Using the Built-in Electronic Load Cell (Balance) is Available as Well
Simply enter the amount and density of the buffer (range from 100g to 5,000g) to be filled into the pre-filled storage tank.
Included in the Standard Scope of Supply
Gravimetrical dosing set-up
Electro polished stainless steel tank – max. capacity approx. 24 liters
Stainless Steel dosing dish to hold dissolution vessels
Comprehensive documentation folder including:
User manual
DQ/QC instrument compliance test certificate
IQ documentation
OQ documentation
Instrument logbook
Parameter
Specification
Dosing Range
250 – 5,000g – gravimetric method

250 – 5,000ml – volumetric method

Dosing Accuracy
±0.5% of selected volume – gravimetric method

±0.8% of selected volume – volumetric method

Tank Volume
Approx. 24 liter
Dispensing Time for 1 Liter
Approx. 45 – 60 seconds
De-aeration and Heating Time
24 liters within approx. 30 – 45 minutes
Display
LC Display 320×240 pixels, 80 x 80 mm screen
Data Entry
Alpha numerical keypad
Method Memory
Store up to 16 methods
Printer
Thermo printer, 24 characters
Interface
RS232 port
Vacuum Level
0.4 bar absolute
Temperature Range
30.0 – 50.0°C
Temperature Accuracy
±0.5°C
Heater Capacity
900W
Calibration
Built-in calibration procedures for digital load cell (weight),digital flow meter (volume) temperature control
Height of Dispenser
130cm from ground floor
Space Requirements
550 x 700 x 900 mm (Length x Width x Height)
Packaging Dimensions
Approx. 1070 x 970 x 780cm (Length x Width x Height)
Net / Gross weight
Approx. 75 / 110 kg
Certification
All components certified to USP / EP requirements
CE / EMC Certification
All CE / EMC Certification provided
Validation
All IQ & OQ documents included