CABDC2010-
Overhead Stirrer
Flexible and Repeatable

The BDC2010 delivers 50% more power than the BDC2002 while keeping the same compact footprint, Stirlight™, and through shaft.

The BDC2010 works smarter and allows the user complete mixing control. The stirring direction can be changed with the touch of the reversing button. The countdown timer times a stirring activity and beeps when completed. In xRx mode the stirrer is set up to continuously reverse from one direction to the other for a set length of time.
Features
Multifunctional - Reversing - Countdown Timer

Countdown Timer
Repeatable, accurate results
Stirring stops when time is complete
Reversing
Mixes in a clockwise or counter clockwise direction
Offers different mixing with the same impellers
xRx Agitation
Controllable vortex effect
Quicker more complete mixing
Eliminates air from sample
Brushless DC Motor
50% more power
Maintains speed at all viscosities
Provides automatic overload protection

Stirlight
Shows stirring clearly
Monitors mixing properties of batches
Through Shaft
Impeller adjustment made easy
Less downtime due to impeller changes
Chuck, chuck key, mounting support rod, external power supply, and grounded power cord included
Three year warranty
Clamp, stand, and impellers are available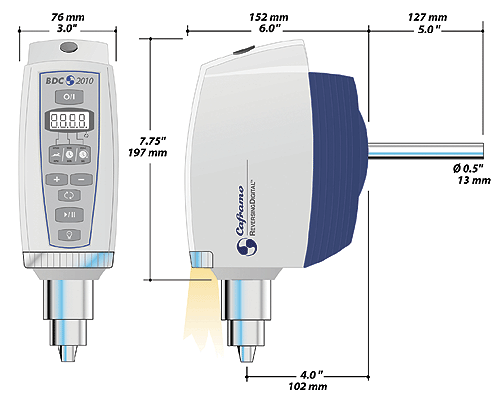 Specifications
Speed Range
40-2010 rpm
Modes
Countdown timer
Clockwise
Counter clockwise
xRx agitation
LED Display Accuracy
± 3% of reading
Maximum Torque
100 N-cm
Electrical Output from Power Supply to Stirrer
DC 24 V, 4.75 A, 90 W
Maximum Mechanical Output Power
1/10 hp, 70 watts, (Brushless DC Motor)
Input to Power Supply
AC 100-240 volts, 50/60 Hz
(Must use Caframo supplied power supply)
Stirrer Weight
3.0 kg (7lbs)
Power Supply Weight
0.6 kg (1.2lb)