Animal Containment Workstation
Two-pieces Stainless Steel Tray, easy to lift
Accomodates rat and mouse cages
Hydraulic Motor to adjust height
The Portable Safety Solution for Animal Research Laboratories
VDA Cabinet Airflow System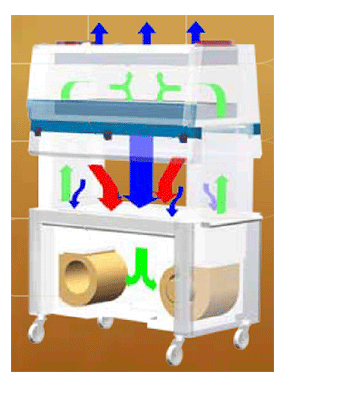 The VDA Dual Access Workstation employs recirculating airflow configuration for better filtration efficiency
The blower system pulls ambient intake air through the front grilles, creating inflow that provides operator protection from allergen inside the work zone. An activated carbon pre-filter removes odors.
Air flows through the common plenum on top of the cabinet. A portion of it goes up through ULPA filter as exhaust to create inflow. The remaining portion goes down through ULPA supply filter and bathes the work zone in clean air with a non- turbulent downflow
The combination of vertical laminar downflow and inflow creates an air curtain to protect the operator from contaminants released from the work surface.
VA2 Cabinet Airflow System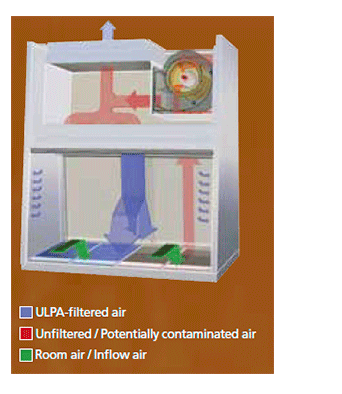 Ambient air pulled through the perforations towards the work zone front prevents contamination of the work surface and work product. The inflow does not mix with the clean air within the cabinet work zone. Inflow air travels through a return path toward the common air plenum (blower plenum) at the top of the cabinet.

Approximately 40% of the air in the common plenum is exhausted through the ULPA filter to the room. The remaining 60% of the air is passed through the downflow ULPA filter and into the work area as a vertical laminar flow air stream bathing the work surface in clean air.
The uniform, non-turbulent air stream protects against cross-contamination within and throughout the work area.
Near the work surface, the ULPA-filtered downflow air stream splits with a portion moving toward the front air grille, and the remainder moving to the rear air grille. A small portion of the downflow enters the side capture zones at a higher velocity (small blue arrows).
A combination of inflow and downflow air streams form an air barrier that prevents contaminated room air from entering the work zone, and prevents work surface emissions from escaping the work zone.
VBD Cabinet Airflow System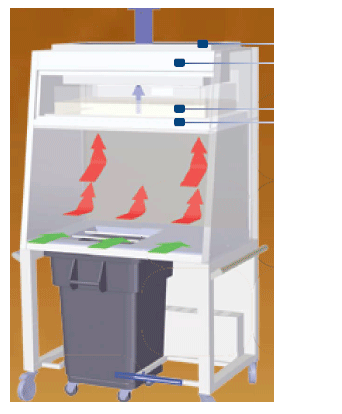 Room air is drawn in across the front of the cabinet with an average velocity of
0.35 m/s (70 fpm).
Air is drawn up through the cabinet's work zone and forced through the ULPA filter
(>99.999% typical efficiency for 0.1 to 0.3 micron sized particles).
The full work zone ceiling extraction system ensures airflow uniformity throughout the cabinet's main chamber.
The ULPA filtered air then returns to the laboratory stripped of all airborne contaminants and odor.
MODEL VDA
General Specifications, VIVA® Dual Access Animal Containment Workstation, Model VDA
Model
VDA-4A9
VDA-5A9

External Dimensions (W x D x H)

1340 x 762 x 1961 mm (52.8" x 30.0" x 77.2") min height
1645 x 762 x 1961 mm (64.7" x 30.0" x 77.2") min height
1340 x 762 x 2245 mm (52.8" x 30.0" x 88.4") max height
1645 x 762 x 2245 mm (64.7" x 30.0" x 88.4") max height
Internal Work Area (W x D x H)
1100 x 465 x 564 mm (43.3" x 18.3" x 22.2")
1405 x 465 x 564 mm (55.3" x 18.3" x 22.2")
Downflow Velocity
0.24 m/s (47 fpm)
Pre-Filter
Disposable and non-washable polyester fibres with 85% arrestence / EU3 rated
ULPA Filter Typical Efficiency
>99.999% for particle size between 0.1 to 0.3 microns, per IEST-RP-CC001.3
Sound Emission per EN 12469*
53 dBA
54 dBA
Fluorescent Lamp Intensity at Zero Ambient
1725 lux (160 foot candles)
1525 lux (142 foot candles)
Construction, Main Body
1.5 mm (0.06") 16 gauge EG Steel with IsocideTM Oven-Baked Epoxy-Polyester Powder Coated Finish
Shipping Dimensions, Maximum (W x D x H)
1720 x 820 x 2240 mm (67.7" x 32.2" x 88.1")
2025 x 820 x 2240 mm (79.7" x 32.2" x 88.1")
Shipping Weight
342 Kg (754 lbs)
432 Kg (952 lbs)
Shipping Volume, Maximum
3.16 m3 (111.6 cu.ft.)
3.72 m3 (131.4 cu.ft.)
Electrical Rating
VDA-_A9
110-130 VAC, 50/60 Hz, 1Ø
Power Consumption
VDA-_A9
210 W
250 W

Accessories

Foldable Side Tray (SS Shelf Kit)
VDA-001 5170257
Side Shield
VDA-004 5170562
VDA-005 5170563
Feed Hopper
VDA-006 5170594
MODEL VA2
General Specifications, VIVA® Universal Animal Containment Workstation, Model VA2
Note to customer: Insert electrical voltage number into last model number digit_when ordering.
Model
VA2-4A2-E9
VA2-6A2-E9
Nominal Size
1.2 meter (4')
1.8 meter (6')
External Dimensions (W x D x H)
1423 x 815 x 1510 mm
(56.0" x 32.1" x 59.4")
2030 x 815 x 1510 mm
(79.9" x 32.1" x 59.4")
Maximum External Dimensions with Support Stand (W x D x H)
1585 x 852 x 2235 mm
(62.4" x 33.5" x 88.0")
2193 x 852 x 2235 mm
(86.3" x 33.5" x 88.0")
Internal Work Area (W x D x H)
1270 x 623 x 680 mm
(50.0" x 24.5" x 26.7")
1870 x 620 x 680 mm
(73.6" x 24.4" x 26.7")

Average Airflow Velocity

Inflow
0.45 m/s (90 fpm)
Downflow
0.35 m/s (70 fpm)

Airflow Volume

Inflow
625 m3/h (368 cfm)
921 m3/h (542 cfm)
Downflow, 60%
959 m3/h (547 cfm)
1414 m3/h (832 cfm)
Exhaust, 40%
625 m3/h (368 cfm)
921 m3/h (542 cfm)
ULPA Filter Typical Efficiency
>99.999% for particle size between 0.1 to 0.3 microns per IEST-RP-CC001.3

Sound Emission*

NSF / ANSI 49
63 dBA
64 dBA
EN 12469
60 dBA
61 dBA
Fluorescent Lamp Intensity
> 1400 lux (> 130 foot candles)
> 1230 lux (> 114 foot candles)
Cabinet Construction
1.5 mm (16 gauge) electrogalvanized steel with Isocide white oven-baked epoxy power coating
Net Weight Cabinet including stand
406 Kg (895 lbs)
528 Kg (1164 lbs)
Shipping Weight Cabinet including stand
456 Kg (1005 lbs)
570 Kg (1257 lbs)
Shipping Dimensions, Maximum (W x D x H) Cabinet excluding stand
1550 x 950 x 1900 mm (61.0" x 37.4" x 74.8")
2150 x 950 x 1900 mm (84.6" x 37.4" x 74.8")
Shipping Volume, excluding stand
2.80 m3 (99 cu.ft.)
3.88 m3 (137 cu.ft.)

Electrical*

Model
Voltage
Model
Voltage
VA2-4A2-E
110-120 VAC, 50/60 Hz, 1Ph, 11 amps
VA2-6A2-E

110-120 VAC, 50/60 Hz, 1Ph, 12 amps
MODEL VBD
General Specifications, VIVA® Bedding Disposal Workstation, Model VBD-4A2
Nominal Size
1.2 meter (4')
External Dimensions (W x D x H)

1247 x 760 x 1966 mm (49.1" x 30.0" x 77.4") minimum height
1247 x 760 x 2271 mm (49.1" x 30.0" x 89.4") maximum height

Internal Work Area (W x D x H)

1040 x 680 x 594 mm (40.9" x 26.8" x 23.4")

Work Surface Height

920 mm ~ 1225 mm (36.2" ~ 48.2")

Front Opening
400 mm (15.7")
Inflow Velocity

0.35 m/s (70 fpm) at initial setpoint

Pre-Filter

Disposable, non-washable polyester fiber, 85% arrestance, EU3 rated

ULPA Filter Typical Efficiency

>99.999% at 0.1 to 0.3 microns as per IEST-RP-CC001.3 USA

Sound Emission* Per EN 12469
58 dBA
Fluorescent Lamps

> 1,300 lux (> 121 foot candles)

Workstation Construction

Main Body

1.2 mm (0.05") 18 gauge electro-galvanized steel with Isocide™ white oven-baked epoxy-polyester powder-coating

Work Top

1.2 mm (0.05") 18 gauge stainless steel, type 304, with 4B finish

Inner Liner

0.9 mm (0.035") 20 gauge stainless steel, type 304, with 4B finish

Net Weight
233 Kg (514 lbs)
Shipping Weight
294 Kg (648 lbs)
Shipping Dimensions, Maximum (W x D x H)

2150 x 1840 x 1230 mm (84.6" x 72.4" x 48.4")

Shipping Volume, Maximum
4.87 m3 (172 cu.ft.)

Electrical**

Model
VBD-4A2
Voltages
110-120 VAC, 60 Hz, 1Ф
Cabinet Full Load Amps (FLA)
6.5 A
Optional Outlets (FLA)
5 A
Cabinet Nominal Power
268 W
Cabinet BTU
914