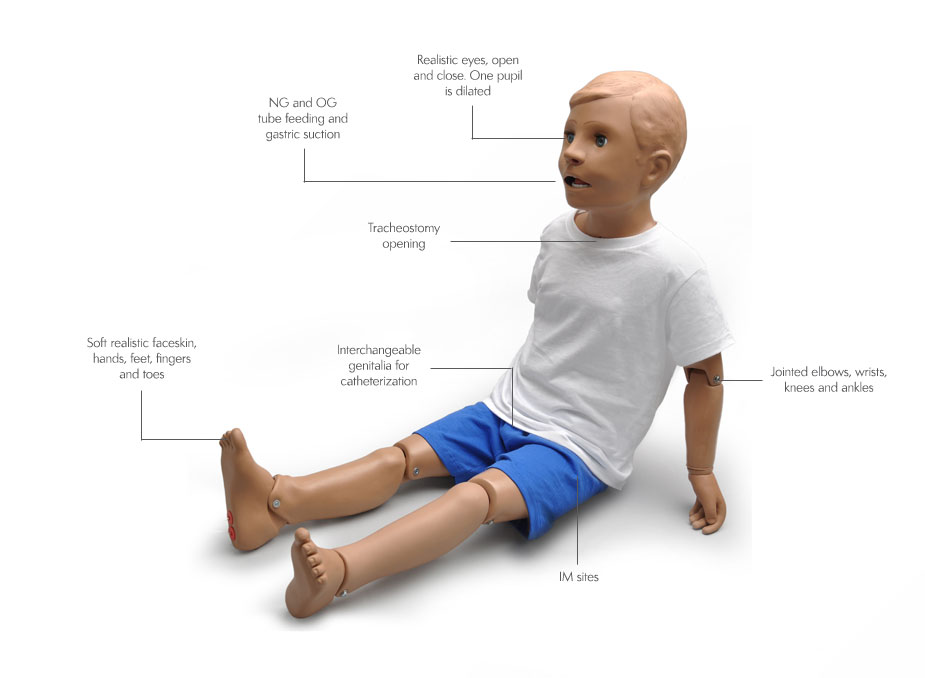 Product Description
BVM
Airway management
Tracheostomy
Articulating jaw
Bilateral lung expansion with realistic chest rise during BVM.
Realistic airway with tongue, vocal cords, trachea, and esophagus. Practice intubation using a miller blade and uncuffed ET tube or LMA.
Pierce the replaceable trachea and insert a tracheostomy tube with an attached positive pressure device to observe chest rise.
Articulating head, neck, and jaw.
Carotid pulse
Injection training arm
Interchangeable genitalia
Intraosseous access
Manual palpable pulses.
Injection arm for IV, IM, Sub Q and intradermal exercises.
Interchangeable genitalia for female and male catheterization
Intraosseous infusion and injection system with realistic tibia bones. Allows infusion of fluids, blood and/or drugs directly into the bone marrow of the tibia.

The Mike® and Michelle® five (5) year old is a sophisticated pediatric simulator for training in standard and advanced clinical procedures. These PEDI® simulators are now available with site specific heart and lung sounds.
 
Specifications
Soft, lifelike faceskin
Self-molded hair
Eyes open and close in realistic eyesockets for ophthalmic procedures
Ear canal for otic drops and irrigation
Fully articulating head and jaw with teeth and tongue
NG and OG exercises
Bends at waist as in human
Jointed elbows, wrists, knees and ankles
Realistic hands, feet, fingers and toes
Soft upper body skin over hard upper body for realistic feel
Detachable at waist for easy storage
Bathing and bandaging activity
Intramuscular injection sites
Interchangeable genitalia
Tracheotomy placement
Male and female catheterization
Removable internal tanks
Enema administration
T-shirt and shorts
Neck brace
Soft carrying bag
Instruction manual