Stainless Steel Food Temperature Datalogger
Record temperatures in the harshest environments with a Stainless Steel Data Logger.
With a rugged enclosure made from food grade 316 SS, these loggers can withstand temperatures to 221°F (105°C) and are protected from corrosion, impact and moisture with an IP rating of IP67. No additional cradles or interfaces are required to setup and download data. Remove the cap and the USB port is exposed for connection to the PC. Choose from five models; one records internal temps for ambient monitoring, and the other four include a penetration probe for product testing from 2" (50mm) to 8" (200mm) length. Select a recording interval from 1 minute to 255 minutes to customize your logging session. With an industry leading 3-year battery life, you'll never be without a working logger. For higher accuracy than stated, each logger can be individually calibrated through software for precision to ±0.9°F (±0.5°C). An optional calibration certificate is available from our NIST-Traceable calibration lab.
Features
High temp data logging to 221°F (105°C)
IP67 waterproof rated
Food grade 316 SS enclosure
High-speed USB connection
3-year battery life
Measure ambient or internal temps
Choice of 4 probe lengths (2", 4", 6", 8")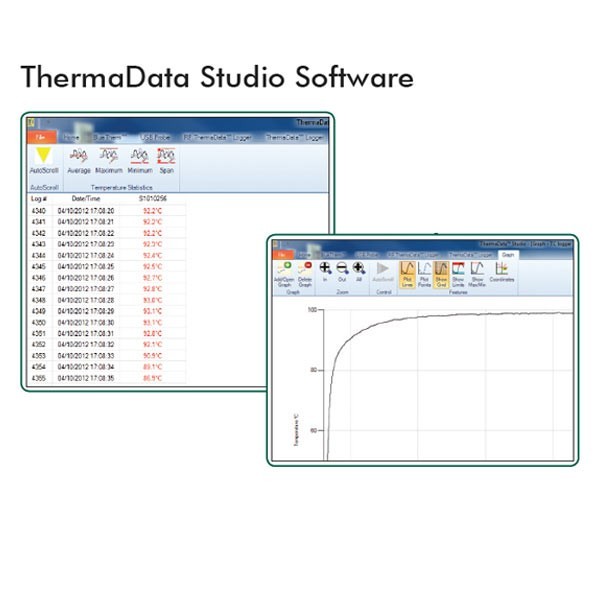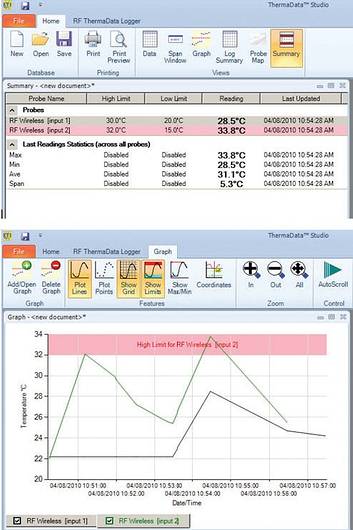 Product Informations
Cat. No
Description
ET293900-0
Temperature logger with internal sensor
ET293930-0
Temperature logger with sensor 2 in.
ET293931-0
Temperature logger with sensor 4 in.
ET293932-0
Temperature logger with sensor 6 in.
ET293933-0
Temperature logger with sensor 8 in.
CERCAL2PT-
NIST calibration certificate to 2 points
Range (Probe and Body)
-4 to 221°F (-20 to 105°C)
Resolution
0.9°F (0.5°C)
Accuracy
±1.8°F (±1°C) [±0.9°F (±0.5°C) with calibration utility]
Waterproof Rating
IP67
Memory
2,048 temperature readings
Sample Rate
1 minute to 255 minutes
Battery/Life
3.6 volt 2/3 AA lithium / minimum 3 years
Probe
ET293930-0: 0.13 dia. x 2 L inches (3.3 dia. x 50 L mm)
ET293931-0: 0.13 dia. x 4 L inches (3.3 dia. x 100 L mm)
ET293932-0: 0.13 dia. x 6 L inches (3.3 dia. x 150 L mm)
ET293933-0: 0.13 dia. x 8 L inches (3.3 dia. x 200 L mm)
Dimensions
0.9 dia x 5.1 L inches (22.5 dia. x 129 L mm) excluding probe
Weight
0.37 lbs. (170 g)