Dry Block Heaters
Ika - 0004025101, 0004025201, 0004025301,0004025401
Stepless adjustable temperature up to 120 °C
Timer: Countdown, adjustable from 1 min to 99h 59min
Counter: Display of heating time
Highly versatile with a large number of blocks
Error code display
Fixed safety circuit
Acoustic signal at end of test
Dry Block Heaters
RELIABLE TEMPERATURE CONTROL OF REACTION VESSELS
Numerous applications in life sciences require temperature control of samples, either for sample preparation or to induce a reaction. IKA offers a wide range of dry block heaters with interchangeable heating blocks.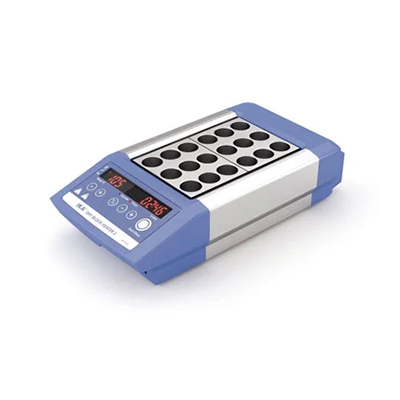 QUICK, PRECISE AND REPRODUCIBLE
The digital dry block heaters with precision heating blocks ensure highly accurate and reproducible results, guaranteeing short heating times. The bright, easy to read LED display facilitates very easy setting of the required temperature and accurate monitoring of the actual temperature. Excellent temperature uniformity and stability is ensured when working with IKA dry block heaters.
The PT 10000.60 temperature sensor made of stainless steel is included in the scope of delivery and enables continuous monitoring and control of the temperature in the sample vessels. The blocks are removed with a small tool, which is also part of the delivery.
FLEXIBLE THROUGH MODULAR HEATING BLOCKS
IKA dry block heaters are highly versatile and each model can accept separate interchangeable modular heating blocks. They can carry various sample inserts like centrifuge tubes, test tubes, vials, microtiter plates and PCR tubes or strips. Each block has a thermometer well for measuring the block temperature. Anodized aluminum blocks provide superior temperature stability and heat transfer.
TYPICAL APPLICATIONS
IKA dry block heaters are highly versatile and suitable for a broad range of applications in pharmaceutical, microbiological, biochemical and -medical laboratories: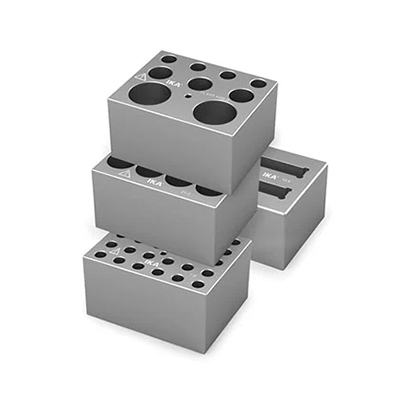 DNA extractions
DNA analysis
Melting point determination
Boiling point determination
Immunoassays
Enzyme reactions
Enzymatic processes
Enzyme activity studies
In situ hybridization
Blood-urea-nitrogen determinations
Nucleic acid hybridization
Coagulation studies
Biochemical processes
Incubation and activation of cultures
Blood examinations
Fertile ground processing
Restriction digest
Denaturation
Specifications
Model
Dry Block Heater 1
Dry Block Heater 2
Dry Block Heater 3
Dry Block Heater 4
Number of blocks
1
2
3
4
Heat output
165 W
250 W
330 W
412 W
Heating temperature range
room temp. +5° - 120 °C
Temperature display
yes
Adjustment and display resolution
1 K
Connection for ext. temperature sensor
CT (DIN12878)
PT 1000 variation;DIN EN 60751 Kl. A
≤ ± (0.15 +0.002xITI) K
Temperature stability within the blocks at 37°C *
±0.2 °C
Temperature stability within the blocks at 60°C *
±0.4 °C
Temperature Homogenity @ 37°C *
0.2 K
0.3 K
Temperature Homogenity @ 60°C *
0.4 K
0.6 K
Heatingrate / Heat up time with external sensor *
5 K/min
4.5 K/min
4 K/min
Set-up plate material
Aluminium alloy
Set-up plate dimensions
96 x 76 mm
96 x 152 mm
96 x 228 mm
96 x 304 mm
Fixed safety circuit
150 °C
Timer
yes
Time setting range
1 - 5999 min
* Measured in IKA DBH Testingblock
Refer Manual for more details
Dimensions (W x H x D)
151 x 73 x 228 mm
151 x 73 x 304 mm
151 x 73 x 380 mm
151 x 73 x 456 mm
Weight
1.342 kg
1.3 kg
1.7 kg
2 kg
Permissible ambient temperature
5 - 40 °C
Permissible relative humidity
80 %
Protection class according to DIN EN 60529
IP 21
Voltage
115 V
Frequency
50/60 Hz
Power input
165 W
250 W
330 W
412 W
Other voltage variants available (220 - 240 V / 115 V / 100 V)