Dual-action Open-air Shakers
Dual-action benchtop platform shakers accommodate flask up to 6L.
The most versatile shakers at a reasonable price offer an ideal solution for your mixing needs.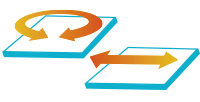 Control Panel

Operating Features
Microprocessor PID control and shaking speed calibration.
Dual-action shaking motion: orbital or reciprocating.
Speed range: 10 to 500 rpm
Timer range: 1 min. to 999 hr 59 min.
Adjustable shaking amplitude.
- 12.7mm or 19.1mm for OS-2000
- 19.1mm

or 25.4mm

for OS-3000
User friendly control panel.
- Lab Companion's unique VFD-bright, clear, easy to read.
- Durable membrane touch switch and control knob.
Speed is basically set and displayed in increments of 1 rpm.
Also speed increment interval can be set among 1, 5, 10 rpm according to users preference.
RS-232 port and USB port for external control and data collection.
Constructional Features
Wide speed range even with heavy workload.
- Equipped with a maintenance-free BLDC motor to generate
smooth, quiet, uniform, and yet powerful shaking motion.
Repetitive task can be easily performed as the plaNorm stops where it starts.
- Stopping the shaking plaNorm always at the same position is
highly beneficial for automated dosing or sampling process.
Pleasant test environment by the smooth acceleration and deceleration control.
- Smooth start and smooth stop function prevent chemical spills from flasks or test tubes.
Low-profile design minimizes vibration or sliding caused by the high speed shaking motion.
Safety Features
Worry-free operation.
- Automatic shaking speed adjustment in case of excessive
workload such as unbalanced load placement, unusual
vibrations caused from unstable Voor or external shock.
Automatic run after power interruption.
Audible/Visible alarm activated by shaking speed deviation.
Shaker protection system against over-current, stalled platform check.
Specifications

Model

OS-2000
OS 3000

Shaking

System

Motion Type

Orbital or Reciprocating motion selectable

Amplitude Size




(mm / inch, dia.)

12.7, 19.1 / 0.5, 0.8 (Standard 19.1 / 0.75)

19.1, 25.4 / 0.8, 1 (Standard 19.1 / 0.75)

Speed Range

(RPM)

10 to 500

Accuracy

±

1% of set speed

(>100rpm) /

±

1

(<100rpm)

Timer

1 min. to 999 hr 59 min.

Max. Load

(kg / Ibs)

10 / 22.0 at 500 rpm in Orbital shaking motion




​

8.5 / 18.7 at 500 in Reciprocating shaking motion

Dimension

Platform




(WxD) (mm / inch)

320

x

260 / 12.6

x

10.2

350

x

350 / 13.8

x

13.8

Overall

(WxDxH) (mm / inch)1

354x388x146 / 13.9x15.3x5.7

409x508x141 / 16.1x20x5.6

Net Weight

(Kg / lbs)

22 / 48.5

28 / 61.7

Electrical Requirements

(120V, 50 / 60Hz)

0.6A

0.6A

Cat. No.

AAH3D1165U

AAH3D1265U
1 Main unit's dimension is measured without a platform.