Digital incubating/ refrigerating benchtop shakers
Transparent lid offers great visibility and gas spring supports ensure hand-down handling of the samples by allowing immediate and easy access to your samples.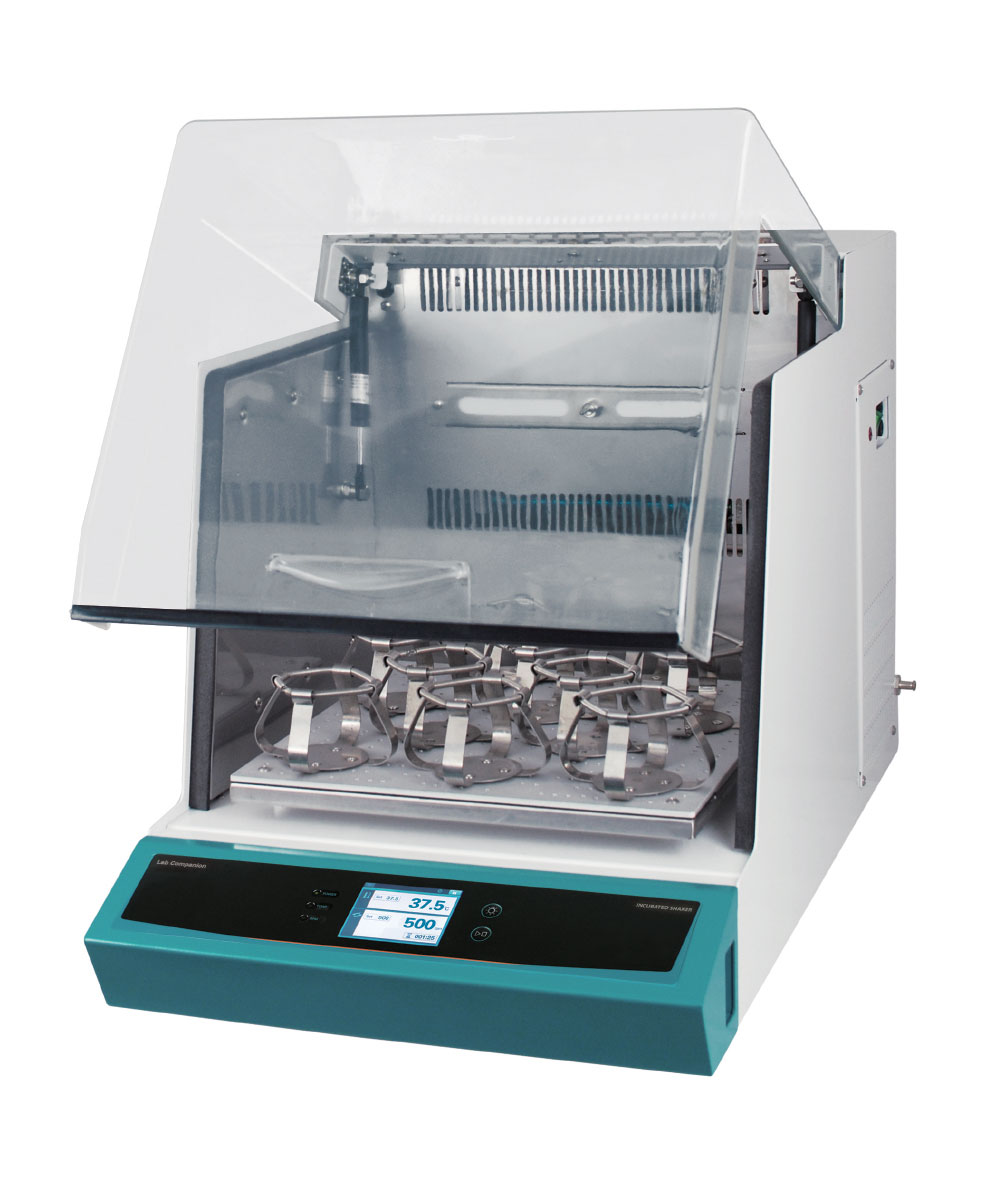 Control Panel

Operating Features
General Control
Intuitive touch screen LCD controller with easy icons and

logical menus.

Automatic run is available with non-volatile set point memory

after power interruption.

Built-in RS-232 port and USB port for external control and data

collection.
Shaking Control
Speed range: 10 to 500 rpm.
Orbit diameter: 19mm.
Timer range: 1 min. to 999 hr 59 min.
Audible/Visible alarm activated by shaking speed deviation.
Worry-free operation.


- Automatic shaking speed adjustment in case of excessive




workload such as unbalanced load placement, unusual




vibrations caused from unstable Ioor or external shock.

Shaker protection system against over-current, stalled platform check.
Temperature Control
Temperature range:
Amb. +5°C to 80 °C (for IST-3075 / 4075)


Amb. -15°C

(Min. +15)

to 80°C

(for IST-3075R / 4075R)
Microprocessor PID control and auto-tuning.
Yree point temperature calibration.
Mechanical over-temperature protection device.
Constructional Features
Wide speed range even with heavy workload.
- Equipped with a maintenance-free BLDC motor to generate smooth, quiet, uniform, and yet powerful shaking motion.
Repetitive task can be easily performed as the plaJorm stops where it starts.
- Stopping the shaking plaJorm always at the same position is highly bene\cial for automated dosing or sampling process.
Pleasant test environment by the smooth acceleration and deceleration control.
- Smooth start and smooth stop function prevents chemical spills from Iasks or test tubes.
Wide sample monitoring and convenient sample loading.
- Convenient sample monitoring without a]ecting inside environment thanks to the three side transparent acryl lid with bright LED lamps.
- Gas spring lid supports providing smooth motion, soft opening and closing.
Air-tight silicone door seal to provide excellent temperature uniformity.
Corrosion resistance stainless steel interior.
Three step adjustable high-velocity fan ensuring uniform temperature distribution and rapid thermal recovery after door open.
Environment-friendly CFC-free refrigerant.

(for IST-3075R / 4075R)
Specifications



Model

IST-3075

IST-3075R

IST-4075

IST-4075R

Temperature

Min. Temp.




(

°C/

°

F

)

Amb. +5 to 80
/ Amb. +9 to 176

Amb. -15 (Min. +15) to 80
/ Amb. -27 (Min. +27) to 176

Amb. +5 to 80
/ Amb. +9 to 176

Amb. -15 (Min. +15) to 80
/ Amb. -27 (Min. +27) to 176

Fluctuation
at 37°C in flask(±°C/°F)

0.1 / 0.18

Variation
at 37°C in flask(°C/°F)

0.5 / 0.90

Refrigerator

(Hp)

-

1 / 8 HBP

(220V, 230V)

-

1 / 8 HBP

(220V, 230V)

1 / 6 HBP

(100V, 120V)

1 / 6 HBP

(100V, 120V)

Shaking

System

Motion Type

Orbital

Amplitude Size




(mm / inch, dia.)

19.1 / 0.75

Speed Range

(RPM)

10 to 500

Accuracy

±

1% of set speed

(>100rpm) /

±

1

(<100rpm)

Timer

1 min. to 999 hr 59 min.

Max. Load

(kg / Ibs)

10 / 22.0 at 500 rpm
15 / 33.1 at 400 rpm

14 / 30.9 at 500 rpm




21 / 46.3 at 400 rpm

Dimension

Volume

(L / cu ft)

53 / 1.9

83 / 2.9

Platform




(WxD) (mm / inch)

350x350 / 13.8x13.8

450x450 / 17.7x17.7

Internal

(WxDxH) (mm / inch)

410x410x320 / 16.1x16.1x12.6

510x510x320 / 20.1x20.1x12.6

Overall

(WxDxH) (mm / inch)

440x785x510 / 17.3x30.9x20.1

540x 890 x510 / 21.3x35x20.1

Net Weight

(Kg / lbs)

65 / 143.3

73 / 160.9

81 / 178.6

90 / 198.4

Electrical Requirements

(120V)

60Hz, 7.5A

60Hz, 10.1A

50/60Hz, 7.5A

60Hz, 10.1A

Cat. No.

AAH23465U

AAH23565U

AAH23665U

AAH23765U