Temperature & Humidity Chambers
Features
Temperature & Humidity Control Range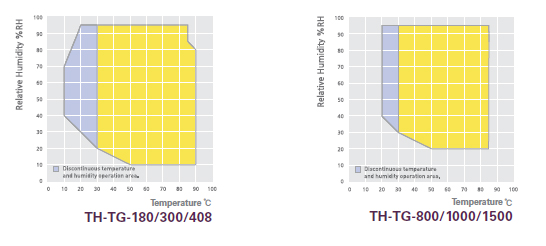 *
Above blue color sector is unstable range after 24 hours operation.
Safety Features
Built in door lock.
Automatic shut off after overheat alarm.
Low and empty water level alarm.
Power supply leakage breaker.
Over current protection.
Overheat protection.
Door open alarm.
Constructional Features
Spacious chamber volume with a maximum capacity of 1500L.

Various volume sizes, available to suit any users'need.

Advanced performance of low and high temperature and humidity control, achieved by adapting the humidification tank exterior to the chamber, added benefit for long term test.
Water recycling and purifying system reduce water consumption for longer operation.
Corrosion resistance stainless steel chamber and electric polished humidification tank.
Air-tight door closure with perfect sealed packing.

Heat-resistant silicone packing completely blocks high heat leakage from the inner chamber.
Two-point door latch also enhances tightness to door closure.

Energy efficiency is achieved by optimization of the insulation system.

Even if the unit is operating at max. temperature, the surface of the unit doesn't allow high temperatures of over 60℃

Maintenance of water supply are easily performed with a front water tank.

Portable water container makes supplying water convenient.

Water supply during operation is also available for long term test purposes.
Direct water system provides user great convenience when performing long-term tests. (optional)
Clear observation of samples.

Tempered glass door with built in wire heater.
Energy efficient, long life span LED lighting.
Wider view, inner glass door is available for monitoring of samples. (optional)

Cable port for external probes or wires.

50mm diameter cable port comes standard on the left side of the unit.
Additional 50mm or 80mm diameter cable ports can be custom ordered. (optional)

Casters for easy mobility during installation or relocation.
Operating Features
Microprocess PID control / Auto-tuning / Calibration.
User friendly LCD controller.à

Set value and present value are clearly visible together on display.
Operating progression visible in graph mode allow for direct data interpretation.
Temperature and other operating parameters recorded with use of an optional recorder. (optional)

Sufficient programmable control support.
Description
TH-ICH
Programmable Pattern Capacity
10
Pattern Repeat Time
999
Max. Segments per a Pattern
100
Available Max. Segments*
100
Programmable Process Time per a Segment
0 to 99 hr 59 min

* Even though the max. segments per a pattern are 100, available total segments are up to 1200 not 12000, so you need to arrange the number of segment an patterns properly.
Computer interface

RS-485 communication port enables connection of up to maximum 9 units. Simultaneous monitoring and operating of multiple units is an available feature. (optional)
Program patterns are simple to set with the use of our software.
Storage of program information, backup of value settings / recovery, and temperature values.
RS-232C port as standard offer.