Bench Scales
Advanced Checkweighing Bench Scale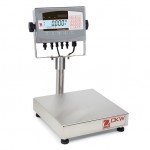 Model : CKW3R71XW
Capacity x Enhanced Readability: 6 lb × 0.001 lb / 96 oz × 0.02 oz / 6 lb × 0.02 oz / 3 kg × 0.5g
Maximum Displayed Resolution: 1:6,000
Capacity × Approvable Readability: 6 lb × 0.002 lb / 96 oz × 0.05 oz / 3 kg × 0.001 kg
Approval Resolution: 1:3,000
---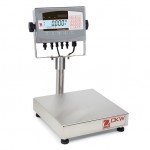 Model : CKW6R71XW
Capacity x Enhanced Readability: 15 lb × 0.002 lb / 240 oz × 0.05 oz / 16 lb × 0.05 oz / 6 kg × 1 g
Maximum Displayed Resolution: 1:7,500
Capacity × Approvable Readability:
15 lb × 0.005 lb / 240 oz × 0.1 oz / 6 kg × 0.002 kg
Approval Resolution: 1:3,000
---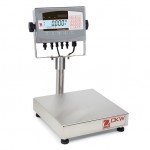 Model : CKW15L71XW
Capacity x Enhanced Readability: 30 lb × 0.005 lb / 480 oz × 0.1 oz / 30 lb × 0.1 oz / 15 kg × 2 g
Maximum Displayed Resolution: 1:7,500
Capacity × Approvable Readability: 30 lb × 0.01 lb / 480 oz × 0.2 oz / 15 kg × 0.005 kg
Approval Resolution: 1:3,000
---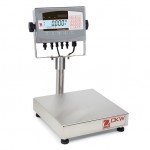 Model : CKW30L71XW
Capacity x Enhanced Readability: 60 lb × 0.01 lb / 960 oz × 0.2 oz / 60 lb × 0.2 oz / 30 kg × 5 g
Maximum Displayed Resolution: 1:6,000
Capacity × Approvable Readability: 60 lb × 0.02 lb / 960 oz × 0.5 oz / 30 kg × 0.01 kg
Approval Resolution: 1:3,000
---
The OHAUS CKW Checkweighing Scale—Speed, Durability and Cleanliness
The OHAUS CKW Series is a feature-rich line of checkweighing scales, combining a stainless steel T71XW indicator with a square, all-stainless steel CKW washdown base and a stainless steel column. Ideal for production, packaging and general industrial checkweighing weighing applications, the CKW offers a multifunctional indicator with multiple weighing units, alphanumeri keypad and software modes to meet the requirements of industrial applications. With rugged construction, comprehensive yet intuitive software and multiple connectivity options, the CKW can meet the needs of demanding industrial operations.
Features:
All stainless-steel construction with IP66/NEMA4X protection for indicator, with loadcells protected to IP67
6,000-7,500d default resolution—NTEP/Measurement Canada 1:3,000 certified/approved resolution
Configurable checkweighing alerts with display of results using LCD display and red/yellow/green LEDs.
Audible beeper can be configured to prompt when weight is within range, under, over, or under or over range.
Target values can be displayed at any time using a quick key press.
Easy to operate with positive feedback 5-function key and alphanumeric membrane keypad
Additional weighing modes for Counting, Percent Weighing, Dynamic/Animal Weighing and Display Hold.
128 item Library data storage function, Accumulation of results with statistics.
Operator lock-outs for configuration menu as well as keys.
Internal power supply with universal line cord—optional NiMH internal rechargeable power pack available
Includes RS-232 interface with GMP/GLP data output including date and time
Options include DC relay control kit, AC relay control kit, RS-485/422 and 2nd RS-232 interfaces,
Alibi memory module.
Model

CKW3R71XW

CKW6R71XW

CKW15L71XW

CKW30L71XW

Capacity (max) × Enhanced Readability
6 lb × 0.001 lb
96 oz × 0.02 oz


6 lb × 0.02 oz 3 kg × 0.5g

15 lb × 0.002 lb
240 oz × 0.05 oz
16 lb × 0.05 oz


6 kg × 1 g

30 lb × 0.005 lb
480 oz × 0.1 oz
30 lb × 0.1 oz


15 kg × 2 g

60 lb × 0.01 lb
960 oz × 0.2 oz
60 lb × 0.2 oz


30 kg × 5 g

Maximum Displayed Resolution

1:6,000

1:7,500

1:7,500

1:6,000

Capacity (max) × Approvable Readability

6 lb × 0.002 lb
96 oz × 0.05 oz


3 kg × 0.001 kg

15 lb × 0.005 lb
240 oz × 0.1 oz


6 kg × 0.002 kg

30 lb × 0.01 lb
480 oz × 0.2 oz


15 kg × 0.005 kg

60 lb × 0.02 lb
960 oz × 0.5 oz


30 kg × 0.01 kg

Approval Resolution

1:3,000

1:3,000

1:3,000

1:3,000

Platform Dimensions (W × D × H)

10 × 10 × 2.3 in. /


254 × 254 × 57.5 mm

12 × 12 × 2.3 in. /


305 × 305 × 57.5 mm

12 × 12 × 2.7 in. /


305 × 305 × 69.5 mm

Load Cell Capacity

6 kg

10 kg

30 kg

50 kg

Safe Overload Capacity

150% of rated capacity

Protection

NEMA 4X/IP66 for indicator, IP67 for loadcell

Column

Tubular 304 Stainless Steel 300 mm / 11.8 in. Fixed Height

Weighing Units

lb, oz, lb:oz, kg, g, custom unit

Modes

Weighing, Checkweighing, Counting, % Weighing, Dynamic Weighing/Display Hold

Weight Display

Dual line display with 25 mm / 1 inch high primary digits, white LED backlight

Checkweigh Indication

Green, yellow, red LEDs for OK, Underweight and Overweight

Keyboard

Positive feedback membrane keys, 5 function keys and alphanumeric keypad

Stabilization Time

Within 2 seconds

Auto-zero Tracking

Off, 0.5, 1 or 3 d

Zeroing Range

2% or 100% of capacity

Span Calibration

Span: 1 kg or 1 lb to 100% of capacity / Linearity: 3 or 5 point

Power

100-240 VAC / 50-60Hz internal universal power supply with hardwired cord

Operating Temperature Range

14 °F to 104 °F / -10 °C to 40 °C

Interface

Bidirectional RS-232 and external tare input

Net Weight

19.8 lb / 9 kg

22.1 lb / 10 kg

26.5 lb / 12 kg

28.7 lb / 13 kg

Shipping Dimensions (W × D × H)

19.1 × 15.3 × 16.1 in. / 485 × 390 × 410 mm

Shipping Weight

26.5 lb / 12 kg

28.7 lb / 13 kg

33.1 lb / 15 kg

35.3 lb / 16 kg