HPLAT-30-A11B
HISTOLOGY FREEZE PLATE
Fast-freeze cold plate allows Histotechnologists to observe tissue freezing and keep specimen edges flat.
FASTER PROCESSING TIMES
This fast-freeze cold plate is essential for processing specimens for sectioning in a microtome with no cryostat, or dissecting frozen tissue. It accelerates the curing process of tissue blocks and prevents frozen tissue from thawing, increasing productivity in the laboratory.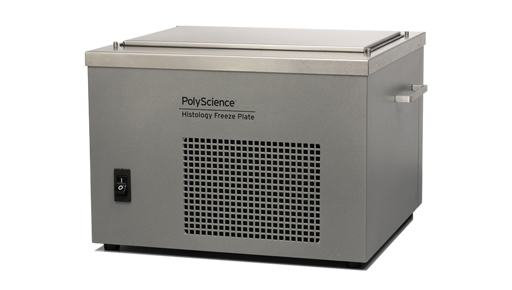 FEATURES
Ultra-cold surface freezes samples quickly, reduces overall processing time by 40% or more
136 in² (877 cm²) freezing surface accommodates multiple specimens simultaneously
KEY SPECIFICATIONS
Working Temperature: Fixed at -34.4°C (-30°F)
Freezing Surface: 14.5 x 9.4 (36.8 x 23.8 cm)
Overall Dimensions (L x W x H): 15.9 x 18.4 x 10.5 (40.3.x 46.7 x 26.7 cm)