Whirl-Pak bags are specially designed for use with homogenizer blenders. They are made from extra-heavy polyethylene and have special features to make sample testing easier and more efficient. The B01239WA bag features a special round bottom seal designed to minimize sample fragments from getting caught in the corners of the bag during blending.

Plain blender bags
When the procedure does not require a self-closing bag, we offer two sizes of plain, sterile bags. These bags are sealed at the top to maintain sterility and have a perforation for easy opening. They are made from heavy-duty polyethylene and will fit in medium and large blenders.
Filter bags
These special bags contain a third layer of finely perforated polyethylene, which filters out the solids in the sample when used in a homogenizer blender. The hole diameter in the filter layer measures 0.013in. (0.33mm) and there re 1,840 holes per bottom, allowing the sample to be placed into the bag on either side. The liquid will transfer through the filter, but the solids will remain on one side.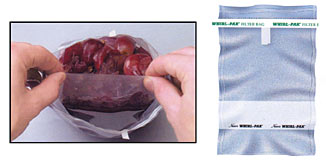 | | |
| --- | --- |
| Cat. No. | Description |
| B01018WA | Whirl-Pak Homogenizer blenders bag, Clear, 13 oz capacity, 5-1/4 x 7-1/2 in, 3.0 mil thick, box of 500 |
| B01063WA | Whirl-Pak Homogenizer blenders bag, Clear, 24 oz capacity, 6 x 9 in 4.0 mil thick, box of 500 |
| B01196WA | Whirl-Pak Homogenizer blenders bag, Write-On, 24 oz capacity, 6 x 9 in, 4.0 mil thick, box of 500 |
| B01239WA | Whirl-Pak Homogenizer blenders bag, Write-On (round bottom seal), 52 oz capacity, 7 x 13 in 4.0 mil thick, box of 500 |
| B01195WA | Whirl-Pak Homogenizer blenders bag, Write-On, 55 oz capacity, 7-1/2 x 12 in 4.0 mil thick, box of 500 |
| B01318WA | Whirl-Pak Homogenizer blenders bag, Write-On (Filter Layer), 55 oz capacity, 7-1/2 x 12 in 4.0 mil thick, box of 250 |
| B01348WA | Whirl-Pak Homogenizer blenders bag, Write-On (Filter Layer), 24 oz capacity, 6 x 9 in 4.0 mil thick, box of 250 |
| B01385WA | Whirl-Pak Homogenizer blenders bag, Write-On (Filter Layer), 7 oz capacity, 3-3/4 x 7 in 4.0 mil thick, box of 250 |
| B01285(B)WA | Whirl-Pak Homogenizer blenders bag, plain blender bag, 7 x 12in., 4.0 mil thick, box of 1,000 |
| B01285(B)WA | Whirl-Pak Homogenizer blenders bag, plain blender bag 15 x 20in., 4.0 mil thick, box of 500 |