Food Core Temperature Data Logger
Measurement Range: -60 to 250°C
Accuracy: ±0.5°C
The RTR-601 is a food core temperature data logger that is effective for HACCP-compliant temperature management for food safety.
The water and oil proof design makes it ideal for use in food-processing environments. The device records temperature, measurement time, user, item, and upper/lower limit judgement result.
It is possible to automatically collect and send recorded data to a designated e-mail address or an FTP server over wireless and LAN network.
One-Push Simple Recording
With one-push of on the device, it is possible to record temperature, measurement time, user, item, and judgement result (whether the measurement is within the set upper/lower limits).
Superior Water/Oil Resistance
With an IP68 submersible rating, the RTR-601 is perfect for use in food-processing operations.
Auto Data Collection
Recorded data in the RTR-601 can be periodically collected by the Base Unit (RTR-500NW/500AW) via wireless communication, and automatically sent to a designated e-mail address or an FTP server. This makes it perfect for seamless temperature management.

RTR-6BD Dock with Battery Charging and Communication Capabilities
The RTR-601 requires a Battery Charge Dock RTR-6BD (sold separately) to charge internal batteries. By connecting the dock to a PC with a USB cable, the dock also acts as a communication interface for setting up the RTR-601.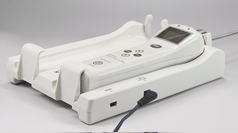 Available in 4 Models depending on Sensor Type
There are two types of temperature sensor: a straight rod type sensor (one-piece unit) and a cable-to-grip type sensor (easy to measure temperature in steam). Further, each type comes in two lengths: the short one having a sharp tip and the long one having a round tip.

Alarm Function
Upper and/or lower limit settings can be made as desired for each food item. When the measured temperature exceeds a limited boundary, an alarm condition will be indicated by blinking red LED.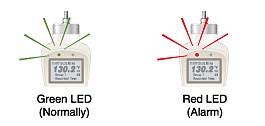 Using with RTR-500 Series Data Loggers
The RTR-601 can be used in conjunction with RTR-500 series loggers, which is perfect for measuring and monitoring ambient temperatures in both indoor and outdoor environments, including warehouses, refrigerators and freezers.

Dimensions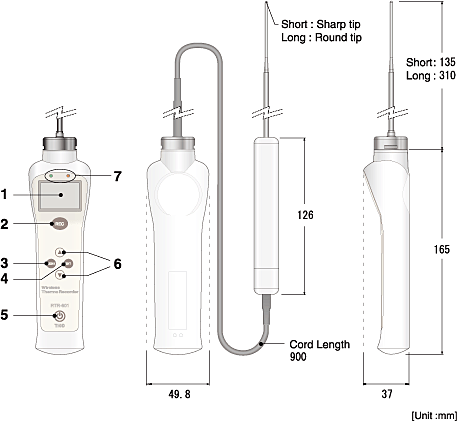 1- LCD Display
2- REC Button(Record)
3- MENU Button
4- ENT Button
5- Power Button
6- Cursor Buttons
7- LED
Measurement Channels
Temperature 1ch
Sensor
Platinum Resistance (Pt1000)
Measurement Units
°C, °F
Measurement Range
-60 to 250 °C
Accuracy
±0.5 °C [ -10 to 150 °C]
±1.0 °C [ -60 to -10 °C / 150 to 250 °C]
Measurement Resolution
0.1 °C
Responsiveness
Thermal Time Constant: Approx. 12 sec. (in air)
Approx. 2 sec. (in agitated water)

Response Time (90%):
Approx. 60 sec. (in air)
Approx. 3 sec. (in agitated water)
Measurement / Display Interval
0.5 sec.
Recording Items
Temperature, Measurement Time, User, Item, Judgement Result
Logging Capacity
1,800 readings
Recording Mode
Endless (Overwrite oldest data when capacity is full)
LCD Display Items
Temperature, Current Date/Time, User, Item, Battery Level, etc.
Communication Interfaces
Wireless Communication (Short Range Radio Communication)
FCC Part15 Section247 / IC RSS-210 (Frequency Range: 902 to 928 MHz, RF
Power: 7 mW)
Wireless Transmission Range
Approx. 50 meters if direct and unobstructed
Power
Two included AAA Ni-MH batteries (Non-Contact Charging System) (*1)
Battery Life
Approx. 24 hours (for Continuous Operation with Backlight Always ON)
Dimensions
H 165 mm x W 49.8 mm x D 37 mm (excluding sensor)
Sensor Length: Short type 135 mm, Long type 310 mm
Weight

RTR-601-110 (Short Sensor)

Approx. 135 g

RTR-601-130 (Long Sensor)

Approx. 150 g

RTR-601-E10 (Cable Type Short Sensor)

Approx. 185 g

RTR-601-E30 (Cable Type Long Sensor)

Approx. 200 g
Operating Environment
-10 to 60 °C
Waterproof Capacity
IP68: Submersible
Accessories
User's Manual (Warranty Included)
Compatible Base Units / Repeaters
Base Units: RTR-500NW / 500AW / 500 (*2)
Repeater : RTR-500
*1: A Battery Charge Dock (RTR-6BD) needs to be purchased separately.
*2: Customers wishing to use the RTR-500 as a Base Unit, please contact your local distributor for the communications protocol specifications to write your own software.