Ultra-Low Temperature Chest Freezers
Versatile chest configurations. Reliable sample protection.
Our CxF Series chest freezers feature all the sample protection features of our ExF and DxF freezers in four convenient sizes. Choose a -40°C or a -86°C option, as well as a full range of racking solutions for maximum sample storage.
Heavy gauge, cold-rolled steel exterior construction with a powder coat paint finish that resists chipping and rust
5" (12.7 cm) foamed-in-place, polyurethane insulation
Optional built-in chart recorder or data logger for continuous monitoring
Ergonomic, lockable door handle

Convenient interior covers let you minimize sample exposure to outside conditions
Inner sub-lids protect bulk samples from ambient exposure during single sample retrievals
Stainless steel interior
Heavy duty casters with locking tandem wheel design for smooth mobility
RS-485 and 4-20 milliamp analog outputs for independent monitoring devices and recorders
Eye-level, easy-to-use microprocessor control panel; knee level on 3 cu.ft. (85L) models

Optional CO2 or LN2 safety back-up system for additional protection in the event of a power or mechanical failure
Message center: 12-character alphanumeric LED displays setpoints, system status and alarm messages
Access code to ensure setpoint security
Easy-to-remove, washable air filter provides protection from dust on condenser, reducing the risk of refrigeration malfunction or risk to samples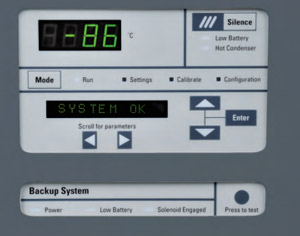 Model No.
Capacity
Electrical
Amps/
Breaker
(Plug)
Interior Dimensions
H x W x D in. (cm)
Exterior Dimensions
H x W x D in. (cm)
Shipping
Weight
lbs. (kg)
cu. ft.
(liters)
2 in.
Cryobox
ULT390-10-A
3.0 (85)
63
115V /
60 HZ
10.5/20
(NEVA 5-20)
16.5 x 18.5
x 18.5
(41.9 x 47.0
x 47.0)
43.8 x 28.5
x 29.9
(111.3 x 72.4
x 75.9)
432
(196)
ULT1390-10-A
12.7
(360)
252
115V /
60 HZ
16/20
(NEMA 5-20)
28.0 x 42.5
x 18.5
(71.1 x 108.0
x 47.0)
40.5 x 72.0
x 33.4
(102.9 x 182.9
x 84.8)
716
(325)
ULT1390-10-D
208-
230V /
60 HZ
16/20
(NEMA 6-15)
ULT1790-10-A
17.0
(481)
348
115V /
60 HZ
16/20
(NEMA 5-20)
28.0 x 58.8
x 18.5
(71.1 x 149.4
x 47.0)
40.5 x 87.6
x 33.8
(102.9 x 222.5
x 85.9)
821
(372)
ULT1790-10-D
208-
230V /
60 HZ
12/15
(NEMA 6-15)
ULT2090-10-A
20.0
(566)
396
115V /
60 HZ
16/20
(NEMA 5-20)
28.0 x 66.5
x 18.5
(71.1 x 168.9
x 47.0)
40.5 x 96.0
x 33.4
(102.9 x 243.8
x 84.8)
833
(378)
ULT2090-10-D
208-
230V /
60 HZ
12/15
(NEMA 6-15)
Model No.
Capacity
Electrical
Amps/
Breaker
(Plug)
Interior Dimensions
H x W x D in. (cm)
Exterior Dimensions
H x W x D in. (cm)
Shipping
Weight
lbs. (kg)
cu. ft.
(liters)
2 in.
Cryobox
ULT350-10-A
3.0 (85)
63
115V /
60 Hz
5/15
(NEMA 5-20)
16.5 x 18.5
x 18.5
(41.9 x 47.0
x 47.0)
43.8 x 28.5
x 29.9
(111.3 x 72.4
x 75.9)
395
(179)
ULT1350-10-A
12.7
(360)
252
115V /
60 Hz
6.5/15
(NEMA 5-20)
28.0 x 42.5
x 18.5
(71.1 x 108.0
x 47.0)
40.5 x 72.0
x 33.4
(102.9 x 182.9
x 84.8)
659
(299)
ULT1350-10-D
208-
230V /
60 Hz
6.5/15
(NEMA 6-15)
ULT1750-10-A
17.0
(481)
348
115V /
60 Hz
6.5/15
(NEMA 5-20)
28.0 x 58.8
x 18.5
(71.1 x 149.4
x 47.0)
40.5 x 87.6
x 33.8
(102.9 x 222.5
x 85.9)
764
(347)
ULT1750-10-D
208-
230V /
60 Hz
6.5/15
(NEMA 6-15)
ULT2050-10-A
20.0
(566)
396
115V /
60 Hz
6.5/15
(NEMA 5-20)
28.0 x 66.5
x 18.5
(71.1 x 168.9
x 47.0)
40.5 x 96.0
x 33.4
(102.9 x 243.8
x 84.8)

776
(352)

ULT2050-10-D
208-
230V /
60 Hz
6.5/15
(NEMA 6-15)