AREX 5 Hot Plate Stirrer
Versatile hotplate stirrer with CerAlTop™ plate upgradable with the VTF digital thermoregulator for direct temperature control of the liquid.
Upgrade to digital with VTF for a precise thermoregulation
The AREX 5 is a robust and versatile hotplate stirrer suitable for applications ranging from basic to temperature-sensitive where precise sample thermoregulation is required.
The AREX 5 can work stand-alone or be upgraded to digital by connecting the VTF digital temperature controller.
The CerAlTopTM plate reaches a maximum temperature of 310°C; when connected with the VTF, the AREX 5 is able to thermoregulate the medium up to 300°C with an accuracy of ± 0.5 °C.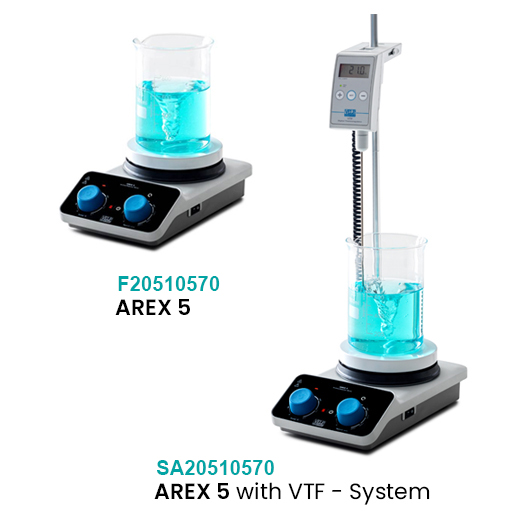 Easy-to-use and Safe
The AREX 5 hotplate stirrer ensures a high level of safety and protection for laboratory operators.
Two illuminated indicators always inform the operator when the heating is on. Furthermore, the icon stays on when the temperature of the plate is above 50°C even if the instrument is switched off.
The internal electronic parts are protected by the insulating disk, which, together with the robust die-cast aluminum housing, enables the AREX 5 to withstand even the most demanding laboratory environments and applications, such as when working with cold media (below 0°C).
The 135 mm diameter top is protected from chemicals and scratches by the superior resistant CerAlTop™ ceramic coating.
In addition, the AREX 5 hotplate stirrer is IP42 certified and it is backed up by a 3-year warranty (online product registration required).
Powerful stirring performance for all lab applications
You can rely on the robust AREX 5 and its powerful brushless motor for everyday laboratory applications like sample and buffer solutions preparation, as it stirs volumes up to 20 liters (H2O).
By turning the right knob of the AREX 5 it is possible to easily adjust the stirring speed from 100 up to 1500 rpm.
The AREX 5 is equipped with VELP-engineered SpeedServo™ torque compensation technology that ensures constant speed even when the viscosity of the medium changes.
Specifications
USER INTERFACE
Analog
HOUSING MATERIAL
Epoxy painted aluminum structure
PLATE MATERIAL
CerAlTop™ (ceramic coated aluminum alloy)
PLATE DIAMETER
135 mm
STIRRING VOLUME
20 L
STIRRING SPEED RANGE
100 - 1500 rpm
SPEED CONTROL
Analog
MOTOR
Brushless
TORQUE COMPENSATION
SpeedServo™
TEMPERATURE RANGE
Room temp - 310 °C
HEATING CONTROL
Analog
EXTERNAL TEMPERATURE SENSOR CONNECTION
VTF
THERMOREGULATION ACCURACY
± 0.5 °C (VTF)
HOT PLATE WARNING SYSTEM
Illuminated Icon (when the temperature is above 50 °C)
PROTECTION CLASS
IP 42
POWER INPUT
630 W
WEIGHT
1,7 kg (3,7 lb)
DIMENSIONS (WXHXD)
160x270x85 mm (6.3x10.6x3.3 in)