UDK 129 Kjeldahl Distillation Unit
Automatic NaOH addition
Delay time (Devarda's alloy analysis)
Alkali resistant technopolymer housing
---
Can we help you?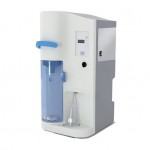 Model : UDK 129
115 V / 50 - 60 Hz
Included: A00001080 Provettone Ø 42x300 mm, 10001106 Collecting flask 250 ml, 10000247 Pincer for test tubes

**Inlet tube, discharge tube and protective film for touch screen are supplied with the instrument
---
Entry-level Kjeldahl distillation unit for your analyses concerning different applications such as determining ammoniacal nitrogen, protein determination, nitrogen content (Kjeldahl or direct alkaline distillation),nitric nitrogen (after reduction/Devarda),phenols, volatile acids, cyanides and alcohol content.
The Kjeldahl distillation unit UDK 129 runs automatically, after setting sodium hydroxide addition and distillation time using the LCD display in order to get reliable and accurate results. The high-precision pumps ensure constant accurate dosing of reagents and the cooling water is automatically stopped during pauses, thus cutting down on its consumption.
UDK 129 includes many features that ensure efficient and reliable distillation, far beyond expectations of an ordinary entry level unit.

The UDK 129 Distillation Unit ensures the highest safety standards to provide maximum protection to the operator: the use of an innovative system allows the insertion of the test tube in complete safety and the use of test tubes of various sizes.
VELP Scientifica has developed and patented the innovative titanium condenser able to ensure high performance and considerable water savings (from 0.5 l/min at 15 °C - 1 l/min at 30 °C) with minimal maintenance.

The titanium condenser ensures that distillate temperature always remains below the safe threshold value (35 °C),as indicated in the Kjeldahl method, without Nitrogen loss.
Exclusive Titanium Condenser

The patented steam generator used by UDK Kjeldahl Distillation Units offers unique performance, being a patented solution.
A thermostat ensures the correct functioning of the steam generator, a safety thermostat eliminates risks for the operator and guarantee safe working conditions.
The high level of precision and accuracy ensures correct and detailed results without any leaks even after intensive use.
Rapid (p)re-heating time
Total safety: no internal pressure
Low thermal dispersion
Great repeatability
High performance and resistance
Maintenance-free
Safety-thermostat
Works with deionized water
Patented Steam Generator

TEMS™ Technology
Save Time, Energy, Money and Space

TECHNICAL DATA
| | |
| --- | --- |
| STRUCTURE: | Corrosion-resistant technopolymer |
| DISPLAY: | LCD |
| DELAY TIME (DEVARDA ALLOY ANALYSIS) | 0 – 99 min |
| DISTILLATION TIME: | 5 minutes to collect 100 ml of distillate |
| SODIUM HYDROXIDE ADDITION: | automatic |
| SODIUM HYDROXIDE VOLUME: | 0 - 100 ml |
| TAP WATER CONSUMPTION: | from 0,5 l/min at 15°C – from 1 l/min at 30°C |
| PROTOCOL LIBRARY: | 1 customizable method |
| REPRODUCIBILITY (RSD): | ≤ 1 % |
| RECOVERY: | ≥ 99.5 % at nitrogen levels between 1 and 200 mg N |
| DETECTION LIMIT: | ≥ 0.1 mg N |
| POWER: | 2100 W (1700 W at 115V) |
| WEIGHT: | 25 kg / 55 lb |
| DIMENSIONS (WXHXD): | 385x780x416 mm (15.2x30.7x16.4 in) |