XenoWorks™ Micromanipulator
25 mm of travel in all three axes
Touch declutch mechanism
8 speeds from coarse to ultra-fine
The XenoWorks™ Micromanipulator has been designed around our hugely successful MP-285 electrophysiology micromanipulator mechanical, with the addition of a smooth-moving, adjustable, inverted joystick.
Because the three-axis mechanical is based on an electrophysiology design, the XenoWorks Micromanipulator is extremely stable and resistant to ambient vibration. This stability makes the manipulator an ideal platform for intracytoplasmic sperm injection (ICSI),particularly when used in combination with the PrimeTech PMM6, PMM4G or PMM150FU Piezo Impact Drive Systems. It is also ideal for animal and cellular research that requires microinjection, aspiration, and transfer into eggs, cells or tissue, including CRISPR, nuclear transfer and biopsy.
The redesigned XenoWorks joystick offers an unprecedented level of user comfort during operation. The controller circuitry is fully integrated into the joystick, fanless and completely silent. The use of an inverted, height- and tension-adjustable joystick, in conjunction with the functionally shaped base, allows the operator to rest their hands and forearms on the bench surface, providing ease of use and added ergonomics. The function keys and declutch band can be located and activated by touch, removing the need to look away from the microscope. Additional time-saving features are the user-defined Home position, two user-defined Work positions, and the Setup function, which centers the manipulator in all three axes.
The newly introduced Diagonal mode enables motion in the axis of the pipette. Combining diagonal mode with the new Pulse motion facilitates penetrating specimens with a resilient membrane, cuticle or chorion. To eliminate guesswork, the status of all functions and motions is shown in the convenient LED display.
Lock functions for both the X and Y axes allow restricting movement to only two dimensions for maximum control during injections. The Z-Floor memory position is used to prevent the pipette from colliding with the bottom of the dish, while the equivalent function for the X axis is useful for repetitive injections into a parallel row of eggs.
The XenoWorks joystick is designed to allow the user to immediately develop an intuitive feel that makes it easy to precisely control the position. Movement of the joystick is directly converted to a proportional movement of the manipulator. Speed control, center of travel, and programmable positions are right at your fingertips. One unique feature of the joystick is the declutch band that allows for easy repositioning of the joystick without moving the pipette. The declutch band is also used as a modifier key, which gives individual buttons additional functions. Combining this advanced joystick with the proven Sutter manipulator technology creates an ideal system for efficient microinjection.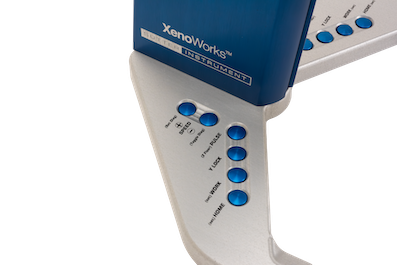 FEATURES
Joystick and controller integrated into a single unit eliminates the need for a separate component
Inverted joystick with adjustable height and tension for optimal ergonomics
Exceptionally smooth and responsive micropipette movement
Diagonal mode operation for axial pipette movements
One-click, axial 'Pulse' operation helps penetrate tough membranes
User-defined "Home" position and "Work" positions for fast micropipette exchange
User-defined limits for travel along Z-axis and X-axis
Locks for X- and Y-axes permit pure movements along Y- and X-axes
25 mm of travel in all three axes
Touch declutch mechanism
8 speeds from coarse to ultra-fine
USB computer interface for external programmable control
Travel

25 mm on all three axes

Maximum resolution
125 nm/microstep
Maximum speed
3.25 mm/sec
Dimensions
Mechanical
4.4 x 7.3 x 5.7 in | 11.2 x 18.5 x 14.5 cm

Joystick Controller
11.4 x 9.3 x 9.6 in | 28.9 x 23.5 x 24.4 cm
Electrical
120/240 Volts
50/60 Hertz power line


Range
Speed
Setting
X & Y Axis
(per swing of joystick)
Z axis
(per rotation of knob)
C
15.9 mm
3.2 mm
1
4.1 mm
800 µm
2
1.1 mm
400 µm
3
500 µm
200 µm
4
250 µm
100 µm
5
125 µm
50 µm
6
100 µm
30 µm
7
50 µm
10 µm