LabFlame IR, LabFlame +
Rapide & Precise Ignition for fastest loop nealing
Uniform & Constant Flame for perfect bottle neck sterilization due to optimized air flow support
Safety Cabinet Qualified Hands Free Operation with foot-switch or touch free IR-sensor ignition
LabFlame IR Safety enhanced laboratory bunsen burner with touch free ignition sensor
LabFlame+ Modeled on LabFlame IR with additional battery slot for cordless operation
The new LabFlame is optimized for the use in microbiology laboratories. Its stainless steel housing is made of one piece, free of any gaps or rims and therefore easy to clean and fully UV resistant. Its optimized air-flow system allows a uniform and constant flame even in safety cabinets with horizontal or vertical air flow. Connectable to any kind of gas sources.

All controls for gas and air supply as well as the multifunctional control for the modes of operation are conveniently located on the easy to read off display.
When safety matters ... LabFlame automatically cuts the gas supply after every flame extinguish and checks the burner temperature.
When gas consumption matters LabFlame cuts the gas after each loop nealing and LabFlame starts straight with the optimal flame shape.
Always ready - Full metal body - A jewel on our lab bench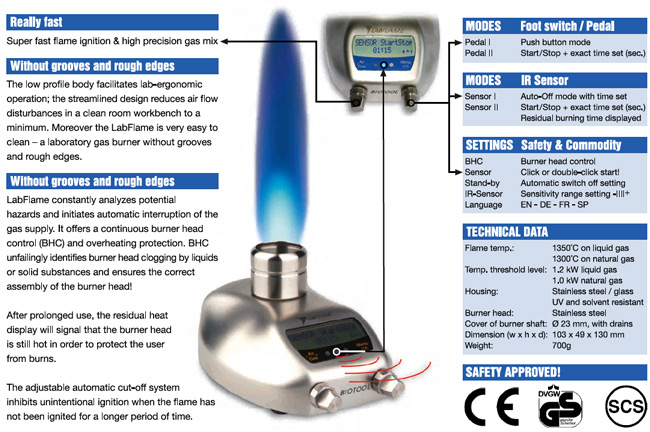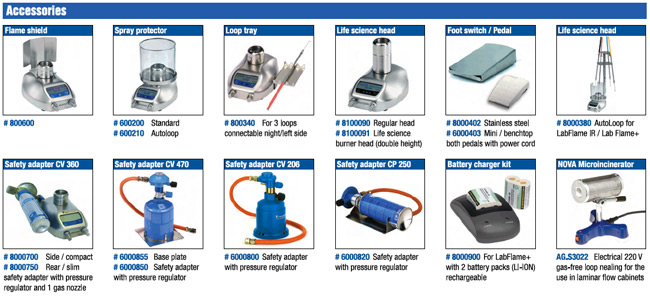 LabFlame & Accessories
Cat No.
Model description
LF8.100.000
LabFlame, complete with stainless steel footswitch
LF8.100.001
LabFlame, w/o footswitch
LF8.000.000
LabFlame IR, safety burner with IR-Sensor and LC Display
LF8.002.000
LabFlame + , with IR-Sensor, LCD + battery pack slot
LF8.000.380
Autoloop for LabFlame. Automated carrousel
LF6.000.200
Spray protector / Spatter guard
LF6.000.210
Spray protector for autoloop, with side cuts
LF6.000.403
Foot switch, mini-pedal, with power connection for LabFlame (only 1 cable to bench)
LF8.000.340
Tray for inoculation loops
LF8.000.402
Foot switch made of stainless steel
LF8.000.600
Flame shield
LF8.000.900
Battery charger kit for LabFlame+ ( 2 battery packs, Li-Ion)
LF8.100.090
Burner head, stainless steel
LF8.100.091
Life science burner head (high shape for bottle decon.)
LF6.000.855
Base plate for stable Gas cartridge placement (CV 470)
LF6.000.800
Safety adapter CV 206
LF6.000.820
Safety adapter CP 250
LF6.000.850
Safety adapter CV 470
LF8.000.700
Safety adapter CV 360 side / compact
LF8.000.750
Safety adapter CV 360 rear / slim
BT AGS3011
Microincinerator Loop & Needle Sterilizer