AMS209.53-
Basic Soil Sampling Kits
---
Can we help you?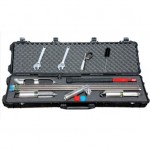 Model : 209.53
2 1/4" Basic Soil Sampling Kit

---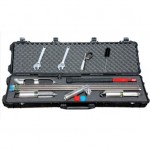 Model : 209.51
3 1/4" Basic Soil Sampling Kit

---
AMS basic sampling kits provide everything you'll need to auger to a target depth as deep as 12' and obtain a relatively undisturbed soil core sample. The kits are used worldwide by soil scientists, agronomists, and construction companies for site investigations.
They are available with 5/8'' threaded components, and with either 2 1/4'' or 3 1/4'' augers. Each kit comes with a regular, mud, and sand auger. The kits also include three 4' extensions, 18'' rubber-coated cross handle, regular slide hammer, core sampler (1 1/2'' x 6'' or 2'' x 6''),plastic liner, two plastic end caps, cleaning brush, universal slip wrench, and two crescent wrenches. All the components fit securely in a foam lined, poly-reinforced AMS deluxe carrying case with handles and wheels for added portability.
Replacemement Parts:
400.08: 5/8" Thread Regular Auger
400.20: 5/8" Thread Mud Auger
400.42: 5/8" Thread Sand Auger
400.06: 5/8" Thread Regular Auger
400.18: 5/8" Thread Mud Auger
400.40: 5/8" Thread Sand Auger
404.38: 1 1/2" Soil Core Sampler Cup & Cap
404.10: 2" Soil Core Sampler Cup & Cap
406.04: Rubber-Coated Cross Handle
400.99: 5/8" Thread Reg. Slide Hammer
408.03: 5/8" Thread Extension
421.10: Crescent Wrench
421.29: Universal Slip Wrench
430.11: 1 1/2" Nylon Brush
430.07: 2" Nylon Brush
430.01: AMS Deluxe Carrying Case