Electric Field Monitor with Monitoring Software
Measuring the static electric field generated by thunderclouds the EFM-100 not only detects nearby lightning but can detect the atmospheric conditions which precede lightning.
Electric field data is displayed and graphed on your desktop computer using the included software. For complete electrical isolation from the field mill outside, the EFM-100 connects to your computer using a fiber optic cable. The EFM-100 features aluminum and stainless steel construction for corrosion resistance, gold plated connectors throughout, and the highest quality ball-bearing brushless dc motor for excellent reliability.
Detect lightning up to 30 miles away.
Detect the conditions which precede lightning.
Monitor the electric charge above and near your location.
Monitor up to four separate locations on your PC.
Watch trends develop.
Attention getting alarms.
Review archived data from previous storms.
Stay current with free software updates from the Boltek website.
EFM-100 Hardware Specifications
Electric Field Range
-20 kV/m to +20 kV/m
Typical Range of Interest:
-5 kV/m to +5 kV/m
Response Time:
0.1 seconds
Resolution:
Digital Output 0.01 kV/m
Analog Output Infinite
Digital Data Cable:
50/125 Multi Mode Fiber Optic Cable with ST Connectors
30, 45, or 60 m cable
Digital Data Format:

$*
S: sign '+' or '-'
C: checksum E: electric field
CR: carriage return LF: line feed
Example: $-02.34*3A

RS232:
9600 baud, 8 bits, 1 stop bit, no parity
Analog Data Output:
Differential 1V per kV/m
DC Power Supply:
12-15 VDC, 0.5 Amp
AC Power Supply:
120 VAC, 60Hz (220VAC 50 HZ in Europe)
Motor Type:
Ball Bearing, Brushless DC Motor
Mount:
3/4" NPT Threaded Pipe
(Note: 3/4" NPT measures 1" O.D.)
Dimensions:
6.7" dia. x 5" (17 cm dia.x 13 cm)
Weight:
2.2 lbs (1 kg)
Shipping Weight:
13 lbs (5.75 kg)
Shipping Dimensions:
18.5" x 13" x 8.8" (47 x 33 x 22 cm)
Warranty:
1 Year
EFM-100 Software Specifications
Operating System:
Microsoft Windows XP, 2000, NT, 98, 95
Alarms:
High Field, Very High Field, Lightning
High Field Alarm Range :
0 to 20 kV/m
Very High Field Alarm Range :
0 to 20 kV/m
History Graph:
5 min, 15 min, 30 min, 1 hour, 2 hour, 4 hour, 8 hour, 24 hour
Handles on the graph for zooming in.
Vertical Scales:
0.5 kV/m, 1 kV/m, 2 kV/m, 5kV/m,
7.5 kV/m, 10 kV/m, 15 kV/m, 20kV/m
Handles on the graph for zooming in.
EFM-100 Connection Diagram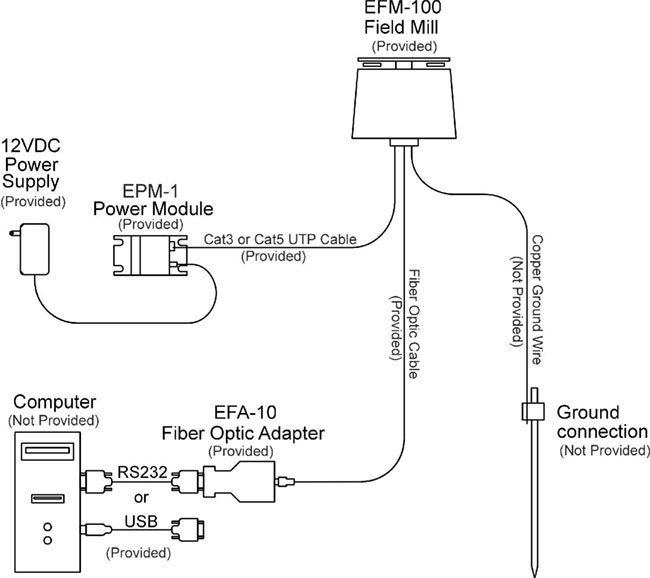 EFM-100 Options
EFM-100 Electric Field Mill installed using optional EFM-INV2 Inverted Mounting Kit