Visual alert panel activated by noise
Safety activated by noise
The "Sound Sign" is a visual alert panel activated by noise.

It is suitable for environments where there is a need to clearly warn people when a sound atmosphere reaches a specific threshold.

The user can easily adjust the threshold between 40dB (A) and 114dB (A),which covers the vast majority of applications requiring to alert the population on ambient noise levels and the actions to be followed in overtaking.
Features
Warning signal to noise for a wide range of applications
Innovative design and ease of use
Option downloadable audio recording levels on PC
Display very light thanks to high-intensity white LEDs
Threshold adjustable alert 40dB (A) at 114dB (A)
The main unit can control up to three secondary units
Choice of standard or customized symbol

Installation diagram of a main unit Sound Sign and 3 secondary units. A single power supply is required for secondary units 3 installed. These may be removed from 10 meters from each other.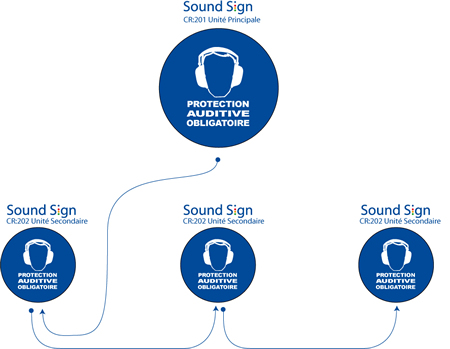 Versions