Internet-Ready Weather Station - Fixed-Mount
With the most sophisticated weather monitoring technology, the Orion LX™ Weather Station offers an easy-to-use, Internet-ready interface that is operational straight from the box
There are no moving parts to wear out or calibrate. And there is no programming or complicated configuration required. The Orion LX Weather Station consists of a high-tech, all-in-one sensor module and the Orion Weather MicroServer. Display options include computer software and Columbia Weather's proprietary LCD touch-screen Display Console. The Orion LX sensor module includes ultrasonic wind direction and speed measurements, an impact rain gauge, and capacitive relative humidity, temperature and barometric pressure sensors. Running Linux operating system, the powerful Orion Weather MicroServer provides FTP output, as well as a browser user interface for network applications. It includes two serial communication ports and datalogging capability. High accuracy and fine resolution make this new system ideal for precision weather monitoring. Orion's sensors meet FAA and WMO specs for aviation operations, as well as EPA requirements for scientific environmental monitoring applications.
System Features
Six most essential weather parameters measured in one instrument
Ultrasonic wind sensor and impact precipitation sensor
Accurate and stable measurement
No moving parts means virtually no maintenance
FTP output, XML weather web server and browser user interface
LCD touch-screen display console and powerful software options
Stand-alone network capability
Orion LX Weather Station System: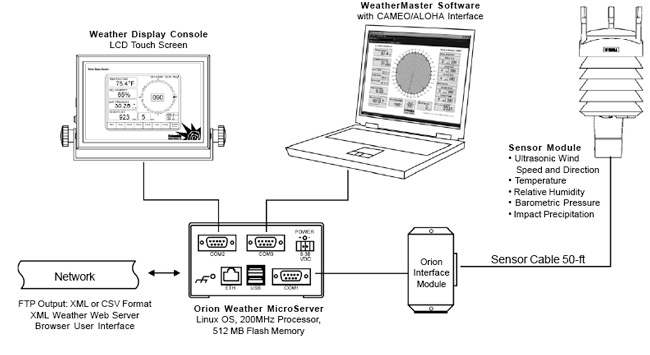 Weather Display Console
The Weather Display Console uses "intelligent" touch-screen technology. With its programmable microprocessor and abundant memory, the console displays weather information on five weather viewing screens, performs complex computations, and stores relatively large amounts of weather data. The Weather Display Console features a graphic LCD (320 x 240 pixels) having a luminescent white background with blue text and images for legibility. The screens are designed to be viewed clearly from a distance. The display console is flexible and can be factory-programmed to suit specific market and industry requirements. It is available in three mounting options:

Desktop/Wall-Mount
Panel Mount/Flush Mount
19'' Rack Mount
WeatherMaster Software
This professional-grade software is designed to optimize the capabilities of Orion Weather Stations. Providing real-time computer weather monitoring, WeatherMaster offers:

Display and automatic logging of all measured and calculated parameters
Interface with CAMEO/ALOHA software for plume modeling and evacuation corridor predictions
Downwind vector wind and wind character-plotting screens
An open Microsoft Access® database for archival with easy retrieval and compatibility with other Windows® programs
On-the-fly graphing and trend display of all parameters
Alarm notification via computer, email, pager or cell phone
Multi-station monitoring and data acquisition
Quick-North orientation

WeatherMaster 2000 can be customized to meet specific industry needs.
Sensor Specifications
Orion LX™ Weather Stations

Temperature

Range: -60 to 140°F (-52 to +60°C)
Accuracy: ±0.5°F (±0.3°C) at 68°F (+20°C)
Resolution: 0.1°F (0.1°C)
Units Available: °F, °C

Barometric Pressure

Range: 17.50 to 32.50 InHg (600 to 1100 mbar)
Accuracy: ±0.015 InHg (0.5 mbar) at +32 to 86°F (0 to 30°C)

Resolution: 0.01 InHg (0.1 mbar)
Units Available: KPa, mbar, InHg, HPa

Wind Speed

Range: 0 - 135 mph (0 - 60 m/s)
Accuracy: ±0.7 mph (±0.3 m/s)
Resolution: 1 mph (1 m/s)
Units Available: knots, mph, km/hr, m/s

Wind Direction

Azimuth: 0 - 360°
Accuracy: ±2°
Resolution: 1°

Relative Humidity

Range: 0 - 100%RH
Accuracy: ±3%RH (0-90%),±5% (90-100%)
Resolution: 1%RH
Units Available: %RH

Rainfall

Range: cumulative
Collection Area: 60 cm2
Accuracy: ±5% (spatial variations may exist)
Resolution 0.01 in. (0.254mm)
Units Available: mm, inches

MicroServer

Dimensions: 4.45" W x 2.60" H x 5.71" D
200 MHz ARM9 Processor
32 MB SDRAM, 512 MB Flash Memory
8-38 VDC Power Supply
2 Communication Serial Ports, 1 Ethernet Port
Linux Operating System

All systems include

Orion 510 Transmitter with the following sensors:

- Ultrasonic wind speed and direction sensor with alignment adapter
- Impact rainfall sensor
- Barometric pressure, temperature, humidity sensor module in radiation shield

Orion Weather MicroServer with Ethernet and Serial ports
Orion Interface Module with dual communication ports

Fixed-Mount Ordering Information (Includes 50-ft cable)

9610-A-1 Orion LX Weather Station without viewing option
9610-B-1 Orion LX Weather Station with WeatherMaster Software
9610-C-1 Orion LX Weather Station with Desktop Display Console
9610-D-1 Orion LX Weather Station with WeatherMaster and Display Console

Optional Accessories

Sensor mast and mounting hardware options
Extra cable length
Wireless Transceivers

Orion LX Vehicle-Mount Ordering Information
(Includes detachable 8-ft telescoping sensor mast and mounting hardware)

9620-A-1 Orion LX Weather Station without viewing option
9620-B-1 Orion LX Weather Station with WeatherMaster Software
9620-C-1 Orion LX Weather Station with Desktop Display Console
9620-D-1 Orion LX Weather Station with WeatherMaster and Display Console

Orion LX Nomad Portable Weather Station Ordering Information
(Includes wireless tranceivers, batteries, transportation case and tripod with telescoping mast)

9630-A-1 Orion LX Nomad Weather Station without viewing option
9630-B-1 Orion LX Nomad Weather Station with WeatherMaster Software
9630-C-1 Orion LX Nomad Weather Station with Desktop Display Console
9630-D-1 Orion LX Nomad Weather Station with WeatherMaster and Display Console

Orion 510 Transmitter/Sensor Module