CW8156H1-0
Weather Station
Capricorn FLX weather station's modular design offers flexible parameter selection for optimal sensor location
Low power consumption makes this system compatible with alternate power sources such as solar and battery where required.
The Control Module can accepts signal inputs from the following meteorological sensors:
Mechanical wind direction and speed (heavy-duty, heated available)
Relative humidity
Temperature (up to four total; air, soil and/or water)
Barometric pressure (internal to Control Module)
Rain gauge (tipping bucket)
Solar radiation (up to two total)
Two general purpose analog channels for additional sensors
The Capricorn FLX is available in three configurations: fixed-mount, vehicle-mount, and the Pegasus FLX portable weather station.
Meteorological data can be monitored with:
Weather Display Console™
Weather Master Software
Weather MicroServer™
4-20 mA signal output
Capricorn FLX Weather Monitoring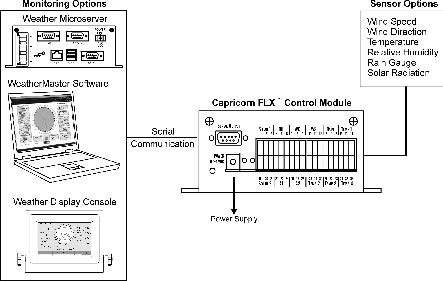 Weather Display Console
The Weather Display Console uses "intelligent" touch-screen technology. With its programmable microprocessor and abundant memory, the console displays weather information, performs complex computations, and stores data. The Weather Display Console features a seven-inch, TFT color LCD panel with 800 x 480 pixels resolution. It can connect directly to the weather station with a serial port or to the Weather MicroServer utilizing existing Ethernet. The display console is flexible and can be factory-programmed to suit specific market and industry requirements. It is available in three mounting options:
• Desktop/Wall-Mount • Panel Mount/Flush Mount • 19" Rack Mount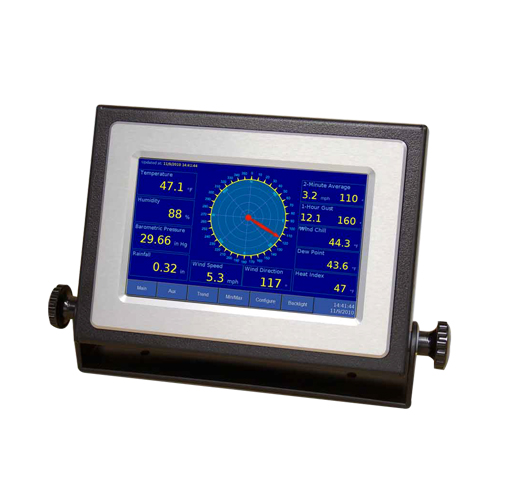 WeatherMaster Software
This professional-grade software is designed to optimize the capabilities of CWS Weather Stations. Providing real-time computer weather monitoring, WeatherMaster offers:
Display and automatic logging of all measured and calculated parameters
Downwind vector wind and wind character-plotting screens
An open Microsoft Access® database for archival with easy retrieval and compatibility with other Windows® programs
On-the-fly graphing and trend display of all parameters
Alarm notification via computer, email, pager or cell phone
Multi-station monitoring and data acquisition
Quick-North orientation
nterface with CAMEO/ALOHA software for plume modeling and evacuation corridor predictions
WeatherMaster can be customized to meet specific industry requirements.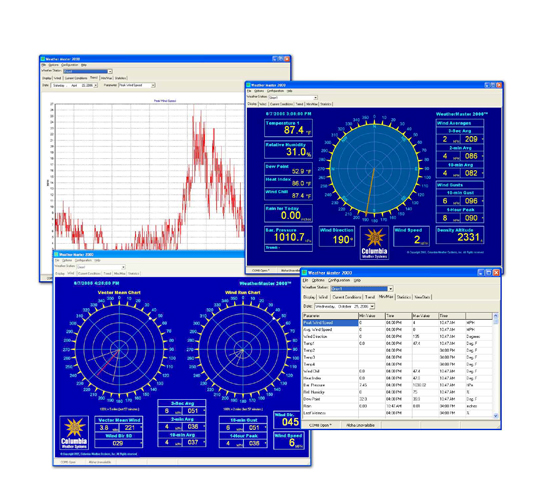 Weather MicroServer
The Weather MicroServer is a self-contained, proprietary computer utilizing an embedded Linux operating system. It creates an "Internet-ready" weather monitoring system by automatically providing FTP output, XML web service, and Internet browser user interface. SNMP and Modbus/OPC communication protocols are standard for Industrial Management applications.
The Weather MicroServer has datalogging capability. It connects to your network with an included Ethernet cable.
Two serial ports offer interface to both the Weather Display Console and additional peripheral devices or sensors such as visibility, solar radiation, and the Orion LT wind sensor. The Weather MicroServer can provide real-time weather data to WeatherMaster Software over the network. This allows users to simultaneously monitor the weather using WeatherMaster on any network computer.
4-20 mA Signal Output
For industrial PLC interface, the Capricorn FLX 420 offers 4-20mA signal output to interface to PLC, DCS, and SCADA systems.
Parameter Measurements
Wind Measurement: Durable aluminum/stainless steel wind sensor assembly . Wind direction sensor uses precision potentiometer, wind speed sensor uses a sealed reed switch.
Barometric Pressure: The on-board barometric pressure sensor provides accurate pressure data with full temperature compensation. The sensor outputs are digitized by a high-resolutions 24-bit analog to digital converter.
Temperature: Up to four temperature sensors can be connected. Digital, semiconductor-type probes all connect to a single port, reducing susceptibility to noise interference, reducing cost, and increasing accuracy.
Additional Temperature Options
Panel-mount for solar panel monitoring.
Soil/Water Temperature sealed in thermally conductive epoxy for protection against corrosion and moisture.
Humidity: This compact capacitive sensor can be installed in a radiation shield for protection from the elements. This sensor offers long-term stability with minimal drift and resistance to contamination.
Rainfall: Tipping bucket electronic rain gauge composed of a complex spun collector funnel with a knife edge that diverts the water to a tipping bucket mechanism. For each tip, a magnet causes an electronic pulse to be recorded. The rainfall sensor is completely automatic and requires no servicing.
Solar Radiation: The pyranometer or solar radiation sensor is calibrated to measure the shortwave radiation reaching the Earth's surface, measured in Watts m-2. Self-cleaning dome-shaped head prevents water accumulation. Sensor head is potted solid to prevent internal condensation in humid environments.
System Configurations
Fixed-Mount Weather Stations Optional accessories:
• Monitoring options • Sensor mast and mounting hardware options
• Extra cable length • Wireless Transceivers
Vehicle-Mount Weather Stations include a detachable 8-ft telescoping sensor mast and mounting hardware. Monitoring options.
Pegasus Portable Weather Stations include wireless tranceivers, batteries,transportation case and tripod with telescoping mast. Monitoring options.
Sensor Specifications
Temperature
Digital semiconductor type
Accuracy
± 0.9°F from +14° to 185°F ± 3.6°F from -67° to 257°F
Resolution
0.01°F
Barometric Pressure
MEMS; temperature compensated and calibrated
Accuracy
± 0.03 in. Hg (1 hPa)
Range
14.8 to 32.5 in. Hg (500 to 1100 hPa)
Resolution
0.001 in. Hg (0.01 hPa)
Wind Speed
Sealed reed switch
Accuracy
± 0.25 mph from 0 to 23 mph, ± 1% from 24 to 160 mph
Range
0 to 160 mph (139 knots)
Resolution
1 mph
Starting Threshold
0.9 mph
Wind Direction
Precision Potentiometer
Resolution
2 degrees
Range
0 to 360 degrees
Accuracy
± 4 degrees
Relative Humidity
Capacitance
Accuracy
± 3% (or better) from 10 to 90% RH
Temperature Effect
less than <±1.5% RH
Stabiltiy
± 2% RH over 2 years
Reporting Resolution
1% RH
Rainfall
Tipping bucket
Accuracy
± 1% at 2 in./hr or less
Resolution
0.01 inch
Solar Radiation
Silicon photodiode
Cosine Response
45° zenith angle ± 1%, 75° zenith angle ± 5%
Absolute Accuracy
± 5%
Uniformity
± 3%
Repeatability
± 1%
Output Responsivity
0.200 mV per W/m2
In full sunlight
220 mV (1,100 W/m2 )
Linear Range
0 - 350 mV (0 - 1,750 W/m2)
Sensitivity
5.00 W/m2 per mV