Our most feature rich line of pressure data loggers. Instruments provide data retrieval without having to move the unit and the digital display provides current and min/max readings.
0-100 PSI (PSI, ATM, Bar, mBar, InH2O, FtH2O, mmH2O, mmHG, InHg, Pascal, kP, MCA )
IP68 resistant case
1-second sampling rate
Flash card option for data retrieval
Delayed Start
USB Connectivity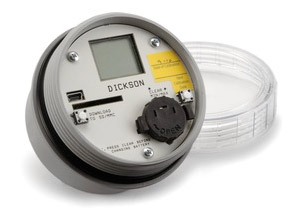 Specifications
Ambient Operating RH Conditions : 0 to 100% RH
Ambient Operating Temperature Conditions : -4 to 158F (-20 to 70C)
Approvals : RoHS, CE
Battery Life (Avg) : 6 Months (at 5 Minute Sample Rate)
Cable Detail : USB - Male Series A plug to 5 pin Male Series B mini plug.
Cable Length : 6ft
Calibration Options : N100, N300
Data Capacity : 64,768
Display Dimensions Height : 0.56
Display Dimensions Width : 0.8
Display Resolution : Depends on Unit of Measure Selected from 0.000 to 0000; 0.1PSI
Display Type : LCD
Display Update Rate : 20 Seconds
Download Time : 45 Seconds
Download Type : USB / Flash Card
Enclosure : Glass Filled Polycarbonate; Stainless Steel Hex
Fitting : 1/4" NPT Thread; 1.11" Hex (Sensor includes built in Diaphragm Seal)
IP Rating : 68
Included Accessories : One DL123 Lithium Battery and Quick Start Guide. *Software sold separately.
Minimum Software Version Required : 12.4
Mounting Options : Stem
PC Requirements : MS Windows 98 or newer
Power Source : Battery; DL123 Lithium Battery (User Replaceable)
Power Status Indicator : LCD Display
Pressure Accuracy : 1%
Pressure Range : 0 to 100PSI
Sample Interval : User Selectable (From 1 second to 24 hours)
Unit Weight : 3 lbs
Units of Measure : PSI, ATM, Bar, mBar, InH2O, FtH2O, mmH2O, mmHG, InHg, Pascal, kP, MCA
Units/Pkg : 1
Warranty : 12 Mouth Limited
Calibration
Why should I calibrate? : All instruments lose accuracy over time due to normal usage and the environmental conditions to witch they are exposed.
How often should I calibrate? : For most applications, the recommended calibration interval is every twelve mounths.
Accessoires
Software A016 : This is the latest version of DicksonWare™ Software (USB download cable included). Use the software to setup your Dickson loggers, view and download data, and reset your logger to the factory settings.

Key features includes:

Easy installation
Easy logger setup and data downloads
Data visualisation with tables and graphs
Real-time monitoring

Software SW400 : The Dickson Data Logger Calibration Software allows for 1-Point temperature and/or humidity adjustments to be made directly from your PC.
Locking Case A721
Locking cases are great for preventing tampering. Often pressure recorders are left in remote areas and not checked for days or weeks at a time. Use a standard padlock or combination lock to prevent unauthorized users from tampering with the unit or downloading the data. This case allows you to see the display of the unit for a quick site check without removing the lock and case.