Hanna Checker®HC Series - Handheld Colorimeters
The Hanna Checker®HC bridges the gap between simple chemical test kits and professional instrumentation. Chemical test kits are not very accurate and only give 5 to 10 points resolution while professional instrumentation can cost hundreds of dollars and can be time consuming to calibrate and maintain.
The Checker®HC is both accurate and affordable. The contoured style of the Checker®HC fits in your palm and pocket perfectly, while the large LCD is easy to read. The auto shut-off feature assures the battery life will not be drained if you forget to turn it off.
Easier to use and more accurate than chemical test kits
- High accuracy
- Large, easy-to-read digits
- Auto shut-off
Dedicated to a single parameter
- Designed to work with Hanna's reagents
- Uses 10 mL glass cuvettes
Small size, big convenience
- Weighing a mere 64 g (2.25 oz.),the Checker®HC easily fits in your palm or pocket
Use for quick and accurate on-the-spot analysis
Single-button operation: zero and measure
Operated by a single AAA battery
Seawater and Fresh Water Alkalinity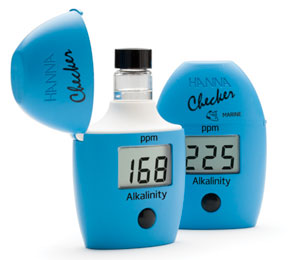 Description
Specifications
HI755 Seawater
Fresh water
HI755 - HI775
Range
0 to 300 ppm CaCO₃
0 to 500 ppm CaCO₃
Seawater and Fresh Water Alkalinity
Resolution
1 ppm
1 ppm
Ideal for:
- Saltwater aquariums (HI755)
- Fresh water aquariums (HI775)
Accuracy 25°C/77°F
±5 ppm ±5% of reading
The HI755 and HI775 Checker®HC's are a simple, accurate, and cost effective ways to measure alkalinity in seawater and fresh water. Designed as a more accurate alternative tochemical test kits, these handheld colorimeters provide quick, accurate alkalinity testing results.
Light Source
LED @ 610 nm
Auto-off
After ten minutes of non-use
Method
Colorimetric Method
Ammonia Low, Medium and High Range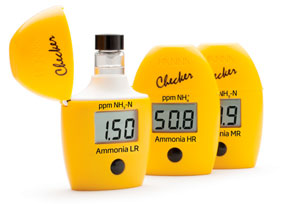 Description
Specifications
HI700 LR
HI715 MR
HI733 HR
HI700 - HI715 - HI733
Range
0.00 to 3.00 ppm NH3-N
0.00 to 9.99 ppm H3-N
0.0 to 99.9 ppm NH₄+
Ammonia Low, Medium and HighRange
Resolution
0.01 ppm
0.01 ppm
0.1 ppm
Ideal for:
- Water quality
- Aquariums
- Environmental
Accuracy 25°C/77°F
5 ppm ±5% of reading
±0.05 ppm ±5% of reading
±1.0 ppm ±5% of reading
The HI700, HI715, and HI733 Checker®HC's are simple, accurate, and cost effectiveways to measure ranges of ammonia in fresh water.
Light Source
LED @ 470 nm
Auto-off
After ten minutes of non-use
Method
Adaptation of the ASTM Manual of Water and Environmental Technology D1426-92, Nessler Method
Free Chlorine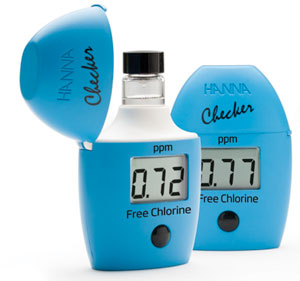 Description
Specifications
HI701
HI701
Range
0.00 to 2.50 ppm
Free Chlorine
Resolution
0.01 ppm
Ideal for:
- Swimming pools and spas
- Fruit and vegetable sanitation
- Disinfection
- Drinking water
- Quality control checks
Accuracy 25°C/77°F
±0.03 ppm ±3% of reading
The HI701 Checker®HC bridges the gap between simple chemical test kits and professional instrumentation. Chemical test kits are not very accurate and only give 5 to 10 points resolution, while professional instrumentation can cost hundreds of dollars and can be time consuming to calibrate and maintain. The Hanna HI701 Checker®HC is accurate and affordable.
Light Source
LED @ 525 nm
Auto-off
After two minutes of non-use
Method
Adaptation of USEPA method 330.5, DPD method
Total, Total Ultra Low Range and Ultra High Range Chlorine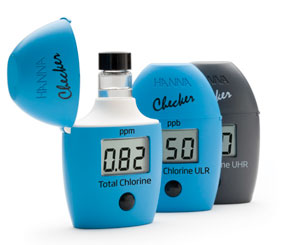 Description
Specifications
HI711 Total
HI761 Total ULR
HI771 UHR
HI711 - HI761 - HI771
Range
0.00 to 3.50 ppm
0 to 500 ppb
0 to 500 ppm
Total, Total Ultra Low Range and Ultra High Range Chlorine
Resolution
0.01 ppm
1 ppb
1 ppm
Ideal for:
- Swimming pools and spa
- Fruit and vegetable
- Sanitation/disinfection
- Drinking water
- Quality control checks
- Environmental
- Hospitality
- Food processing
Accuracy 25°C/77°F
±0.03 ppm ±3% of reading
±5 ppb ±5% of reading
±3 ppm ±5% of reading
Chlorine is the most common water disinfectant. The monitoring of chlorine is crucial in applications such as swimming pools and spas, fruit and vegetable sanitation, disinfection and drinking water. By monitoring this crucial parameter, serious health and safety risks can be avoided.
Light Source
LED @ 525 nm
Auto-off
After two minutes of non-use
After ten minutes of non-use
Method
Adaptation of USEPA method 330.5, DPD method
Adaptation of the Standard Methods for Water and Wastewater, 20th Edition 4500-Cl
Copper Low Range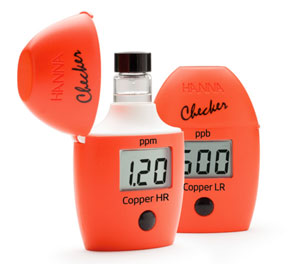 Description
Specifications
HI747 LR
HI747 - HI702
Range
0 to 999 ppb
Copper Low Range
Resolution
1 ppb
Ideal for:
- Water Quality
- Education
- Aquarium
- Wastewater
- Environmental
Accuracy 25°C/77°F
± 10 ppb ± 5% of reading
The HI747 and HI702 Checker®HC are simple, accurate, and cost effective way to measure high and low ranges of copper. Designed as a more accurate alternative to chemical test kits, the HI747 and HI702 provide quick, accurate results in four easy steps.
Light Source
LED @ 575 nm
Auto-off
After ten minutes of non-use
Method
Adaptation of the EPA method
Fluoride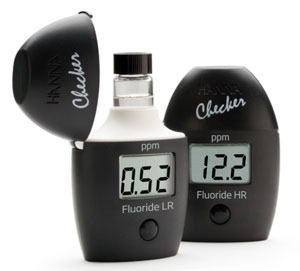 Description
Specifications
HI729 (LR)
HI729 - HI739
Range
0.00 to 2.00 ppm
Fluoride Low Range
Resolution
0.01 ppm
Ideal for water quality
Accuracy: 25°C/77°F
±0.10 ppm ±5% of reading
Fluoride is one of the very few chemicals that have been shown to cause significant effects in people through drinking water. Fluoride has beneficial effects on teeth at low concentrations in drinking water, but excessive exposure to fluoride in drinking water, or in combination with exposure to fluoride from other sources, can give rise to a number of adverse effects. A 1994 World Health Organization expert committee suggested a level of fluoride from 0.5 to 1.0 ppm, depending on climate. Bottled water typically has unknown fluoride levels, and some domestic water filters remove some or all fluoride.
Light Source
LED @ 575 nm
Auto-off
After ten minutes of non-use
Method
Adaptation of the Standard Methods for the Examination of Water and Wastewater, 18th edition, SPADNS method
Magnesium and Calcium Hardness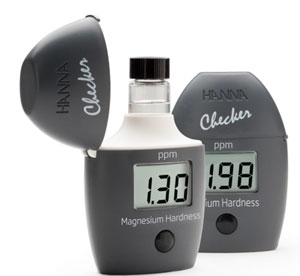 Description
Specifications
HI719 Magnesium Hardness
HI720 Calcium Hardness
HI719 - HI720
Range
0.00 to 2.00 ppm
0.00 to 2.70 ppm
Magnesium and Calcium Hardness
Resolution
0.01 ppm
0.01 ppm
Ideal for:
- Water purification systems
- Heating and cooling systems
- Drinking water
- Wastewater
Accuracy 25°C/77°F
± 0.20 ppm ± 5% of reading
± 0.20 ppm ± 5% of reading
The HI719 Checker®HC is a simple, accurate, and cost effective way to measure magnesium hardness. The HI720 Checker®HC is a simple, accurate, and cost effective way to measure calcium hardness.
Light Source
LED @ 525 nm
Auto-off
After ten minutes of non-use
Methoh
Adaptation of the Standard Methods for the Examination of Water and Wastewater, 18th edition, EDTA colorimetric method
Adaptation of the Standard Methods for the Examination of Water and Wastewater, 18th edition, Calmagite method
Iron
Description
Specifications
HI721
HI721
Range
0.00 to 5.00 ppm
Iron
Resolution
0.01 ppm
Ideal for:
-Industrial ground and treated waters
-Mining leachate monitoring
-Agricultural irrigation water
Accuracy 25°C/77°F
±0.04 ppm ±2% of reading
About 6.3% of the earth's crust is made of iron, of which 43% is in soils. The analysis of iron is often performed to monitor ground water and irrigation waters as a gauge of corrosion from industrial settling, and as an indication of the effectiveness of treatment from mining leachate.
Light Source
LED @ 525 nm
Auto-off
After two minutes of non-use
Method
Adaptation of the EPA Phenantroline method 315B, for natural and treated waters
Manganese High Range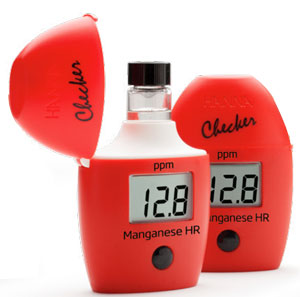 Description
Specifications
HI709 Manganese (HR)
HI709
Range
0.0 to 20.0 ppm
Manganese High Range
Resolution
0.1 ppm
Ideal for:
- Water Quality
- Education
- Aquariums
- Wastewater
- Environmental
Accuracy 25°C/77°F
± 0.2 ppm ± 5% of reading
The HI709 Checker®HC is a simple, accurate, and cost effective way to measure high ranges of manganese. Designed as a more accurate alternative to chemical test kits, the HI709 provides quick, accurate results in four easy steps.
Light Source
LED @ 525 nm
Auto-off
After ten minutes of non-use
Method
Adaptation of the Standard Methods for the Examination of Water and Wastewater, 18th edition, Periodate method
Nitrite Low Range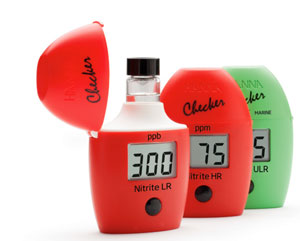 Description
Specifications
HI764 Marine ULR
HI764 - HI707 - HI708
Range
0 to 200 ppb NO2-—N
Nitrite Low Range
Resolution
1 ppb
Ideal for:
-Aquaculture
-Aquariums
-Education
-Environmental
-Water quality
- Wastewater
Accuracy 25°C/77°F
±10 ppb ±4% of reading
Nitrification is the biological oxidation of ammonia (ammonium ion) into nitrite, followed by the oxidation of nitrite to nitrate. The first step of this two-step process is carried out in an aquarium by nitrifying bacteria. During this quick process, the ammonium levels drop while the nitrite levels increase. Since nitrite is just as harmful as ammonia, nitrite levels should be maintained at immeasurable levels. A mature biological filter should be able to keep nitrite levels low.
Light Source
LED @ 525 nm
Auto-off
After two minutes of non-use
Method
Adaptation of the EPA Diazotization method 354.1
Phosphate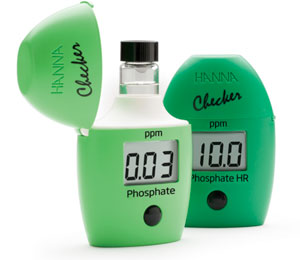 Description
Specifications
HI713 LR
HI713 - HI717
Range
0.00 to 2.50 ppm
Phosphate
Resolution
0.01 ppm
Ideal for:
- Aquaculture
- Natural, waste, agricultural and drinking waters
Accuracy 25°C/77°F
±0.04 ppm ±4% of reading
Orthophosphates are found in natural waters and wastewaters. They are commonly added to drinking water as a corrosion inhibitor. The instantaneous analysis of orthophosphates by colorimetric determination provides rapid results using a standard analysis technique.
Light Source
LED @ 525 nm
Auto-off
After two minutes of non-use
Method
Adaptation of the Ascorbic Acid method
Parts Ordering
| | |
| --- | --- |
| Cat No. | Description |
| HI755 - HI775 | Seawater and Fresh Water Alkalinity |
| HI700 - HI715 - HI733 | Ammonia Low, Medium and High Range |
| HI716 | Bromine |
| HI758 | Marine Calcium |
| HI753 | Chloride |
| HI701 | Free Chlorine |
| HI711 - HI761- HI771 | Total, Total Ultra Low Range and Ultra High Range Chlorine |
| HI749- HI723 | Chromium VI Low Range and High Range |
| HI727 | Color of Water |
| HI747 - HI702 | Copper Low Range and High Range |
| HI729 - HI739 | Fluoride Low Range and High Range |
| HI719 - HI720 | Magnesium and Calcium Hardness |
| HI718 | Iodine |
| HI721 | Iron |
| HI709 | Manganese High Range |
| HI726 | Nickel High Range |
| HI764 - HI707 - HI708 | Nitrite Low Range, High Range and Marine Nitrite Ultra Low Range |
| HI713 - HI717 | Phosphate |
| HI736 - HI706 | Phosphorus |
| HI770 - HI705 | Silica High Range and Low Range |