Gas Detection Tube System
The Kitagawa Gas Detection Tube System is a complete sampling and analysis system for determining hazardous gas and vapour concentrations quickly and easily.
The Kitagawa Gas Detection Tube System is comprised of an Air Sampling Pump and Precision Gas Detection Tubes. When measuring under the circumstances of low temperature, the optional Tube Warminig System (TWS-201) can secure the operating temperature for Gas Detection tubes.
Features
Ergonomically designed. Soft contoured grip prevents slipping. Easy to pull handle. Antibacterial material.
Sample Finish Indicator pops up when sampling is completed. The skeleton cover makes it easy to see.
Ends of detector tubes are easily and safely cut with the ceramic tip cutter. A cover on the tip cutter prevents the scattering of glass shards until it is convenient to discard them.
No power source is required making it truly portable for all applications.
Rugged construction for even the harshest of environments.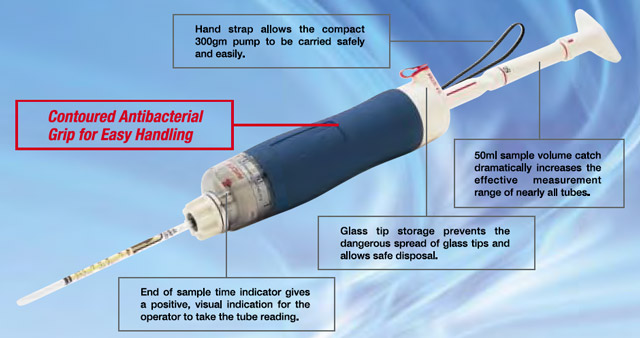 Additional Information
The Kitagawa air sampling pump reproducibly draws 100cc of sample air through the detection tube. All detection tubes are calibrated for a single pump stroke; there is no need for multiple volumes or stroke counters.
Each detector tube is formulated with high purity reagents that absorb and react with the target gas or vapour being measured. A Colorimetric Stain is created that is proportional in length to the concentration. For most tubes, the concentration is read directly off the measurement scale on each tube.