Temperature Data Loggers
with graphic LCD screen
The EL-GFX-1 standalone USB data logger measures and stores up to 251,928 temperature readings over a -30 to +80ºC (22 to +176ºF) range and at a resolution of 0.1ºC.
Using the Windows control software (available as a free-download from www.easylogusb.com),users can quickly set up the data logger and view downloaded data by connecting the device to the PC's USB port using the supplied cable.

The data logger features a high-contrast graphic LCD and three-input buttons. This allows users to start, stop and restart the data logger using on-screen menus. This menu also provides real-time analysis of data either as a data summary (showing highest & lowest readings and alarm conditions) or as a graph that updates as new data is added. Multiple data logging sessions can be stored on the device ready for upload to a PC at a later date.

The data logger's robust design provides IP-67 waterproof protection and the two replaceable ½AA batteries typically allow logging for up to one year.
Features
Rugged and robust IP67 construction
-30 to +80°C (-22 to +176°F) measurement range
Logging rates between 10 seconds and 12 hours
Stores over 250,000 readings
On screen menu and graphing to start, stop, review and restart the logger in the field
Micro USB interface for PC based set-up and data download
Immediate, delayed, push-button or temperature triggered start mode
User-programmable alarm thresholds
Graphic LCD shows real-time readings, graph and current status
User set audible alarm
Highly visible confidence/alarm LEDs
Supplied with user replaceable ½ AA batteries
EL-WIN-USB - CONTROL SOFTWARE
Lascar's Easylog USB control software is available to download from www.easylogusb.com. Easy to install and use, the control software runs under Windows XP, Vista and Windows 7. The software is used to set-up the data logger as well as download, graph and export data to Excel. Each stored logging session is saved as a separate file.
The software allows the following parameters to be configured:
Logger name
Measurement parameter (ºC or ºF)
Logging Rate (user-selectable between 10 seconds and 12 hours)
High and low temperature alarms
Immediate, delayed, push-button or temperature triggered start mode
Disable or enable LEDs and sounder with delayed activation
Display and backlight behaviour after button press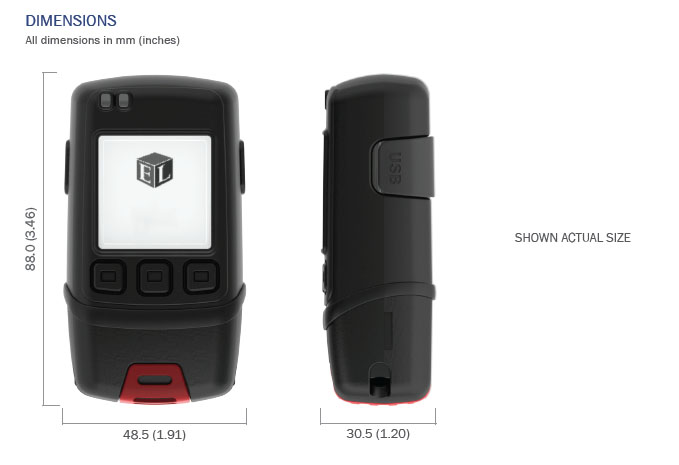 Menu Button Functions and Led Screen Indication

Battery Replacement
We recommend that you replace the batteries every 12 months, or prior to logging critical data.

The EL-GFX-1 does not lose its stored readings when the batteries are discharged or when the batteries are replaced; however, the data logging process will be stopped. If the batteries are changed within a 2 minute window the EL-GFX-1 will retain its settings (internal clock and logging mode). This will allow logging to be restarted without additional connection to a PC via USB.

Only use 2 x 3.6V ½AA lithium batteries. Do not mix battery types and do not mix new and old batteries. Before replacing the batteries, unplug the EL-GFX-1 from the PC.
WARNING
Handle lithium batteries carefully, observe warnings on battery casing. Dispose of in accordance with local regulations.
Minimum
Typical
Maximum
Unit
Measurement range
-30 (-22)
+80 (+176)
°C (°F)
Internal resolution
0.1 (0.1)
°C (°F)
Accuracy (overall error)
±0.1 (±0.2)
±0.5 (±1)
°C (°F)
Logging rate
every 10s
every 1hr
—
Operating temperature range*
-30 (-22)
+80 (+176)
°C (°F)
2 x ½AA 3.6V Lithium Battery Life
1**
Year
* At temperatures below -5°C the LCD will exhibit slower response times. The LCD will be disabled at temperatures under -20°C and above 70°C.
** At 25°C and 10 minute logging rate with no alarm LEDs or sounder and minimal LCD use.