2-Piece Mega Sludge Sampler with free carrying case
Perfect for septic and grease interceptor inspectors with limited space in their vehicle. The durable case keeps everything neat and clean.
Same Link-Release Mega Valve as the original MAX but with flexible linkage from the valve to the top. Easy to clean.
Standard lengths of 8ft (2.4m) and 5ft (1.5m). Custom lengths available.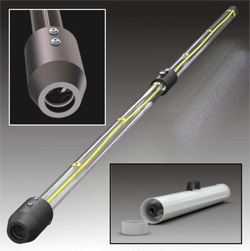 Slip-Lock Coupler – non-threaded
Large 1.5" dia. polycarb. tube
Huge Link-Release Mega Valve
O-rings for leak free performance
Purge sample by pulling up linkage
Pre-numbered depth markers
Carrying case included
New with this 2-piece MAX model is the flexible linkage between the Mega Valve and the top of the unit.
Simply slide the bottom tube into the Slip Lock Coupler and tighten the set screw.
The flexible linkage opens and closes the valve, but also provides an excellent site reference for the height of the sludge in the bottom.
| | |
| --- | --- |
| CAT. NO | Description |
| RAB405005 | 2 pieces 5' Coretaker Max with Carrying Case |
| RAB405008 | 2 pieces 8' Coretaker Max with Carrying Case |