B.O.D. Incubators
Capacity: 2.4 or 20.3 cu. ft.
Temperature range of 20°C degrees below ambient to 45°C
Fermentation Studies
---
Can we help you?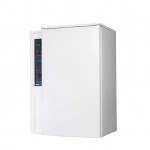 Model : SRI3
Incubator Chamber Capacity: 2.4 cu ft, 68 L
Bottle Capacity: 62
2 shelves
---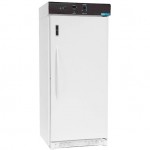 Model : SRI20
Incubator Chamber Capacity: 20.3 cu ft, 574 L
Bottle Capacity: 345
4 shelves
---
SHEL LAB Refrigerated Incubators (often called B.O.D. Incubators or Low Temperature Incubators) are commonly used for applications such as B.O.D. Determinations, Plant and Insect Studies, Fermentation Studies, and Bacterial Culturing
The SHEL LAB Low Temperature Incubators have a temperature range of 20°C degrees below ambient to 45°C.

Units are equipped with a hermetically-sealed compressor, a circuit breaker to protect from electrical overload, and an easy-to-clean, fully insulated chamber. Gentle, continuous forced-air circulation ensures temperature uniformity and reproducible test conditions.

The Refrigerated Incubators also include an independent over temperature safety controller, adjustable shelves in two inch increments and a one amp interior outlet to allow the use of shakers, stirrers, roller bottles or other apparatus.
BOD Application
Biochemical Oxygen Demand (B.O.D.) incubators enable end users to determine levels of organic matter and nitrogen in wastewater samples. This wastewater must be effectively measured for contaminates, treated and then released back into the environment without posing a threat to the water supply system. Increased enforcement by government regulatory agencies charged with monitoring air and water quality has forced a greater number of organizations to actively test and treat their wastewater. B.O.D. incubators facilitate the storage of wastewater samples, and the SHEL LAB Low Temperature Incubators accommodate from 62 to 345 BOD bottles.
Low Temperature Incubator Applications
APHA Method at 20°C
Plant Cell Growth
Fermentation Studies
Bacterial Culturing
Mycology Studies
Precise Temperature Control - Superior Uniformity
Independent Over Temperature Thermostat
Over Temperature Alarm
Temperature Range 0°C to 45°C at 20°C Ambient
Refrigerated
Incubators
110-120V
220-230V
SRI3
SRI3-2
SRI20
SRI20-2
Details
Under Counter
Large Capacity
Exterior Dimensions
(WxDxH)
Inches
(cm)
24.0 x 21.0 x 33.8
(61.0 x 53.4 x 85.8)
34.5 x 34.5 x 77.5
(87.7 x 87.7 x 196.9)
Chamber Dimensions
(wxdxh)
Inches
(cm)
16.0 x 12.0 x 21.5
(40.6 x 30.4 x 54.6)
27.0 x 23.0 x 56.5
(68.5 x 58.4 x 143.5)
Incubator Chamber
Capacity
cu. ft.
(L)
2.4
(68)
20.3
(574)
Interior Outlet
Number
110V -1 / 220V-2
110V-1 / 220V -2
Temperature Uniformity
Celsius
+/- 0.5ºC at 20ºC
+/- 0.5ºC at 20ºC
Bottle Capacity
Number
62
345
Number of Shelves
Included
2
4
All specifications are determined by using average values on standard equipment at an ambient temperature of 25°C (77°F) and line voltages within +/-10% of unit type (115V/230V). Temperature specifications follow DIN 12880 methodology. We reserve the right to change specifications at any time.