Coaxial cable water level meter
Solinst quality at a low price
4 mm (0.157") diameter probe
Rugged, corrosion resistant components
The Solinst Model 102 Water Level Meter is designed to measure groundwater levels, especially in small diameter tubes and piezometers, or where a flexible assembly is needed to get past down hole instrumentation.
Also available from Solinst, are the Model 101 and 101B Water Level Meters, which feature easy-to-read, easily repaired flat tape.
Features
Solinst quality at a low price
4 mm (0.157") diameter probe
Rugged, corrosion resistant components
Strong, flexible cable is easily spliced
Replacement probes, cables and parts
Precise markings every mm or 1/100 ft
Traceable to national standards
Operating Principles
The Model 102 Water Level Meter uses a choice of two small diameter probe designs, attached to a narrow coaxial cable, fitted on a sturdy ergonomically designed reel. A standard 9 volt battery, housed in an easy-access battery drawer, powers the Water Level Meter.
When the probe enters water the electrical circuit is completed, sending a signal back to the reel where a light and clearly audible buzzer are activated. The water level is then determined by taking a reading directly from the cable at the top of the well casing or borehole.
A sensitivity control allows the buzzer to be scaled back or turned off while in cascading water, and ensures a clear signal in both high and low conductivity conditions.
Narrow Diameter Probes
Model 102 Probes are designed for flexibility. The probe tips use a recessed design to minimize false signals in cascading water.
P10: 10 mm dia. x 70 mm long (3/8" x 2.75") stainless steel with 10 stainless steel weights, weighing 174 g (6.14 oz). This probe is ideal for the majority of water level measurement applications. The flexible weight assembly allows easy well access and keeps the cable hanging straight in monitoring wells.
P4: 4 mm dia. x 38 mm long (0.157" x 1.5") stainless steel weighing 10 g (0.35 oz),with no weights. It is ideal for shallow applications and for accessing very narrow diameters, especially the channels of the Solinst CMT System, Drive-Point Piezometers or narrow open tubes.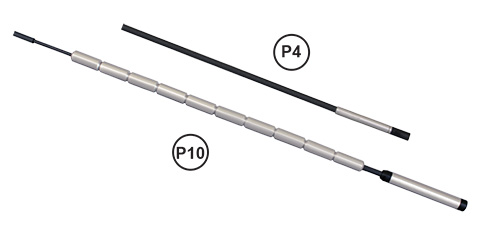 Laser Graduated Cable

The coaxial cable has a robust polyethylene jacket with permanent graduations, engraved with very high precision, along the entire length of the cable, every millimetre (or every 1/100th of a foot).
The coaxial cable winds smoothly and remains flexible. It is available in lengths from 30 to 300 m (100 to 1,000 feet).
A braided copper outer conductor provides flexibility, while a stainless steel center stranded conductor provides strength. The cable is easy to repair and splice.

Imperial
Metric

Laser Markings Each Millimeter or Each 1/100 ft
Water Level Meter Reels
The standard reel has an easy access battery drawer, a well designed brake assembly, and convenient carrying handle. It has been ergonomically designed to be comfortable in use and stable when placed on the ground. It has an on/off sensitivity switch, light, buzzer, battery test button, and comes with a tape guide.
The mini reel is sturdy, yet very compact and easy to carry. It also has an on/off sensitivity switch, light, buzzer, and battery test button.
102 Water Level Meter Specifications

| | |
| --- | --- |
| Operating temperature of reel: | -20°C to +50°C |
| Operating temperature of cable/probe: | -20°C to +80°C |
| Wetted materials (cable/probe): | Polyurethane, stainless steel, Delrin®, Viton®, Polyolefin (P10 only) |
| Reel IP rating: | IP64 (dust and splash proof) |
| Conductivity detection threshold: | P10: 40 µS/cm P4: 100 µS/cm |
Cable Length Options
Solinst Model 102 Water Level Meters are available on reels in the following standard lengths:
Mini Reel

* 25 m
* 80 ft

Small Reel


* 30 m

* 60 m

* 100 m

150 m

250 m

300 m




* 100 ft

* 200 ft

* 300 ft

500 ft

750 ft

1000 ft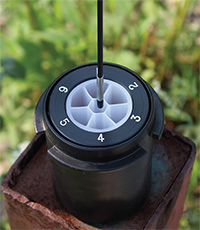 Other Options
Carrying Bag Small and mini padded nylon carrying bags are available, as optional extras. The bag design has a convenient shoulder strap, zippered front pocket, zippered top, and a grommet in the base to prevent moisture build-up. A mini bag has no pocket.
Replacement Parts: Replacement cables with probes, weights, and other spare parts are available.
Tape Guide/Datum
The tape guide can be used to protect the cable from damage on rough edges, help the probe hang straight in the well, and ensures consistent measurements. It can also provide reel support on the casing. A tape guide is provided with each standard reel.