Economy Soil Moisture Meter
without case
Soil Moisture (Volumetric Water Content)
Settings for standard, hi-clay, or sand soil types
Internal data logging up to 124,000 measurements

The Economy Soil Moisture Meter captures soil moisture measurements in the root zone and maintains consistent turf quality.
Soil moisture is critical, and potentially highly variable, a component of the soil environment. Time-domain reflectometry is a proven technology for quickly and
accurately determining volumetric water content (VWC) in soil. Electrical conductivity (EC) is a function of the moisture and salt in the soil and can be factored out to increase the accuracy of VWC measurements. The meter also measures soil surface temperature. The user can quickly transition between taking VWC readings in standard, high-clay, and sand soils.
The TDR 250 economy soil moisture meter's shaft-mounted probe allows the user to take measurements while standing. The meter's built-in data logger eliminates the need to record data manually.
Measurements can be saved to a USB flash drive using the built-in USB port.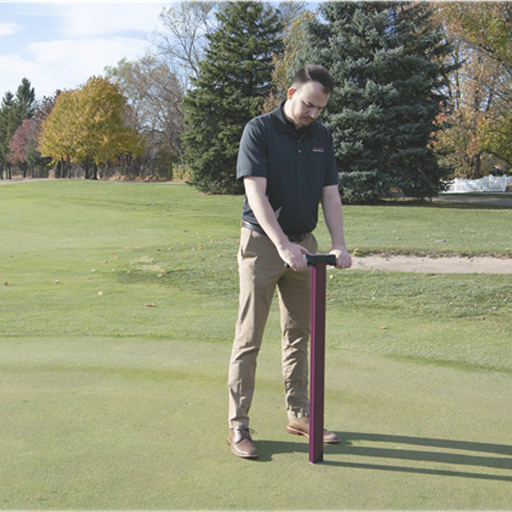 Features - Economy Soil Moisture Meter
• Displays VWC% (with running average)
• Operates in TDR 300 mode
• Soil measurements in less than a second
• Internal data logging up to 124,000 measurements
• USB port to download data log to a flash drive
• High-contrast display with backlight for easy viewing
• Ergonomic, portable design with removable handles
• Interchangeable soil probes (varying options) - sold separately
| | |
| --- | --- |
| Accuracy | ± 3.0% VWC |
| Range | 0% to saturation (up to 50% depending on soil type) |
| Resolution | 0.1% VWC |
| Data Logger | Up to 124,000 measurements |
| Measurement Principle | Time-domain |
| Battery | 4 AA Batteries |