LS9375001-
Data Logger Datalogic 3000
Channels: 9 analog channels, 8 single-ended, 5 differential ended
2 GB internal + 2 GB SD memory card

Also available in all-in-one system with touchscreen display
The DataLogic 3000 is a full-featured logger that will meet the data acquisition, processing, control and communication requirements of even complex stations
Data is stored internally and also backed up on a removable SD Card (up to 2GB) for additional redundancy and easy transfer to your computer.

Windows software allows easy programming of logging and the reporting of sensors and telemetry interface, offsets, basic math, and alarm conditions—all with a simple graphical interface.

Each sensor input port has isolated lightning protection. A 24 VDC loop power supply provides sufficient current to drive sensors. The analog input channels can automatically select measurement range based on the signal level. These channels are isolated and offer voltage protection to provide reliable monitoring in noisy environments.

Supported measurement and sensor types include temperature, 0-5 vdc, current, 4-20mA loops, resistance, bridges, strain gauges, quadrature and frequency—all returned in engineering units of your choice. Switchable excitation and triggering are provided on all channels to simplify wiring and installation.

The DataLogIC 3000 provides several popular data bus I/O's including; SDI-12 (Version 1.3), ModBus (optional), CAN Bus (optional), two RS-232 ports, RS-485 (optional), and USB 2.0.

Connecting to modems, GPS, scales, PLC's, and other intelligent devices is made simple with a separate serial port on the back panel offering high-speed communications.
Touchscreen Display Enclosure
The DataLogIC 3000 can be ordered as an all-in-one system that enables easy configuration via a touchscreen display, without the need for an external computer.
Using the touch screen, users can configure the data logger and easily download data on the SD card and/or a USB-A thumb drive, which can be removed for data offloading and backup.

The touchscreen display operates with included LoggerSet mobile software, which features the same functionality as the standard Windows-based LoggerSet software. Anyone who needs to access the logger in the field can easily turn on the touchscreen and update the configuration file or manage collected data. The touchscreen display is off when not in use, consuming no power.

The complete package includes the display and the DataLogIC 3000 mounted in an NEMA 4 enclosure (12" H x 10" W x 6" D). The enclosure has room for sensor terminal connections, a radio, SOLO smart SDI-12 power management control and a 12 VDC / 9 amp battery.

Watertight cable ports on the bottom of the NEMA-4 enclosure allow sensor, communication, and any external power cables to be routed into the enclosure. These ports can be selected and customized by request for specific applications.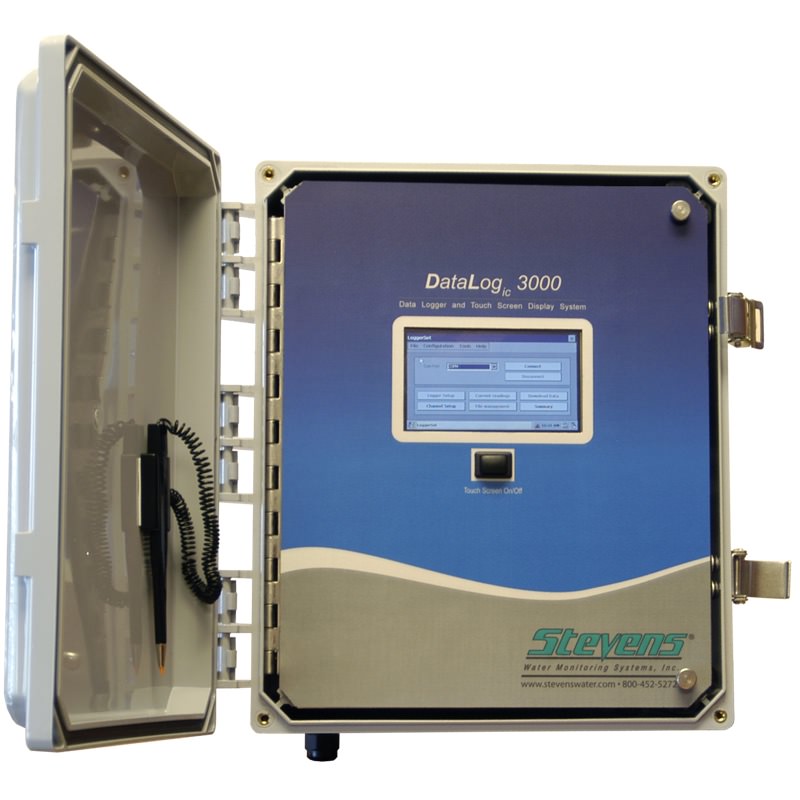 DataLogIC 3000 touchscreen display and enclosure.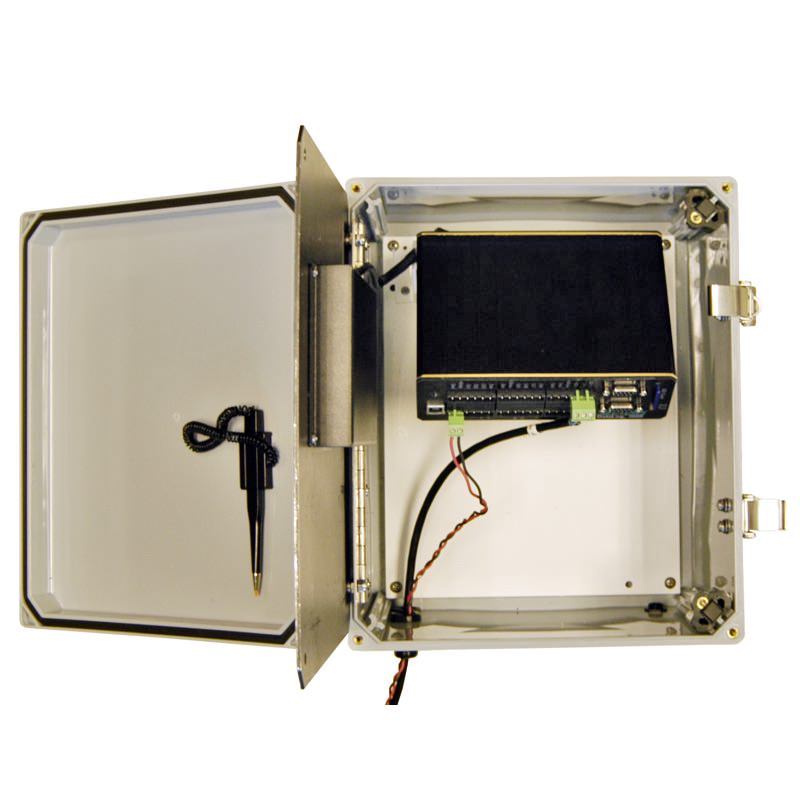 The inside has room for a 12 VDC / 9 amp battery, SOLO power management controller, radio, and cables.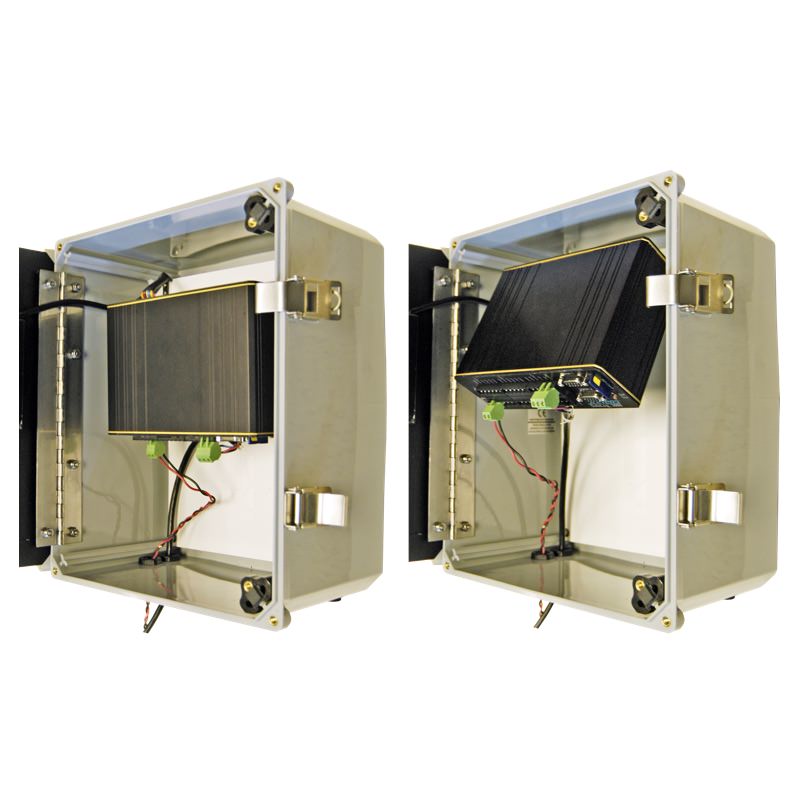 The DataLogIC 3000 mount can pivot to provide easy access to I/O ports.

Processor
32-bit ARM, 16-bit TI MSP430, and two 16-bit dsPIC microprocessors
On-board data storage
2 GB internal FLASH storage, plus removable 2 GB on SD memory card
Non-volatile memory
All setup parameters and clock, lithium battery backup
Real-time clock
Accurate to ±1 minute/month, leap year correction, temperature correction
Watchdog timer
System resets upon microprocessor failure
Digital to analog (0-5 VDC) output
12-bit resolution
Serial ports

Two (2) RS-232, minimum ±5 VDC levels, 4800 to 38400 baud (115K baud for video)
One (1) USB 2.0

Communications

Two (2) RS-232
One (1) USB 2.0 (fully compatible with USB 1.0 devices)
RS-485 (optional)
10/100 Base-T Ethernet (TCP/IP) (optional), auto sensing power-over-ethernet (PoE) available
Wi-Fi (optional)

Optional camera input
Full support for NTSC & PAL, storage of video and images to on-board memory
Power requirements
9.6 to 16 VDC, 4 mA standby current (telemetry system may require additional power)
Logging interval
1 minute to 24 hours
Message size
6 - 250 bytes typical, no maximum

SENSOR INPUT

Channels
9 analog channels, 8 single-ended,
5 differential ended
Input type
2 wire, 4 - 20 mA current loop
Sensor power
24 VDC, 12 VDC, 5 VDC, (12 & 24 VDC under firmware control)
Accuracy & resolution
0.01% accuracy, 0.002% resolution
Analog to digital (0-5 VDC)
21-bit resolution
Input impedance: 10 K ohm (min)
Pulse counter
Input type: pulse
Sensor power: 5 or 12 VDC continuous
Maximum rate: 60 pulses per minute
High data rate mode: up to 40 MHz
Serial:
Input type: SDI-12
Sensor power: 5 VDC or 12 VDC continuous, 12 VDC under firmware control (switched)
Switched excitation voltages
12V and 24V

ENVIRONMENTAL

Temperature and humidity
Operating: -40°F to 158°F (-40°C to 70°C)
NEMA 4 enclosure: 100% condensing
Aluminum enclosure: 95% non-condensing
Physical size
6.5" x 4.5" x 2.3" (165.1 mm x 114.3 mm x 58.4 mm)