Analog Balometer
TSI - Alnor ABT701 - ABT711
---
Can we help you?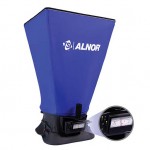 Model : ABT701
±3% of full scale selected +5 CFM (ft3/min)

---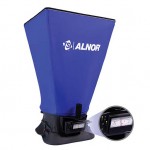 Model : ABT711
±3% of full scale selected +10 CMH (m3/hr)

---
The ABT Analog Balometer continues the long Alnor tradition of providing accurate and dependable analog instrumentation to the ventilation testing and balancing community.
By placing an Alnor ABT Balometer over a diffuser or grille, air volume measurements are obtained quickly and easily which maximizes productivity. Fast meter response and easy-to-read indicator over a large scale make the ABT Balometer an ideal choice for facility engineers, ventilation testing and balancing professionals, and commissioning.
Features and Benefits
Simple-to-read analog meter allows for quick measurements
Easy-to-carry with one hand using sturdy middle handle
Ergonomic design and ultra light weight for easy one person operation
Multiple hood sizes available
Measurement hold function
Wheeled, luggage-style carrying case
Applications
HVAC commissioning
Troubleshooting HVAC systems
Testing and balancing HVAC systems
Optional Accessories
Multiple hood sizes available
Supply and Exhaust Ranges
30 to 1,000 CFM (ft3/min),50 to 2,000 CMH (m3/hr)
Accuracy
ABT701
ABT711
±3% of full scale selected +5 CFM (ft3/min)
±3% of full scale selected +10 CMH (m3/hr)
Units
ABT701
ABT711
CFM (ft3/min)
CFM (ft3/min)
Scale Divisions (Supply/Exhaust)
CFM (ft3/min)
5 from 30 to 250
10 from 200 to 500
20 from 400 to 1000
CMH (m3/hr)
10 from 50 to 500
20 from 400 to 1000
40 from 800 to 2000
Power Requirements
Four AA-size cells alkaline
Battery life
200 CFM (340 CMH)
800 CFM (1360 CMH)
1000 CFM (1700 CMH)
29.2 hours
21.3 hours
20.4 hours
Weight with Batteries
7.4 lb (3.4 kg)
Operating Temperature Range
32 to 140°F (0 to 60°C)
Storage Temperature Range
-40 to 140°F (-40 to 60°C)
Model Description
ABT701
30 to 1000 CFM (ft3/min) with 2 ft x 2 ft (610 mm x 610 mm) hood
ABT711
50 to 2000 CMH (m3/hr) with 2 ft x 2 ft (610 mm x 610 mm) hood