Balometer & Micro-Manometer
TSI - Alnor EBT731- EBT730
Facilities managers
Health and safety specialists
Ventilation system installers
4,231.00 $ CAD

5,134.00 $ CAD
BALOMETER®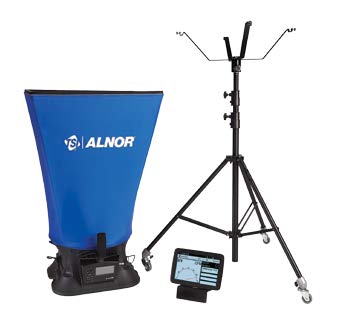 Model EBT731-STA Bundle shown.
The EBT731 Balometer™ Capture Hood is a multipurpose electronic air balancing instrument used for taking accurate, direct air volume measurements at diffusers and grilles. The corresponding detachable micromanometer can be used with an array of optional probes to enable various measurement applications. Compatible with LogDat™ Mobile Remote Reader Software and capture hood stand, the EBT731 maximizes worker productivity and efficiency—saving you valuable time on the jobsite for ultimate profitability.

Features and Benefits
Ergonomic, lightweight design enables easy one-person operation
Automatic sensing and display of supply or return flows saves time on the job
Back pressure compensation ensures accurate readings at high flow rates
Detachable digital micromanometer provides additional measurement capability
Multiple hood size options enable measurement of different outlet dimensions
Compatible LogDat Mobile Remote Reader and Data Logger Software option simplifies documenting of results and emailing of reports
Capture hood stand eliminates the need for ladders (reaching diffusers up to 15 ft. (4.5 m)
Test and balance contractors
Commissioning agents
Facilities managers
Health and safety specialists
Ventilation system installers
MICROMANOMETER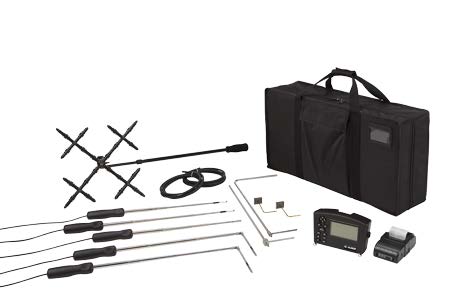 Model EBT730 (Micromanometer shown with standard and optional accessories)
As standard, the EBT731 Balometer Capture Hood includes a detachable EBT730 micromanometer — one of the most advanced, versatile, and easy to use micromanometers on the market today. The EBT730 features an auto-zeroing pressure sensor that increases measurement resolution and accuracy as well as integrates an intuitive menu structure to facilitate simple operation.
Features and Benefits
Accurate measurement of pressure, velocity and flow complies with industry standards
Auto-zeroing pressure sensor reduces user-steps and saves time
Automatic density correction increases reading accuracy
Large, backlit graphic display offers easy-to-use interface

Up to five simultaneous measurements
On-screen messages and instructions
Multi-language capability

Intuitive menu structure for easy operation
Integrated Log-Tchebycheff duct traverse mapping application simplifies calculations
Bluetooth bi-directional communication eases data transfer and permits use of LogDat Mobile Remote Reader and Data Logger Software for Android devices
Optional pitot, air flow (straight pitot), temperature/relative humidity, velocity matrix, or plug and play thermoanemometer probes enables use in multiple applications

Velocity Range
Pitot probes
25 to 15,500 ft./min (0.125 to 78 m/s)
Air flow probe
25 to 5,000 ft./min (0.125 to 25 m/s)
Velocity matrix
25 to 2,500 ft./min (0.125 to 12.5 m/s)
Accuracy
±3% of reading ±7 ft./min (±0.04 m/s) at velocities >50 ft./min (>0.25 m/s)
Units
ft./min, m/s
Resolution
1 ft./min (0.01 m/s)
Pressure
Differential pressure
±15 in. H2O (±3735 Pa); 150 in. H2O (37.5 kPa), maximum safe operating pressure
Absolute pressure
15 to 40 in. Hg (356 to 1016 mm Hg)
Accuracy
±2% of reading ±0.0001 in. H2O (±0.025 Pa) static and differential; ±2% of reading absolute
Units
in. H2O, in. Hg, Pa, hPa, kPa, mm Hg, cm Hg, mm H2O, cm H2O
Resolution
0.00001 in. H2O (0.001 Pa) static and differential; 0.01 in. Hg (1 mm Hg) absolute
Volume
Range
25 to 2,500 ft.3/min (42 to 4250 m3/h) capture hood, supply and return
Accuracy
±3% of reading ±7 ft.3/min (±12 m3/h) at flows >50 ft.3/min (>85 m3/h)
Units
ft.3/min, m3/h, m3/min, l/s
Resolution
1 ft.3/min (1 m3/h)
RH
Range
5 to 95% RH (temperature/RH probe)
Accuracy
±3% RH
Resolution
0.1% RH
Temperature
Sensor in base
40 to 140°F (4.4 to 60°C)
Temperature/RH probe
14 to 140°F (-10 to 60°C)
Accuracy
±0.5°F (±0.3°C)
Units
°F, °C
Resolution
0.1°F (0.1°C)
Instrument Temperature Range
Operating
40 to 140°F (4.4 to 60°C)
Storage
-4 to 160°F (-20 to 71°C)
Statistics
min, max, average and sum
Data Storage
25,500 samples, time and date stamped
Logging Interval
User selectable
Response Time
2 to 8 seconds, differential pressure sensor
Power Requirements
Four AA-size cells or AC adapter
Physical Characteristics
Dimensions (micromanometer only)
7.4 in. x 4.5 in. x 2.3 in. (18.8 cm x 11.4 cm x 5.8 cm)
Weight with Batteries
EBT730
17 oz. (0.5 kg)
EBT731
7.4 lb. (3.4 kg)
Pressure Connection
1/4 in. (6.35 mm) OD straight ports with barbed ends for use with 3/16 in. (4.76 mm) ID flexible tubing
Standard Accessories
Capture Hood Model EBT731
Micromanometer Model EBT730

Wheeled luggage-style carrying case
2 ft. x 2 ft. (610 mm x 610 mm) air capture hood/frame/base
Detachable micromanometer
AA rechargeable NiMH batteries (qty = 4)
Multi-country AC adapter
18 in. (46 cm) pitot probe
Static pressure probes (qty = 2)
16 ft. (4.8 m) neoprene tubing
Down-loading software
USB interface cable
NIST-traceable calibration certificate
Product manual

Micromanometer carry case
AA rechargeable NiMH batteries (qty = 4)
Multi-country AC adapter
18 in. (46 cm) pitot probe
Static pressure probes (qty = 2)
16 ft. (4.8 m) neoprene tubing
Down-loading software
USB interface cable
NIST-traceable calibration certificate
Product manual
Ordering Informations
| | |
| --- | --- |
| Part Number | Description |
| TSIEBT731 | Balometer |
| TSIEBT730 | Micromanometer |