Q-Trak™ XP Indoor Air Quality Monitor
Combines multiple gas and particle measurements into a single lightweight, handheld instrument
The Q-Trak™ XP Indoor Air Quality Monitor Model 7585 combines multiple gas and particle measurements into a single lightweight, handheld instrument that is easy to use, configure and calibrate in the field.
Designed for IAQ and industrial hygiene professionals, this monitor allows you to add or change gas sensors, so you can expand your indoor air quality assessment capabilities.
Product Details
Q-Trak XP™ Indoor Air Quality Monitor can perform a wide range of indoor air quality assessments and data logging. The powerful, compact multi-sensor module supports up to 6 selectable gas sensors while simultaneously measuring particle mass concentration, particle concentration, temperature, relative humidity. Standard IAQ calculations including wet bulb, dew point and percent of outdoor air mix are also supported.
A variety of user selectable gas sensor can be added, changed and calibrated as needed. Housed within the unique modular design, the plug-and-play sensors provide an exceptional level of expansion capacity for responding to the increasing demands of IAQ assessments, while keeping the cost of ownership low.
The Q-Trak™ XP Indoor Air Quality Monitor Model 7585 Kit Includes:
Handheld unit with multi-sensor IAQ module (includes sensors for temperature, relative humidity, barometric pressure, particle mass concentration, plus open slots for six different types of gases)
CO2 gas sensor
Gas calibration cap
Carrying case
Communication cable
Li-ion battery pack
Power supply + Manual
Calibration certificate
TrakPro Ultra Data Software
Features and benefits
Simultaneously measures and logs up to 20 IAQ parameters, including mass concentration and gas – in one instrument
Measures PM1, PM2.5, PM10 size fractions and total particle concentration
Accommodates up to 6 optional, pre-calibrated gas sensors
Built-in % of outdoor air workflow
Field calibration and simple replacement of sensors minimizes downtime and keeps costs low
Monitors temperature and relative humidity with wet bulb and dew point calculations
Real-time temperature and barometric pressure density compensation for VOC and CO2
Large touch-screen with intuitive navigation
Export data remotely with optional Wi-Fi connectivity (Wi-Fi not available in all Asia-Pacific countries)
Ideal For
Commercial and office buildings
Schools and universities
Hospitals and healthcare facilities
Public buildings and shopping centers
Transportation hubs (airports, bus and train depots)
TrakPro™ Ultra Software
The Q-Trak™ XP Indoor Air Quality Monitor includes the new TrakPro™ Ultra software. From the dashboard of this new software, users can connect directly to the instrument, to download and graph data for analysis.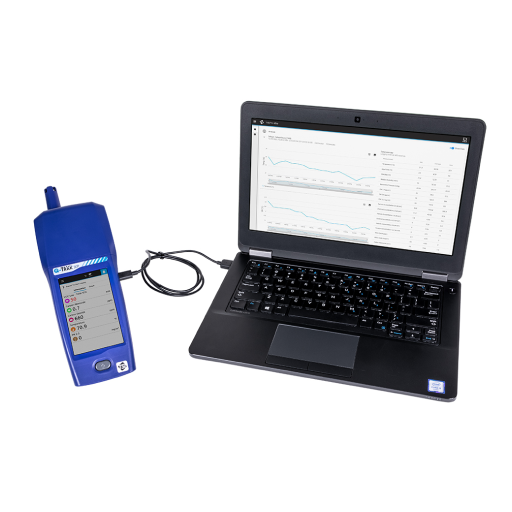 Data Collection and Reporting
Expanded data logging capacity of the Q-Trak™ XP Indoor Air Quality Monitor coupled with the
included TrakPro™ Data Analysis Software provides the capabilities to work effectively and efficiently as you move from data collection to report generation.
The Q-Trak XP Indoor Air Quality Monitor can store over 100 days of data collected at one-minute log intervals. TrakPro Ultra allows for seamless transfer to your PC, so stored data can be recalled, reviewed on screen, and downloaded for data analysis, graphing and exporting for building reports. This software is useful for analyzing long term, unattended data logging studies common in IAQ investigations.
Wi-Fi wireless connection connects the TrakPro Ultra software on your PC directly to the Q-Trak XP Indoor Air Quality Monitor or via a local network to capture and download data remotely.
Gas Sensor Options
The Q-Trak™ XP Indoor Air Quality Monitor Model 7585 can be configured to monitor a variety of gases. A total of 6 sensors can be installed and used at one time, with the ability to mix-and-match. Please note, the Model 7585 kit includes one carbon dioxide sensor.
All sensors are pre-calibrated and include a certificate of calibration.
The Q-Trak™ XP Indoor Air Quality Monitor Model 7585 arrives from the factory with the following preset technical specifications.


Particles
Sensor Type: Optical Particle Counter (OPC)
Particulate Mass (PM): PM1.0, PM2.5, PM10
Range: 0 to 500 µg/m3
Accuracy: ±10 μg/m3 (0 - 100 μg/m3),±10% of reading 100 - 500 μg/m³
PM Resolution: 1 µg/m3, 0.001 mg/m3
PM Units: µg/m3, mg/m3
Particle Concentration
(PC sizes in microns (µm)): PC0.3, PC0.5, PC1.0, PC2.5,PC5.0, PC10.0
PC Resolution: 0.01/cm3, 1/ft3, 1/L
PC Units: #/cm3, #/ft3, #/L
Response Time: <10 seconds
Carbon Dioxide
Sensor Type: Nondispersive Infrared (NDIR)
Range: 0 - 5000 ppm
Accuracy: ± 50 ppm
Resolution: 1 ppm
Response Time (t90): < 40s @ 20° C ambient
Temperature
Range: 32 - 140°F (0 - 60° C)
Accuracy: ± 1.0°F (0.5° C)
Resolution: 0.1°F (0.1° C)
Response Time (t90): < 15 seconds to 90% of final value
This instrument is not designed for confined spaces in which respirators may be required, or in hazardous and/or explosive environments.
Relative Humidity
Sensor Type: Capacitance
Range: 0 - 100% RH
Accuracy: ± 3% RH
Resolution: 0.1 % RH
Response Time (t63): 8 Seconds to 63% of final value
Barometric Pressure
Range: 7.7 - 37.2 in Hg (196.0 - 945.0 mm Hg)
Accuracy: ±0.12 in Hg (±3.0 mm Hg)
Resolution: 0.01 in Hg (0.1 mm Hg)
Response Time (t63):>2 seconds to 63% of final value
Operating Parameters
Logging Capability:73,000,000 data points Operating Temperature41 - 104° F (5 - 40° C)
Storage Temperature:-4 - 140° F (-20 - 60° C)
Meter Dimensions:3.8 in. × 8.3 in. × 2.1 in. /(9.7 cm × 21.1 cm × 5.3 cm)
Weight with Batteries:1.2 lbs./0.55 kg
Power Requirements:Li-ion rechargeable battery pack or universal AC adapter - both included
Languages Supported: English, German, French