Road surface sensor mobile Detector
Compact, multi-parameter mobile sensor
Designed for snow plow trucks, suitable for any vehicle
Proven DSC technology optimized for mobile measurements
Vaisala Mobile Detector MD30 is a mobile road condition sensor for winter maintenance operations
The compact MD30 measures all key road weather parameters and is suitable for snow plow trucks and other vehicles. MD30 data is targeted to enable more accurate maintenance decision-making and salt usage.
Features
Compact, multi-parameter mobile sensor
Designed for snow plow trucks, suitable for any vehicle
Proven DSC technology optimized for mobile measurements
Simultaneous water, ice, and snow layer reporting
Molded design to withstand heavy vibration and water ingress
Patent pending double-hood for window protection
Hand-removable hood for easy window cleaning
Reliable in Any Weather
To provide quick response time and high sensitivity in road condition reporting, MD30 utilizes an improved, fastmeasuring version of the proven DSC laser technology. In cases where external heat sources could disturb the temperature measurements, the road and air temperature sensors can be separated from the MD30 body and placed in desired locations.
Robust for Any Vehicle
The rugged design allows MD30 to operate in snow plow trucks and other vehicles. The core is molded to withstand continuous vibration and to prevent water ingress. Further, the hood has a special vented double structure that directs air flow to protect the window from dirt and splashes.
Easy to Use and Maintain
MD30 provides simplicity for both use and maintenance. It starts to measure automatically when the vehicle starts, and constantly monitors the sensor status. The window is heated to avoid dew and frost formation. When cleaning is needed, the window can be accessed by simply removing the hood by hand, without any tools.
Included accessories

Mobile Data Collection Accessories Without Phone
DSGT-MOBILEOBS-APP - MD30 APP
Set up and activation of app licenses
DSGT-MOBILEOBS-VIS Data Management + API+Visualization on Map
Measurement Specifications
Grip and Surface State

| | |
| --- | --- |
| Reported level of grip | 0.09 ... 0.82 |
| Reported surface states | Dry, Moist, Wet, Ice, Snow, Slush |
| Measurement interval | 40 times/s |
| Surface Layer Thickness | |
| Water | 0 ... 5 mm (0 ... 0.20 in) |
| Ice | 0 ... 2 mm (0 ... 0.08 in) |
| Snow (water equivalent) | (water equivalent) 0 ... 1 mm (0 ...0.039 in) |
| Surface Temperature | |
| Measurement range | −40 ... +60 °C (−40 ...+140 °F) |
| Air Temperature and Relative Humidity | |
| Humidity range | 0 ... 100 %RH |
| Temperature range | −40 ... +60 °C (−40 ... +140 °F) |
| Dew point range | −40 ... +60 °C (−40 ... +140 °F) |
Operating Environment
| | |
| --- | --- |
| Operating temperature | −40 ... +60 °C (−40 ... +140 °F) |
| Storage temperature | −40 ... +60 °C (−40 ... +140 °F) |
| Operating humidity | 0 à 100 % HR |
Inputs and Outputs
| | |
| --- | --- |
| Powering | 12 à 24 V CC |
| Power consumption, maximum | 15 W |
| Protocols | RS-232 |
| Data output Binary | Binary |
Mechanical Specifications
Dimensions (H × W × L)


251 x 151 x 96 mm

(9.88 × 5.95 × 3.78 in)


Weight

1.7 kg (3.7 lb)

Installation height

20 ... 110 cm (7.87 ... 43.31 in)

Materials

Stainless steel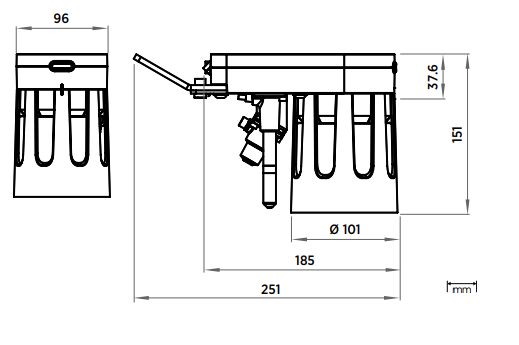 Compliance
| | |
| --- | --- |
| EMC (industrial environment) | EN 61326-1 |
| Vibration | IEC 60068-2-64 |
| Shock IEC | IEC 60068-2-27 |
| Corrosion and salt testing | VDA 621‑41 |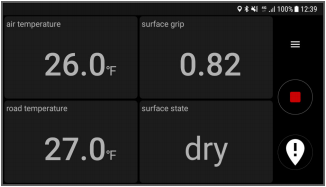 Data visualization on a phone app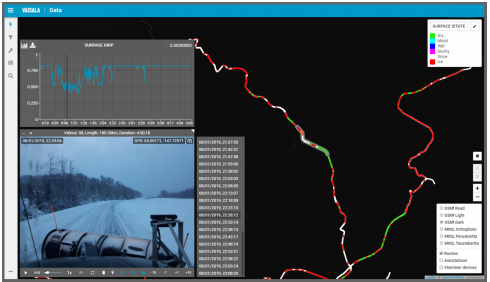 Data visualization on a web app