Temperature and Humidity Transmitters
for high performance HVAC applications
The humidity and temperature transmitters Vaisala HUMICAP® HMW90 series for wall, measure relative humidity and temperature in indoor areas requiring a high level of accuracy, stability and reliability.
Very flexible, the HMW90 series offers a wide range of options and features. The display is protected by a sliding cover is blind or has a viewing window. Output options include special scales and calculated the following parameters: dew point, mixing ratio, enthalpy, wet bulb temperature, dew point depression and absolute humidity.
Ease and speed of installation
The HMW90 transmitters are quick and easy to install. The wiring is done by the back, which makes it easy to set up electronics and sensors after completing wiring. Access to configuration switches requires opening the housing. In standard models, the most common settings such units metric / non-metric, humidity settings / dewpoint and relay set point can be easily changed without special tools.
A wide range of calibration options
Calibration and adjustment on the site is exceptionally simple. The cover slides to reveal correction potentiometers for the one-point calibration of humidity and temperature settings without disturbing the measurement. The integrated display makes it clear and convenient adjustment instantly showing the effect of changes. Service connector allows two-point calibration with either a PC or with the portable instrument for measuring humidity and temperature HUMICAP® HM70.
The HMW90 transmitters incorporate a measurement module user replaceable and can be ordered as a spare part. This module comes with a calibration certificate. Calibration services are available at Vaisala service centers.
The cover slides to discover the correction potentiometers and service connector for recalibration.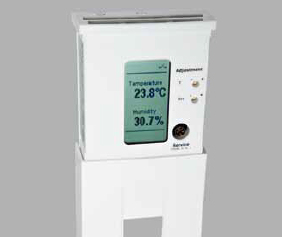 Features / Benefits
Ease of installation, configuration and tuning on the site
Stability in the long term than the Vaisala HUMICAP® 180R sensor
Moisture output settings: relative humidity, dew point and mixing ratio, enthalpy, wet bulb temperature, dew point depression and absolute humidity
Full measuring range 0 ... 100% RH
Accuracy up to ± 1.7% RH
Special Output Scale setting available
A relay (only output voltage models)
UL V0 materials
Humidity and temperature module user replaceable
NIST traceable calibration (certificate included)
Typical applications
Museums and Archives
Production and shops
Data centers
Laboratories
Test environments
Models
TMW92
T only
2 son, current output
TMW93
T only
3 son, voltage output
TMW90
T only
configurable model
HMW92
HR + T
2 son, current output
HMW92D
HR + T
2 son, current output with display
HMW93
HR + T
3 son, voltage output
HMW93D
HR + T
3 son, voltage output with display
HMW90
HR + T
configurable model
Performance
RH
Measuring range
0 ... 100% RH
Precision
Temperature range
+10 ... +40 ° C (50 ... 104 ° F)
0 ... 90% RH
± 1.7% RH
90 ... 100% RH
± 2.5% RH
Temperature range
-5 ... +10 ° C, +40 ... + 55 ° C (+23 ... +50 ° F, 104 ... + 131 ° F)
0 ... 90% RH
± 3% RH
90 ... 100% RH
± 4% RH
Stability in typical applications
± 0.5% RH / year
Humidity Sensor
HUMICAP® 180R
Temperature
Measuring range
-5 ... + 55 ° C (23 ... 131 ° F)
Precision
+20 ... +30 ° C (+68 ... +86 ° F)
± 0.2 ° C (± 0.36 ° F)
+10 ... +20 ° C, +30 ... + 40 ° C
(50 ... 68 ° F, 86 ... 104 ° F)
± 0.3 ° C (± 0.54 ° F)
-5 ... +10 ° C, +40 ... + 55 ° C
(+23 ... +50 ° F, 104 ... 131 ° F)
± 0.5 ° C (± 0.90 ° F)
Temperature sensor
Digital
Operating Environment
| | |
| --- | --- |
| Operating temperatures | -5 ... + 55 ° C (23 ... 131 ° F) |
| Storage temperatures | -30 ... +60 ° C (-22 ... 140 ° F) |
| Compliance | Complies with standard EN61326-1 EMC, |
| electromagnetic | Industrial Environment |
Parts and accessories
| | |
| --- | --- |
| Module humidity and temperature | HTM10SP |
| Temperature module (for T models only) | TM10SP |
| Connecting cable to the portable measuring apparatus HM70 | 219980 |
| USB cable for PC connection | 219690 |
Mechanical characteristics
IP Class
IP30
Standard color of the housing
White (RAL9003 *)
Optional colors housing
Black (RAL9005 *)
(Only configurable models)
Gray (RAL7035 *)
Light ivory (RAL1015 *)
Housing material
ABS / PC, approved UL-V0
Output Connector
Screw Terminals Size Maximum cable 2 mm2 (AWG14)
Service connector
4-pin M8
Weight
155 g
* The RAL code is only indicative, small color variations may occur
Inputs and outputs
Current output models
Outputs
2 x 4 ... 20 mA loop powered
Loop resistance
0 ... 600 Ω
Power supply
20 ... 28 VDC 500 Ω load
10 ... 28 VDC at 0 Ω load
Isolation between output channels
500 Vdc
Voltage output models
Outputs
2 x 0 ... 5 V or 2 x 0 ... 10 V
Load resistance
Minimum 10 kW
Power supply
18 ... 35 VDC 24 VAC 50/60 Hz ± 20%
Maximum consumption
12 mA 25 mA with relay
Relay
1 unit (maximum 50 VDC, 500 mA)
Service connector
RS-485 line for temporary use
Dimensions
Dimensions in mm