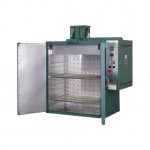 Model : 323
Designed specifically to fit through a standard 30" wide door opening, when fully assembled. This model provides a generous 16 cubic feet of work space.

---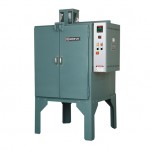 Model : 333
Provides a roomy 27 cubic feet of work space -- 70% more capacity at only a little more cost than our Model 323.

---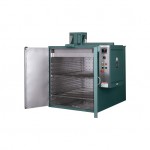 Model : 343
It's a full foot deeper than Model 333. Ideal for longer or larger items and bigger batches. A giant 36 cubic feet of work space..

---
Low cost, large capacity Bench ovens for shelf processing at temperatures to 400°F.
Designed to handle a wide variety of applications such as baking, curing, drying and preheating.

STANDARD FEATURES
UL LISTED CONTROL PANEL
Standard Large Capacity Bench Ovens from Grieve meet the requirements of National Fire Protection Association Standard 86, Industrial Risk Insurers, Factory Mutual and OSHA standards. For some applications, such as those involving flammable solvents or hazardous locations, the above organizations require additional safety devices.
Controls
- Analog, thermocouple actuated, temperature controller
- Motor control push buttons
- On-off heat switch
- LED pilot lights
Safety Equipment — Electric Oven
- Adjustable, thermocouple actuated, manual reset excess temperature interlock
- Separate heating element control contactors
- Recirculating blower air flow safety switch
Construction


304 stainless steel interior
Explosion venting latches
2" of 6 lb/cf density industrial rockwool insulation
Built-in baffle prevents radiant heat
Silicone rubber door gasket
Aluminized steel exterior with enamel finish
Brushed stainless steel control panel face
Incoloy sheathed tubular heating elements
Two (2) nickel plated wire shelves
Channel shelf supports prevent shelves tipping
Adjustable fresh air intake and exhaust dampers
High pressure recirculating blower
All welded construction
1 year limited warranty

Every oven fully assembled and individually factory tested
STANDARD EQUIPMENT
All Models
208 volts, 1 or 3-phase, 60 Hz
230 volts, 1 or 3-phase, 60 Hz
460 volts, 3-phase, 60 Hz
Other electrical characteristics available
Each features completely wired, side access UL listed control panel enclosing terminals for incoming power, temperature controllers, push buttons and pilot lights. Motor starter and heating element contactors electrically interlocked to shut off heaters if power to blower is interrupted and to permit operation of blower without heat for cooling. Incoloy sheathed tubular heating element.
Two (2) reinforced 50 lbs uniformly distributed load capacity nickel plated wire shelves; ten (10) pair shelf support channels on 3" centers; 200 lbs maximum oven load.

304 stainless steel interior with carbon steel blower and plated hardware. Trilite Green enamel painted aluminized steel exterior. Exhaust outlet 4" diameter.

Model
Work Space
Outside Dimensions* (WxDxH)
Max Temp
Blower
Insulation
Doors
kW
Operating Characteristics†
Approx
Shipping
Dimensions
Volume
CFM
HP
Control
Oven
Rise Time
Weight
(WxDxH)
Cu Ft
Accuracy
Uniformity
323
36" x 21" x 36"
15.8
40" x 28" x 47"
400°F
400
43103
2"
Double
4.4‡
±0.5%
±8°F
18 min
600 lbs
333
36" x 36" x 36"
27
40" x 43" x 47"
400°F
400
43103
2"
Double
6.6
±0.5%
±8°F
18 min
750 lbs
343
36" x 48" x 36"
36
40" x 55" x 47"
400°F
400
43103
2"
Double
6.6
±0.5%
±8°F
22 min
850 lbs