Schmidt® rebound hammers for concrete strength and rock testing
Proceq - Original, OS-120, Rock, Original OS8000
The original rebound test hammers for compressive strength and homogeneity assessment
The Original Schmidt was invented and introduced into the market by Proceq in the 1950s. Since that time it has become the world's most widely used instrument for non-destructive estimation of concrete strength properties, standardized in every major region. Not limited to concrete it is also used for rock, paper and mortar. Proceq rebound hammers are available in models with different impact energies, each designed for a specific test application. The latest models are the Original Schmidt Live, a fully connected hammer operating on iOs and Android and now the new SilverSchmidt OS8200 combining the proven accuracy of SilverSchmidt with all of the time saving reporting advantages of the live environment.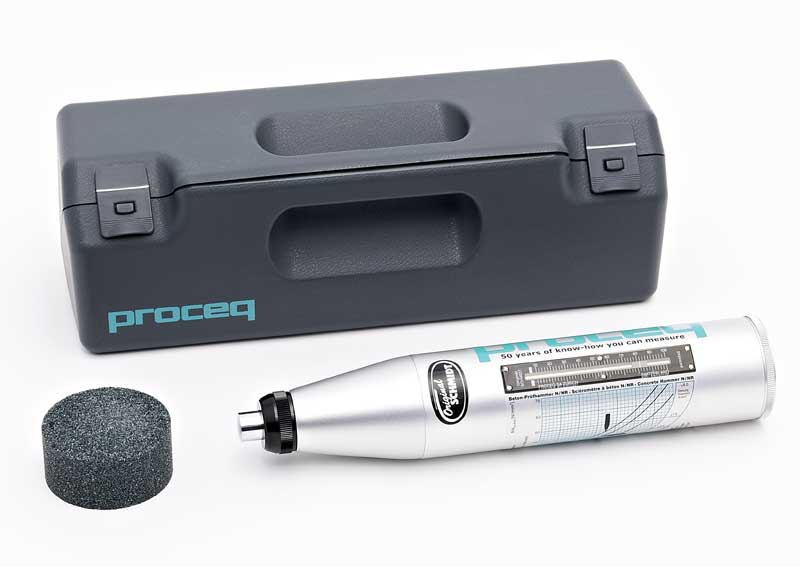 Original Schmidt

Description
The classic Original Schmidt hammer that became the basis of every major rebound hammer testing standard worldwide.
Features
Various models with different impact energies to cover a wide range of applications

Proven durability and quality compared with low cost copies
Established Proceq Swiss Made accuracy and reliability
Impact Energy
2.207 Nm (N),0.735 Nm (L)
10 to 70 N/mm2 (1'450 to 10'152 psi)
Standards
EN 12504-2, EN 13791, ASTM C 805, JGJ/T 23, JIS A 1155, ISO/DIS 8045, ASTM D 5873 (Rock), ГОСТ 22690
Guidelines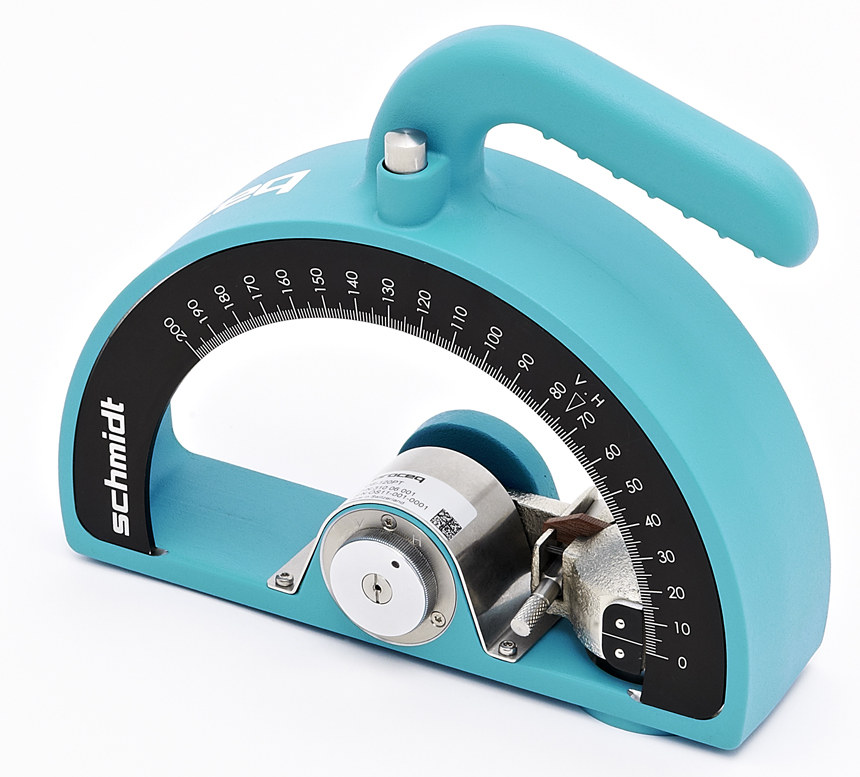 Schmidt OS-120
Description
The Schmidt OS-120 pendulum hammers are designed to test on softer material such as light weight concrete, gypsum boards, fresh concrete and the mortar of joints in brickwork.
Features
Only rebound hammer that provides a test result at compressive strengths below 5 Mpa

Large, half circular scale with high resolution
Two models for fresh concrete and mortar applications
Impact Energy

0.833 Nm
1 to 5 N/mm2 (145 to 725 psi)

Standards
EN 12504-2, EN 13791, ASTM C 805, JGJ/T 23, JIS A 1155, ISO/DIS 8045, ASTM D 5873 (Rock)

Guidelines
ACI 228.1R



RockSchmidt

Description
The RockSchmidt is a variation of the SilverSchmidt adapted specifically for rock testing applications such as UCS correlations or to predict penetration rates for tunnel boring machines and rotary drum cutters.
Features
Correlations to UCS using both ASTM and ISRM recommendations as well as user defined statistis

No need to manually record the impact values in the field
Extremely durable with long service intervals when compared with classical hammer
Impact Energy
2.207 Nm (N),0.735 Nm (L)
20 to 150 MPa Unconfined (or Uniaxial) Compressive Strength (UCS)

Standards
ASTM D 5873 (Rock)

Guidelines
ISRM – Aydin A., ISRM Suggested method for determination of the Schmidt hammer rebound hardness: Revised version. Int J Rock Mech Mining Sci (2008),DOI:10.1016/j.ijrmms.2008.01.020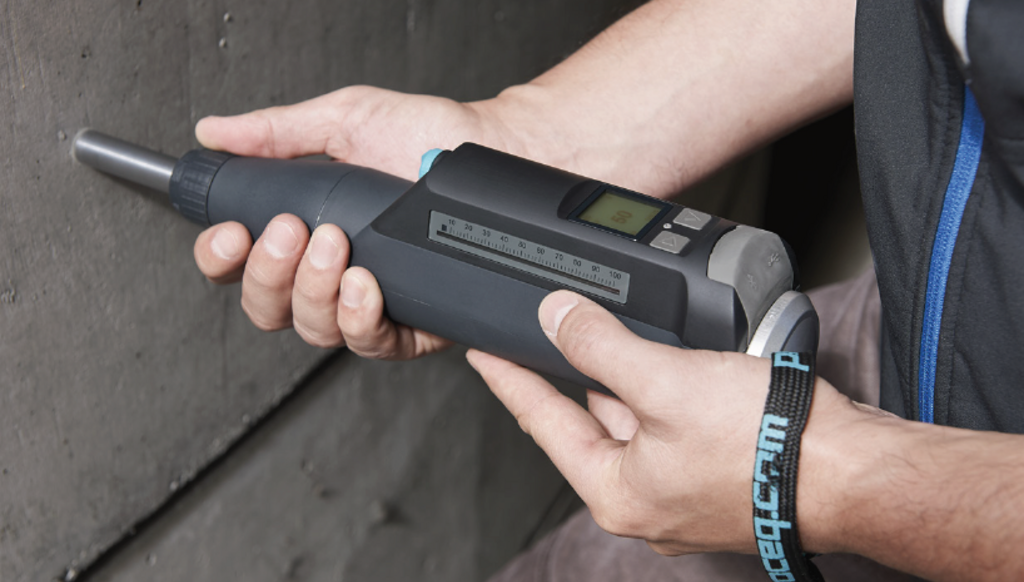 Original Schmidt 0S8000

Description
The Original Schmidt OS8000 is the Original concrete test hammer, now digitally redefined - and it is also the most advanced R-value hammer ever made, with unmatched performance, ease of use, and versatility, as well as reporting on the go thanks to its mobile app.
Features
Strength estimation at a fraction of the cost and lead time and without the mess of coring

Comprehensive mobile apps and web-based functionality enhancing productivity
Light and strong fiber-reinforced shell
Powered by flight-safe AAA batteries
Dual displays: analog and backlit digital
All mechanical components are Original Schmidt components to ensure durability and standards compatibility
Impact Energy

2.207 Nm (N),0.735 Nm (L)
Standards
USA: ASTM C805, ACI 228.1R
Europe: EN12504-2, EN13791
China: JGJ-T23
Japan: JCSE-G504
ISO 1920-7
JIS A1155
Russia: GOST 22690-2015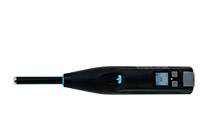 Original Schmidt 0S8200

Description
Silver Schmidt OS8200 is as accurate, reliable, and versatile as ever—and now, connected, thanks to its optical measurement technology delivering Q-value measurements, paired with digital productivity features and user-friendly mobile apps.
Features
Strength estimation at a fraction of the cost and lead time, and without the mess of coring of coring

Best-in-class strength correlation
Applicable from fresh to high strength concrete
Instant report generation on the go
Long service intervals
Combination with other methods
Ultrasonic pulse velocity (SONREB) with Pundit 200

Impact Energy

2.207 Nm (N),0.735 Nm (L)
10 to >100 N/mm2 (1'450 to >14'500 psi)
L-hammer with optional mushroom plunger: 5 to 10 MPa (725 to 1'450 psi)
Standards
EN 12504-2

EN 13791
ASTM C 805
ГОСТ 22690
Guidelines
Models

Original Schmidt

Schmidt OS-120

RockSchmidt

Original Schmidt OS8000
Silver Schmidt OS8200
Instrument Firmware

N/A

N/A

Custom curves

Correlation to UCS

Correlation to E-modulus

Weathering according to ISRM

Rebound according to ASTM and ISRM

Single button programming of settings

Automatic calcuation of rebound value according to international standards


Automatic calcuation of rebound value according to international standards

PC Software

N/A
N/A

RockLink for data assessment and export to third party software

N/A

N/A

Display

Mechanical display

Mechanical display

Integrated digital display


Any compatible Apple® iOS device

Any supported Android™ device


Any compatible Apple® iOS device

Memory

N/A

N/A

400 series of 10 measurements

Instument memory > 20'000 impacts, Display memory - Memory of iOS or Android device

Instument memory > 20'000 impacts, Display memory - Memory of iOS or Android device

Connections

N/A

N/A

USB interface to PC

Low energy bluetooth, USB for charging and updates

Low energy bluetooth, USB for charging and updates

Measurements

N/A

N/A

N/A


Impact angle independent

Displays the series on-screen as you work

Series validity checked automatically

Review an entire series

Delete impacts

Test region reporting

Select units, form factor and correlation curves

Create your own custom curves

Create custom curves databases for your own mixes


Impact angle independent

Displays the series on-screen as you work

Series validity checked automatically

Review an entire series

Delete impacts

Test region reporting

Select units, form factor and correlation curves

Create your own custom curves

Create custom curves databases for your own mixes

Report Generation

N/A

N/A

N/A

Single, multiple series, test region (uniformity, EN13791)

Single, multiple series, test region (uniformity, EN13791)

Languages

N/A

N/A

N/A

English, German, Japanese, Chinese, Korean, Spanish, Portuguese, Italian, French, Russian

English, German, Japanese, Chinese, Korean, Spanish, Portuguese, Italian, French, Russian

Battery

N/A

N/A

N/A

Standard AAA, alkaline or rechargeable

Standard AAA, alkaline or rechargeable

Battery Lifetime







> 20'000 impacts between charges

> 20'000 impacts between charges

Operating Temperature

N/A

N/A

N/A

0° to 50°C

0° to 50°C

| | | | | | |
| --- | --- | --- | --- | --- | --- |
| Models | Original Schmidt | Schmidt OS-120 | RockShmidt | Original Schmidt OS8000 | Silver Schmidt OS8200 |
| In-situ rock testing on massive rock (Type N) | X | X | X | | X |
| Concrete testing on thin (less than 100 mm thick) samples (Type L) | X | X | X | | X |
| Rock testing on cores according to ASTM D5873 (Type L) | X | X | X | | X |
| Hardness testing of paper rolls (Type L) | X | X | X | | X |
| Compressive strength estimation; concrete: 10 to 70 N/mm2/ 1450 to 10152 psi (Type N) | X | X | X | | X |
| Screening of concrete to identify coring locations (Type N) | X | X | X | | X |
| Uniformity testing of concrete (Type N) | X | X | X | | X |
| Fresh concrete strength estimation | X | X | X | X | |
| Normal concrete strength estimation | X | X | X | | |
| High strength concrete strength estimation | X | X | X | X | |
| Concrete uniformity testing | X | X | X | | |
| Papier | Type L | X | X | X | X |
| Béton | | | X | X | X |
| Géologie | | X | | X | X |
| Mesure d'uniformité | | X | | | |
| Estimation de la résistance in situ | | | | | |
| Corrélation personnalisée avec la résistance à la compression | X | X | | | |
| Mesure du béton de faible résistance (<5 Mpa) | X | | X | X | |
| Mesure de la qualité du mortier dans la maçonnerie en briques | X | | X | X | X |
| Mesure de la roche | | X | | X | X |
| Bobines de papier de grande taille | L | X | X | X | X |