Pressure Canners
Professional quality aluminum and easy to clean
Additional sécurity with 2 automatic venting
Steam gauge included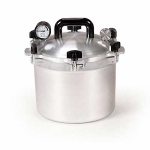 Model : OpcAA910
Capacity - 10 1/2 Quarts (Liquid), 7 Pint Jars, 4 Quart Jars
---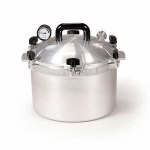 Model : OpcAA915
Capacity - 15 1/2 Quarts (Liquid), 10 Pint Jars, 7 Quart Jars
---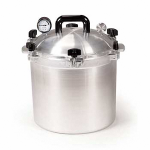 Model : OpcAA921
Capacity - 21 1/2 Quarts (Liquid), 19 Pint Jars, 7 Quart Jars
---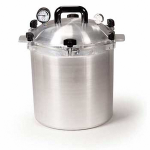 Model : OpcAA925
Capacity - 25 Quarts (Liquid), 19 Pint Jars, 7 Quart Jars
---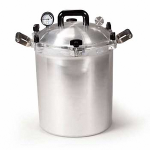 Model : OpcAA930
Capacity - 30 Quarts (Liquid), 19 Pint Jars, 14 Quart Jars
---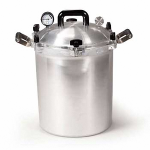 Model : OpcAA941
Capacity - 41 1/2 Quarts (Liquid), 32 Pint Jars, 19 Quart Jars
---
The U.S.D.A.* recommends pressure canning as the only way to can meat, fish, poultry, and all vegetables
Wisconsin Aluminum Foundry has manufactured All American Pressure Canners since the 1930s. This line of canners has offered the best and safest method for home canning from its creation all the way up to the present. The U.S.D.A. recommends pressure canning as the only way to can meat, fish, poultry, and all vegetables. These pressure canners have the capacity needed not only for canning, but also for preparing large quantities of food and pressure cooking inexpensive meat cuts to juicy tenderness in a short time.
Only the All American Pressure Canner features an exclusive, precision machined "Metal-to-Metal" sealing system. Positive action clamping locks align the cover to the base forming a steam tight seal. Because no gasket is involved, the cover is always easily opened and closed.
The All American Pressure Canner makes it easy to can fish, meat, vegetables, and fruits and is the only method that the U.S.D.A. recommends for low acid foods. All models feature a readable pressure gauge for accurate pressure control.
Please Note: All American Pressure Canners are not recommended for use on glass top/ flat ranges without first checking with your stove manufacturer because their weight may cause the glass/ceramic to break. The 930 and 941 models are heavy and could cause damage to your range.
The 910 and 915 models are not recommended for canning fish. The diameter of the canners are larger than most burners and may cause heat to transfer outward and damage the surrounding surface.
All American Pressure Canners are intended and manufactured solely for home use applications. they are not intended for commercial applications.
-------
*: United States Department of Agriculture