PORTABLE THERMISTOR THERMOMETER FOR BEER BREWING
1m Stainless Steel Thermistor Temperature Probe (FC762N2)

Calibration Check feature
User calibration at 0 °C
Remaining battery life indication/low battery detection
The HI-935012 Beer Thermometer to meet the tough environment encountered in the brewing industry.
The IP65 compatible casing protects the thermometer from splashes and spills that may occur during brewing. Its durable design ensures its capabilities of overseeing measurements at all stages of the brewing process.
Features
1m Stainless Steel Thermistor Temperature Probe (FC762N2) – interchangeable with FC762 series thermistor probes
Cal Check technology
IP67 rated
Measures temperature from -200 to 120.0˚C
Auto-off capability
Probe error messages
Carry case
Large LCD
Stability indicator
Long battery life
Includes blue shockproof boot (HI-710026)
The meter is specifically designed for measuring the temperature in many chemical processes that take place during the beer production including mashing, wort separation, fermentation and finally packaging, distribution and aging.
Both air temperature and product internal temperature can be measured with this thermometer.
The dedicated probe FC762N2 shaft is designed for continuous contact with foodstuffs in accordance with Regulation (EC) 1935/2004.
Temperature plays a central function in brewing operations. Spot checking temperature throughout the process ensures daily work routines are carried out at the correct temperature, and equipment is operating efficiently. Temperature measurements are made at the hot water tank, the mash tank, the boil kettle, fermenter, bright beer tank and final storage area. Temperature checks provide peace of mind the operation is running smoothly and the batch will be uncompromised.
CAL Check™ function
Hanna's brew thermometer includes our exclusive CAL Check™ technology. CAL Check™ ensures that your meter is working optimally so you can be confident in all your results.
Long battery life
The included AAA batteries provide 4500 hours of continuous use. When the battery level is below 10%, a warning symbol flashes to indicate that the battery is low. If a low battery will affect your results, the meter will shut off to prevent false readings caused by a low battery level.
Automatic shutdown
The auto-shutoff feature extends the life of the battery for peace of mind and energy savings if the meter is accidentally left on. The auto shut-off feature can be set to turn off the meter at 8 or 60 minutes, or it can be disabled so that the meter remains on continuously.
Portable design
Hanna's brew thermometer was designed to fit comfortably in your hand for testing on the go. A large LCD display provides at-a-glance readings from any angle, and one-button operation streamlines the testing process for any brewer.
Built to be durable
Designed to withstand real-life shocks, drops and spills, the IP65 body and included boot offer added protection for a durable thermometer that can handle any brewing environment. These meters are well protected against dust and water spray from all directions.
Waterproof connection
A Quick DIN connector makes attaching and removing the probe simple and easy. The rubber coating protects the cable and creates a tight connection for increased reliability.
Supplied with a 1 m stainless steel temperature probe
The FC762N2 temperature probe is a rugged penetration probe measuring 1 meter in length. The stainless steel probe is both durable and easy to clean, the perfect combination to meet the harsh environment encountered in breweries. Each probe is extra long so you can reach deeper into your tanks without compromising safety or accuracy.
Completely interchangeable probes
Hanna's brew thermometer works with a wide range of thermistor probes, including an assortment of specially designed FC762 probes, so you can get the right probe for your brewery.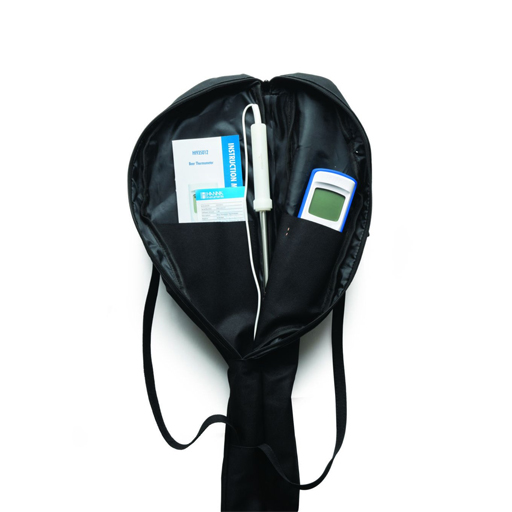 Specifications
Range*

-20.0 to 120.0 °C

-4.0 to 248.0 °F

Resolution
0.1 °C / 0.1 °F
Meter Accuracy @ 23.0°C±5°C

±0.1 °C (-20.0 to 120.0 °C)

±0.2 °F (-4.0 to 248.0 °F)

Probe Accuracy (FC762N2)

±0.3 °C (-10.0 to 80.0 °C)

±0.5 °F (14.0 to 176.0 °F)

±0.7 °C / ±1.3 °F remaining range

Battery type / life
1.5V AAA (3 pcs.) approx. 4500 hours of continuous use
Auto-Off
user selectable: after 8 min, 60 min or disabled
Environment

For product internal measurement:

Rated operating condition: -20 to 50 °C (-4 to 122 °F)

Limiting condition: -30 to 50 °C (-22 to 122 °F)

Storage and transportation condition: -40 to 70 °C (-40 to 158 °F)

Storage/transport temperature
-40 to 70 °C (-40 to 158 °F)
Dimensions
140 x 57 x 28 mm (5.5 x 2.2 x 1.1")
Weight
175 g (6.17 oz.)
Case Ingress Protection Rating
IP65
*The measurement range may be limited by probe type.