pH Meter for Wine
Portable pH meter for wine that measures pH and temperature of must in winemaking.

pH Meter for Wine
HI98169 is a rugged, waterproof, portable pH meter for wine that measures pH and temperature of must in winemaking. This meter is supplied with a specialized pH probe that features
an open junction with Clogging Prevention System ( CPS™) technology.
Specialized pH electrode with CPS
The first essential step to producing a high quality is to measure the pH of juice and must. A variety of factors and processes depend on pH including microbial stability, sulfur dioxide effectiveness, malolactic fermentation performance, protein stability, and sensory attributes.
A wines microbial and chemical stability is influenced by pH due to the influence it has on the various forms of sulfur dioxide that will be present. Sulfur dioxide is responsible for protecting wine against oxidation and microbial activity. The molecular form of sulfur dioxide is most effective against microbes and is predominate at lower pH values. As the winemaking process progresses pH levels can change due to acid conversion and other metabolic activity. These changes require frequent monitoring of the pH values and sulfur dioxide levels of wine being stored or aged.
Most wines have a pH value between 3.0 and 4.0. White wines tend to have pH values between pH 3.0 and 3.3, while higher pH values between 3.3 and 3.5 are more common for reds. Red wines sometimes have a higher pH, in part, due to the longer contact time the grape juice has with the grape skins. Early in the winemaking process and sometimes at points throughout, it may be necessary to make acid additions in order to set and maintain an optimum pH range for the desired style or condition of the wine. The pH of finished wine may also affect its color. For example, pigment compounds in the wine express different hues of color depending on the pH.
On-Screen Features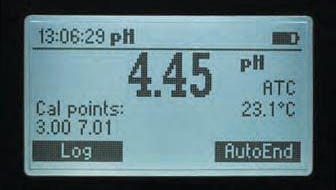 Backlit Graphic LCD Display
These meters feature a backlit graphic LCD with on-screen help. The graphic display allows for the use of virtual keys to provide for an intuitive user interface.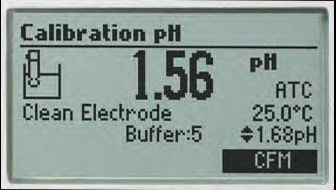 pH Calibration
Choose from seven standard pH buffers and five custom values to obtain up to five-point calibration and achieve high precision readings with a 0.001 pH resolution and a pH accuracy of ±0.002.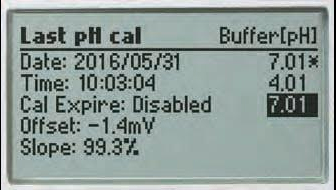 GLP
Comprehensive GLP functions are directly accessible by pressing the GLP key. Calibration data, including date, time, and calibration values are stored with logged data for retrieval at a later time.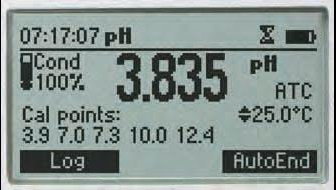 Cal Check™
Hanna's CAL Check maintains a history of past calibrations and monitors the pH electrode and buffers during subsequent calibrations for any signs of wide variances due to a dirty or broken electrode or contaminated pH buffers. During calibration, users are alerted to problems should they occur. After calibration, the electrode's overall condition is displayed as a percentage.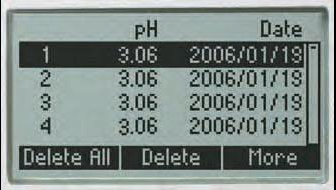 Data Logging
The log-on-demand feature allows users to store up to 200 samples that can later be transferred to a PC with the HI920015 USB cable and HI92000 software.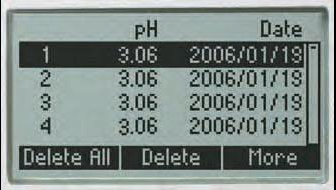 Auto Hold
Pressing Auto End during measurement will automatically hold the first stable reading on the display.
HI98169 pH Meter for Wine
| | |
| --- | --- |
| pH Range | -2.0 to 20.0 pH; -2.00 to 20.00 pH; -2.000 to 20.000 pH |
| pH Resolution | 0.1 pH; 0.01 pH; 0.001 pH |
| pH Accuracy | ±0.1 pH; ±0.01 pH; ±0.002 pH |
| pH Calibration | up to five-point calibration, seven standard buffers available (1.68, 4.01, 6.86, 7.01, 9.18, 10.01, 12.45) and five custom buffers |
| pH Temperature Compensation | automatic or manual from -20.0 to 120.0°C (-4.0 to 248.0°F) |
| pH Input impedence | 10¹² Ω |
| mV Range | ±2000 mV |
| mV Resolution | 0.1 mV |
| mV Accuracy | ±2000 mV |
| Temperature Range | -20.0 to 120.0°C (-4.0 to 248.0°F) |
| Temperature Resolution | 0.1 mV |
| Temperature Accuracy | ±0.2 mV |
| pH/EC Probe | FC10483 pre-amplified pH and temperature probe with flat tip, DIN connector and 1 m (3.3') cable |
| Logging Memory | Up to 200 samples (100 pH, 100 mV) |
| Connectivity | opto-isolated USB with HI92000 software and micro USB cable |
| Automatic Shut-Off | user selectable |
| Calibration Timeout Reminder | from 80 to 110% |
| Battery Type/Life | 1.5V AA batteries (4) / approximately 200 hours of continuous use without backlight (50 hours with backlight) |
| Ordering Information | "HI98169 is supplied with FC10483 pH electrode, pH 3.00 buffer solution sachets (2),pH 7.01 buffer solution sachets (2),HI700635 Cleaning solution for wine deposits sachet, HI700636 cleaning solution for wine stains sachet, 100 mL plastic beaker (2),HI920015 micro-USB cable, 1.5V AA batteries (4),instruction manual, guidebook for winemakers, and quality certificate in a HI720169 hard carrying case with custom insert. |